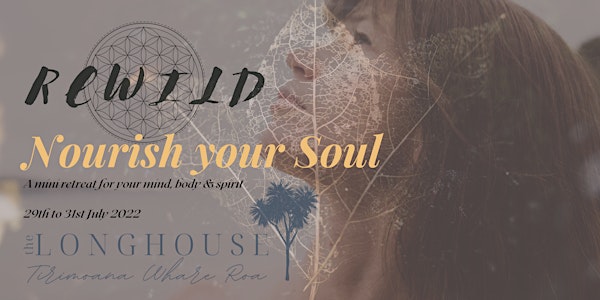 Rewild: Nourish Your Soul - A Mini Retreat for the Mind, Body & Spirit
Location
The Longhouse
1140 Coast Road
Karitane, Otago 9471
New Zealand
Refund policy
Contact the organiser to request a refund.
Eventbrite's fee is nonrefundable.
Rewild: Nourish Your Soul - A mini retreat for the mind, body & spirit
About this event
This winter we are bringing a unique experience to you out at the beautiful new retreat venue in Karitane, The Longhouse. An opportunity to reconnect with nature, yourself, and maybe even your partner should they decide to join you!
Take this time to build your own custom retreat by adding what you like! Check out what's on offer:
We are offering mini portrait experiences for those wishing to express & explore self love, cultivate confidence, and find that wild soul that longs to be seen & heard. Sessions include makeup & hair styling along with a 45 minute portrait session with Kassandra Lynne. We have a luxury indoor setting at The Longhouse that lends itself to beautiful photography & cozy fireside ambiance. Views of the Dunedin/Otago/Karitane Coastline from all rooms bring nature inside even when it might be too cold for us to explore the outdoors. For those keen on winter outdoor adventure photography, we've got you covered too! Direct beach access with incredible rock formations to climb about on and the gorgeous Huriawa Peninsula.
These sessions are not just about the photography and the beautiful photos you'll receive... But there is also a 1:1 coaching experience provided that helps you cultivate confidence, explore areas of self development, and learn how to express yourself authentically & creatively as we explore how we can work through and process some of the challenges you may be facing. It's a bit of a mini retreat and workshop for yourself and we do offer the experience for couples as well, it's quite an amazing thing to do together!
On top of these mini sessions, we are adding a little twist to enhance experience where you can add in optional extras and really build your own retreat how you want it:
* Massage Session
* Reiki Session
*Infrared Sauna
*Spa Pool
*Red Light Therapy
Come out and treat yourself to some winter nourishment with us at The Longhouse, a great way to appreciate the beauty of winter and all that comes with it. Only a few spaces available for this event, if you're feeling the call & this is resonating with you, let's make it happen. 🙂
What can I expect? What is The Longhouse?
We will be based on an amazing private property surrounded by native bush and epic Otago coastline access within walking distance to help us reconnect with nature should we want to venture outdoors. Our location is not only tucked away & secluded, but it is a pure luxury & sustainable eco retreat at it's finest. A beautiful setting for your session both inside and out amongst the elements complete with an indoor gorgeous set up, and outdoor views over the water & direct access to it. The inside setting for this venue is so gorgeous and full of character, a truly beautiful backdrop for your gorgeous photos. There are 7 private rooms with ensuite attached to each room. So if you want to make it a weekend or spend the night in luxury, you are more than welcome to add that to your package. Food & Meals can be provided by our in house chef should you want to be fully catered to.
Indoor & Outdoor options available for your session / 45 minute time limit.
Don't think 45 min is enough? We can totally do a full extended session for you for 90 min of creative expression and adventure.
You'll be guided by me the entire time as I help you work into poses, chat with you about life and where you are at in your journey, guide you through elements of meditation & letting go of your inhibitions in a safe space.
What is a Rewild Portrait Session you ask?
Rewild to me is a sense of coming home to oneself. Reconnecting from within. Mixing this element with the style of boudoir photography both indoors and in nature is what really delivers such a transformational experience. When it comes to boudoir photography poses, it is a more sensual, intimate look into you. Focusing on your mood, your expressions, your clothing (or lack of) and the landscape of your body. The style is playful and provocative, yet extremely empowering. It enables those photographed to give off a strong presence. Nudity is implied yet rarely shown. These shoots are generally taken in a more private setting such as a home or outdoors in remote, secluded areas. I take care of the location to make sure lighting is on point and the place has character. I also have outdoor education qualifications, am a first aid instructor and have very good knowledge of the areas that we photograph in. I think it is so important to connect to the environment around us and I find this work super powerful & rewarding.
Why would I do a Rewild shoot?
Many reasons! To celebrate you, your beauty, your sexy, your love for life, reclaim a part of yourself lost from past or present trauma, step outside the box, etc. A photo session like this can evoke confidence you didn't know you had. Stepping outside of our comfort zones is the best way to start cultivating confidence. From past experience I can say that every client that has walked in for a boudoir session has been very nervous, and as the shoot goes on, the sassy confidence comes out... Every client I've had has left the set with a skip in their step and feeling amazing, honestly. Every client I've worked with has also braved the elements with me and done something outside of their comfort zone, because they felt safe enough and empowered to do so. It's a brave thing to do, getting in front of the camera of a stranger and bare it all whether you're indoors or outdoors. But I promise, I make it super fun and easy going... because I've also done a bit of work in front of the camera and know how it feels. I wouldn't have you do something I've never done. I'm with you the whole way.
Other reasons to express yourself creatively in a portrait session?
Because you deserve self care, love yourself a little! Have some laughs and spend dedicated time focused on you, pampered and getting to play dress up or dress down in a stunning location. Become inspired by the world around you and notice the simple, yet poignant signs of nature.
You could also be celebrating a huge milestone in life? Getting married? A set of boudoir photos or a nice album is a lovely gift for your partner and for you to remember how awesome you really are. Plus you can create some edgy art for your home, you never know. This is also a great time to reclaim your body from whatever may have happened along your journey... Life throws us crazy twists and turns, but also gives us lots of opportunity to reclaim what is ours and fully embrace what it is to be alive. Awaken that self empowered divine goddess within ❤
This might also be the opportunity you never knew you were waiting for to have some fun with the one you love and explore your connection with each other and with nature. A beautiful celebration of your love!
Right! So are you in?!
If so, here's how it goes.... You book in your time and we organise everything from there. Once your deposit is received, we will help you start this journey of cultivating confidence with an initial survey of your current perspective and situation. The more detail we have the better we can cater your session for you. You'll be given a list of things to bring which usually includes a suitcase full of anything you could possibly imagine from lingerie, robes, t-shirt, gowns, jewelry, furs, rugs, blankets, hats, etc... the list goes on and on. We do also have a wardrobe provided along with props. You will also be provided with a step by step plan to help you prepare for the big day along with an outline of the adventure we are about to embark upon. Once you arrive, you'll be hanging out with my makeup artist and hair stylist for the next hour or so. She'll discuss with you prior to the day what sort of makeup/looks you are after and while you are getting pampered I'll be rummaging through your suitcase pulling out things we can use... I usually try to create 2 looks for a mini shoot. After hair and makeup, then it's photo time and things get exciting. The shoot itself takes 45 minutes and I direct you and coach you through it.
After your shoot, processing times for the photos are within 2 to 4 days you'll have 4 sneak peek photos to froth over and then the full set will be ready for you in 2 weeks time delivered via Dropbox and USB.
What is the investment?
$550 per client OR $850 for couples session (Mini Session / 45 minutes)
$1100 per client or $1350 for couples session (Full Rewild Portrait Experience / 90 minutes)
**Accomodation can be provided on-site, see optional add ons**
- includes makeup and hair styling, consultations prior to the shoot & post shoot consult
- 1:1 coaching (cultivating confidence & self development)
- amazing location both indoors & wild outdoors
- 20+ fully edited (minimum) and processed photos (If we end up with more than 20 epic shots, you get all of these photos, there is absolutely no additional charge) for mini sesh or 150+ fully edited photos for your full rewild experience.
- nibbles/platters & drink on the day, relaxation time after the session to debrief and talk about your experience.
- ADDITIONAL OPTIONS:
**1 hour Massage at The Longhouse $120
**1 hour Reiki Session at The Longhouse $85
**Infrared Sauna & Spa Session $120
**Accomodation Option at The Longhouse 5 rooms available only, all rooms have their own ensuite. ($350 per room/ per night)
**3 Course Dinner or lunch option (price on request)
**Stunning Photo Album created via Momento Pro ($550 to $750 depending on design) - message to discuss options
**Framed Print including matting and mounting from The Photo Gallery at cost/ depends on size and frame chosen
**Prints Package Valued $200
Where and When?
The Longhouse, Karitane, Dunedin.
Dates/Times Available:
29th July - 11 a.m. & 3 p.m. (SOLD OUT)
30th July - 830 a.m., 11 a.m., 1 p.m., 3 p.m.
31st July - 830 a.m. & 11 a.m.
If you're keen or have questions, just get in touch here on private messenger or the event page...
Limited tickets available on Eventbrite or book direct.
Or email me at kassandralynne@gmail.com.
50% deposit due at time of booking.
Payment plans & arrangements available. Gift Vouchers available.
If booking on Eventbrite, please make sure to message us with your preferred date/time so that we can take it off the event page. Limited spaces available.
#boudoir #boudoirphotographer #domorewearless #intimatelifestylephotography #boudoirinspiration #boudoirshoot #sexy #confidence #boudoirphotos #selflove #bestboudoir #beautyandboudoir #bridalboudoir #boudoirsession #photographer #portraitphotographer #nzphotographer