Gibson's new works look at product worship, consumer behaviour, and contrived marketing environments.
About this event
R.Gibson – Worshipping the Product
11 -22 December 2021
Opening: Saturday 11 December 2-4pm
Artist on Site: Sunday 12 & 19 December 11am – 3pm
Feature Wall 1
What is it that successfully takes us to the 'something greater', the hedonist haven of a reassuring product, the manufacture of desire in which we happily embrace the rudimentary wantonness of the mirrored path?
Gibson's new works look at product worship, consumer behaviour, and contrived marketing environments in the perfect world of need and seduction. The artist explores manufactured entrapment and the sparkling delight of products and consumables that seduce us with a calculated appeal that we cannot bring ourselves to deny.
Paintings and prints are charged with suggestive meaning, Gibson provokes thought regarding consumer need and drives home bucket loads of ironic humour found in the marketing charade.
About the Artist:
R.Gibson B.F.A M.F.A
In 1987 Robyn Gibson was introduced into the art world through a friend while living in Mildura, Victoria Australia. Gibson completed a B.F.A. in painting through U.C.N.V Bendigo. an affiliate with La Trobe University Melbourne Victoria, Australia.
Gibson's early works were influenced by the iridescent colours and vast spatial geography found in the Australian outback, but also within the strangeness and diversity of a few contemporary Australian painters she found an affinity with at this time. Among others these included Charles Blackman, Sydney Nolan and Joy Hester.
Returning to Aotearoa New Zealand in 1994, Gibson became associated with Depot Artspace, a multi-disciplinary creative organisation in Devonport Auckland. Gibson completed an M.F.A. Sculpture, Elam School of Fine Arts in 2000.
The artist's professional career spans over 30 years, exhibiting and participating in installation, outdoor sculpture, painting and assemblage projects in both Aotearoa New Zealand and Australia.
Gibson's works are often speckled with hints of surrealism and a subtle sense of humour. A complex, often quirky palette comprises varied materials and subject matter garnered from her past and present.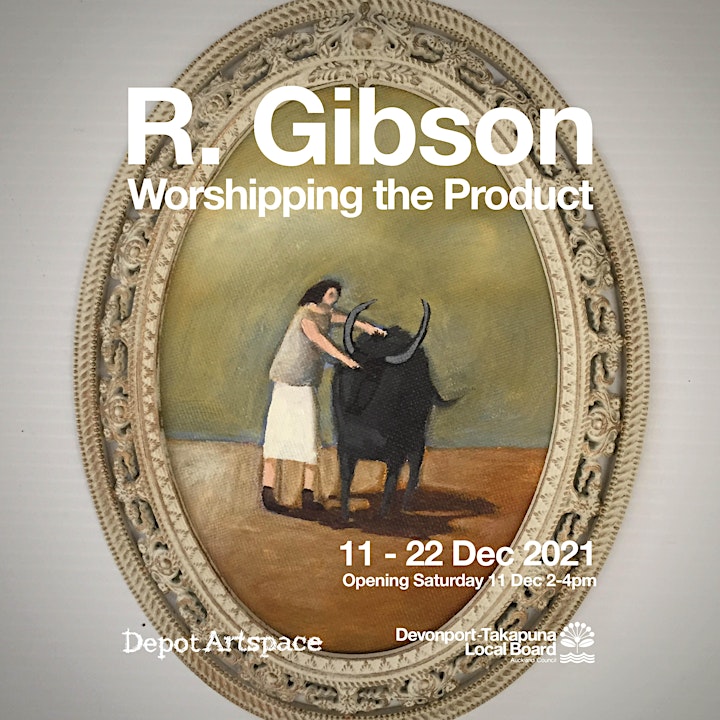 Organiser of R.Gibson – Worshipping the Product
Depot Artspace is an inclusive creative community in Devonport, Auckland, established in 1996, that encourages engagement in all art forms. We offer a variety of facilities and events that support the arts including; Depot Galleries, Careers Lab, Depot Press publications and our recording studio Depot Sound. Stay connected with us via Facebook, Twitter & Instagram - @depotartspace, @CareersLabNZ and @DepotSound.