This project explores geometric abstraction as a method to frame transcendental ideas.
About this event
Rhea Maheshwari – Ethereal Cosmography
11 – 22 December 2021
Opening: Saturday 11 December 2-4pm
Central Gallery
This project explores geometric abstraction as a method to frame transcendental ideas. Rhea's drawings emerge from literal guide-lines made from a particular combination of horizontal and vertical ruled pencil lines which guide a viewer's eyes up, down and across the picture plane.
Tools of Euclidean geometry (pencils, rulers and protractors) are utilized in her practice as she make moves and countermoves within this structural schema to achieve a sense of wholeness or balance within the paper substrate. As she draws connective elements with her drawing tools, the separate compartments begin finding routes and connecting to each other to create something whole, balanced and full.
The whole design, as a result of these cumulative relationships, expresses a certain logic or quality that is greater than its individual parts. This methodology draws from non-dualist philosophies which emphasise the attainment of balance or equilibria between mind and body through action. The resulting works might act as meditative and contemplative spaces for a viewer to immerse themselves in.
Rhea Maheshwari is an artist based in Auckland, New Zealand and recently graduated with a Master in Visual Arts (Painting) at the Auckland University of Technology. Rhea's works are influenced by her upbringing in India and her travels to Europe. She has exhibited her work in contemporary galleries around New Zealand including Broker Galleries (QT)(formerly known as Queenstown contemporary), Physics room (Christchurch), Northart (Akl) and the TSB Wallace Arts centre. Many of her works can be found in the James Wallace Arts Trust Collection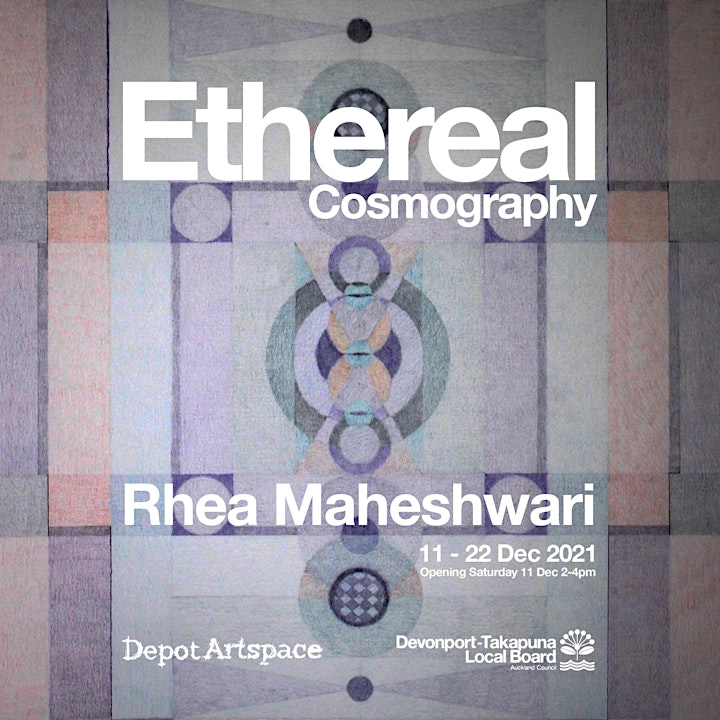 Organiser of Rhea Maheshwari – Ethereal Cosmography
Depot Artspace is an inclusive creative community in Devonport, Auckland, established in 1996, that encourages engagement in all art forms. We offer a variety of facilities and events that support the arts including; Depot Galleries, Careers Lab, Depot Press publications and our recording studio Depot Sound. Stay connected with us via Facebook, Twitter & Instagram - @depotartspace, @CareersLabNZ and @DepotSound.