Rules as Code is a movement transforming law and policy making globally. Join the movement and upskill with AUSCL's RaC Masterclass Series
About this Event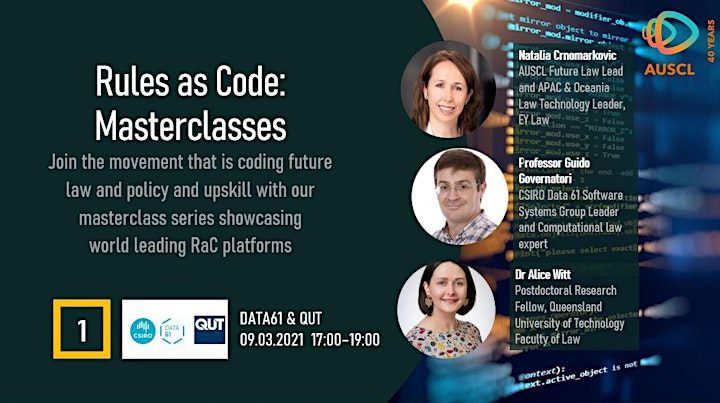 Rules as Code Masterclass 1
Data61 and QUT
This is Masterclass showcases the leading Rules as Code work of CSIRO Data 61 and projects undertaken with QUT, the Queensland University of Technology funded by CSIRO Data 61. One of the most established RaC platforms in the region, offering invaluable insight into the potential of RaC technology and running leading edge projects in collaboration with private and public sectors.
Meet your presenters
Professor Guido Governatori CSIRO Data 61 Software Systems Group Leader and Computational Law expert
Dr Alice Witt Postdoctoral Research Fellow, Queensland University of Technology, Faculty of Law
Facilitated by: Natalia Crnomarkovic AUSCL Future Law Lead and APAC & Oceania Law Technology Leader EY Law
Who is Data61?
CSIRO's Data61 is Australia's data innovation network that transforms existing industries and creates new ones through the application of science and technology. As an applied R&D partner, Data61's capabilities range from cybersecurity, confidential computing, IoT, robotics, machine learning and analytics, software and programming to behavioural sciences and more.
Access recent articles published by Data61 in TheConversation.com via this link
Who should attend?
All with an interest in the Future Law are welcome to attend.
The AUSCL Masterclass series is designed for law, technology, policy and legislation drafting professionals, academics and students, but no coding or legislative drafting experience is necessary.
About AUSCL
AUSCL, the Australian Society for Computers and Law, is a registered Australian charity established for the purpose of advancing education and promoting advocacy on issues at the intersection of technology, law and society.
Our global network of members include IT, Legal and Policy professionals, academics, students and leaders of civil society. We are passionate about multi-disciplinary approaches to solving some of the most pressing challenges ushered in by technology and digitisation.
Join our mailing list today by subscribing: https://ausclsubscribe.eventbrite.com.au
For sponsorship opportunities available