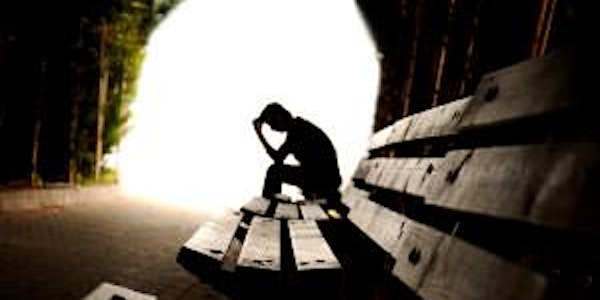 Sad Blokes: Men, Depression and Suicide - Auckland North Shore 28 November
Location
Hearts and Minds (Previously Raeburn House)
65 Pearn Crescent
Northcote, Auckland 0627
New Zealand
Refund policy
Refunds up to 7 days before event
Sales Have Ended
Registrations are closed
Registration for the Sad Blokes: Men, Depression and Suicide workshop has closed. To check if there are still vacancies in this workshop please contact the organiser directly.
Description
WHAT NEEDS TO BE DONE TO REDUCE THE HIGH RATES OF DEPRESSION & SUICIDE IN MEN?

It's time to take depression and suicide in men out of the too hard basket​
Reducing suicide in men requires a co-ordinated community-wide response​
BE PART OF THE SOLUTION

An opportunity for a day of learning with internationally respected specialist on suicide in men, Barry Taylor

How does the way that men are raised affect their ability to deal with their depression or ability to ask for help?

How does culture, age, sexuality and ableness influence men's understanding of what it means to be a man?

What are key messages we need to convey to men that will contribute to positive mental wellbeing?

What is masked depression? How is sadness and depression commonly expressed in men? What is Sad Rage?

Who are the groups of men that are most at risk of suicide?

What are the different factors and characteristics we need to consider across the age span? What are the unique issues for young men, middle aged and older men?

What do you do when a man denies anything is wrong when clearly it is?

What do we know from the evidence that will really make a difference in supporting the depressed or suicidal man?

Reports of high profile men experiencing depression or having died by suicide are sadly becoming regular news stories. These stories represent only a small number of men who live daily with depression or have thoughts of killing themselves. Across most ethnic and age groupings men are over-represented in measures of poor mental health including suicide and depression. This is a serious challenge not only for the men but for their whānau, hapū, iwi, workplaces and communities.

Take the opportunity to hear from an internationally respected commentator and suicidologist BarryTaylor as he unpacks the varying responses by men to depression and suicide and how they make sense of, and deal with, their depression or suicidal distress. Based on 30 years' experience of working with men who are depressed and suicidal and drawing on the latest international research findings, Barry offers suggestions on strength-based approaches that enhance men's wellbeing and strategies that assist men to navigate through times of distress and crisis. Barry also offers his personal insights as a man who has lived with depression for many years.

​Questioning some of the widely accepted views of why men are over represented in poor mental health outcomes, the workshop will use a social determinants framework which can be applied in community, support and clinical settings.

Participants will analyse the impact that the changes in society's expectations of men, their traditional roles and notions of masculinity over the past 50 years has had on men's mental wellbeing. The workshop will provide a rationale for why the intersection of gender, ethnicity, age and sexuality must be considered in any mental wellbeing program, risk assessment or therapeutic and support intervention with men.​

Explore how social, cultural and psychological factors contribute to depression and suicide in men

Update your knowledge about community strategies that have been shown to be effective in improving the wellbeing of men

Understand more how men make sense and deal with their depression or suicidality

Enhance your skills to support a depressed or suicidal man

Identitfy opportunities for local community action to respond to depression and suicide in men
With men being reluctant users of health or mental health services, research shows that the opportunities to engage with depressed or suicidal men is more likely in non-health settings. Having 'first point call' workers who are confident and competent in being able to respond in a helpful supportive and being able to refer to other services if necessary has proven to be highly effective. Previous workshops have had representatives from the following sectors and all agreed that the Sad Blokes workshop was relevant and helpful in their work.
Workplaces

Educational and training organisations

School counsellors, deans, pastoral care

Student health services, tertiary chaplaincy

Churches

Sporting clubs

Support services - e.g.Financial & budgeting services

Welfare agencies

Citizen Advice Bureaus

Iwi support services

Gambling support services

Relationship counselling

Domestic violence support

Police, Corrections, Juvenile Justice

Frontline Government Services - e.g. WINZ

Victim Support

Youth Workers
Aged Care Workers
Rural support agencies

Loss and Grief services - especially bereaved by suicide
Workshop Facilitator - Barry Taylor
Barry has recently returned to live back in New Zealand having worked in suicide prevention and postvention at the local, national and international levels. Known for his leadership and broad ranging work in using community based initiatives and strength based approaches to improving wellbeing of individuals and communitys. He has worked in suicide prevention, intervention and postvention for thirty years and lead the first national response to youth suicide in New Zealand in the late 1980's. He has lectured and mentored programs all over the world and been a member of many govenrment advisory committees on mental health promotion and suicide prevention. He has a particular interest in gendered responses to suicide and mental illness and brings a wealth of knowledge and passion for promoting wellbeing in men. A Health Sociologist and Public Health practitioner, Barry has a long term interest in the social determinants of wellbeing, especially the impact of social exclusion or inclusion on mental health along with the role of human rights in suicide prevention. He has been a recipient of a Winston Churchill Fellowship and in 2016 was awarded the NSW Mental Health Commissioner's Community Champion Award in recognition of his outstanding contribution to mental wellbeing and suicide prevention.
---
Feedback from other workshop participants:

The best and most informative workshop I have attended in 27 years of mental health nursing
Community Mental Health Nurse
This workshop should be compulsory for anyone working with men
Male Family Violence Worker
It was as if Barry was talking about everyone young man I see at school
School Counsellor
I have greater insight about depressed and suicidal men and useful ideas of how work with the men in my community
Community Worker
Thanks for being so inclusive of older men. They are so often forgotten
Aged Care Worker
I appreciated how inclusive the presenter was of different cultures and his analysis of how culture influences what it means to be a man
Refugee Health Worker
Most helpful workshop I have had in regards to suicide
Program Facilitator, Mental Health Recovery Service
---
WORKSHOP PLACES ARE LIMITED DUE TO SIZE OF ROOM. REGISTER EARLY TO AVOID DISAPPOINTMENT
Catering:
This workshop is fully catered. Please indicate on the registration form if you have any particular dietary requirements. If you register after the closing date, while every effort will be made, your dietarty requirements may not be able to be catered for.
FAQs
How can I contact the organizer with any questions?
Please contact Barry Taylor, Email: barry@taylormadetrainingconsulting.com Mob: 021 644 955
What's the refund policy?
If you are no longer able to attend the workshop please cancel your registration as soon as possible. Full refunds will be offered up to seven days before the date of the workshop. If you cancel less than seven before the workshop, you are able to transfer your registration to another person but no refund will be given.
To transfer your registration log on to your registration and update the name and contact details to the new person attending. DO NOT CANCEL THE REGISTRATION.
If you are not transferring the registration to another person then cancel the registration.
Scholarships
There is a limited number of partial and full scholarships for those wishing to attend the workshops. Scholarships are available for mental health consumers, carers, volunteers and students. For further information and to apply for a scholarship contact the organiser.