Christmas Box Packing Day at Northland College, Kaikohe! Volunteers (100)needed to assemble our 1500 Christmas Boxes for the mid-far north.
About this event
INFORMATION FOR VOLUNTEERS
1. WHAT?
Packing Day is a fun day where volunteers gather to pack 1500 Christmas Boxes.
All the Christmas Boxes go to families in need from the mid-north to the far north.
2. WHEN?
Saturday, 4 December 2021. Start time is 9.30 am.
3. WHERE?
Northland College, Mangakahia Road, Kaikohe.
Packing Day also takes place in seven other NZ locations.
4. WHO can volunteer?
Volunteers must be at least 15 years old.
You must wear CLOSED IN SHOES
5. CHANGES due to COVID
Numbers are restricted to 100 inside or outside
You must sign in or use your COVID Tracing App
Keep safe physical distancing (1 metre)
Wear a mask (optional)
IF YOU ARE FEELING UNWELL PLEASE STAY HOME
Please be aware the event may be cancelled or changed at short notice due to COVID
5. WHEN can I register?
Registration is open now, click on the register button.
Entrance to the Packing Day event is conditional on the
acceptance of the health & safety terms
wearing CLOSED IN SHOES
REMEMBER IF YOU ARE FEELING UNWELL PLEASE STAY HOME
6. WHAT do I bring?
Closed in shoes!
A positive attitude
7. LEAVE
All valuables in locked cars or at home. No responsibility is taken for loss of valuables or damage to vehicles
Children under 15 years of age
Christmas Box for the mid to far north is proudly sponsored by Te Rau Ora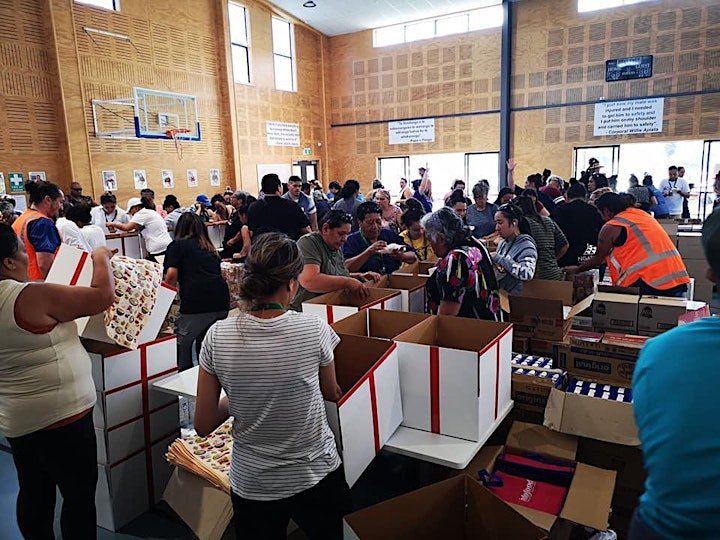 Organiser of Saturday Volunteers for Packing Christmas Boxes Te Tai Tokerau 2021