As part of Netsafety Week, we have prepared webinars to help audiences such as Seniors, Neuro and Linguistically diverse to be safer online.
About this event
Netsafe is hosting a range of webinars between 10am and 1.45am on Thursday 28th July. Please register your interest and we will send you the event links closer to the time.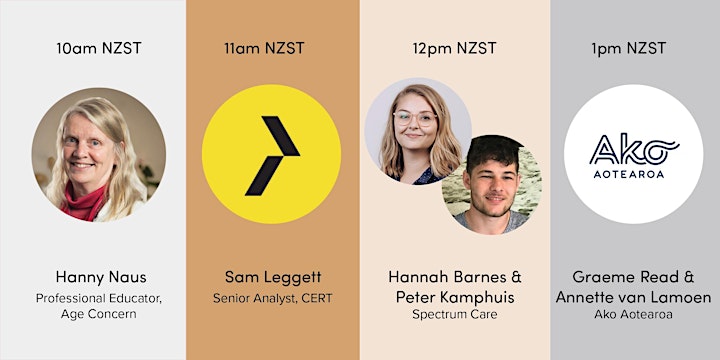 10:00 AM to 10:45 AM
Age Concern: Ageing Safely
Hanny Naus has worked with Age Concern New Zealand since 2013 with a focus on Elder Abuse and Neglect Prevention and some local Age Concern community activities. Her mahi is inspired by the workers throughout the country supporting older people who have experienced abuse and their family/whanau; as well as many Age Concern's superb efforts to enhance the wellbeing of older people in their communities.
She has a wealth of knowledge on keeping older people safe online, from scams and online elder abuse and will presenting on the unique online safety problems that come with getting older and what to do.
11:00 AM to 11:45 AM
CERT: Cyber Savvy Seniors, hosted by Sam Leggett
The world is moving online quickly, that means risks are popping up every day and it's important that New Zealander's are aware of what's going on. CERT NZ, the government's cyber security agency, is here to give an overview of the cyber threats that are targeting New Zealander's 65 and over. This session will touch on the main threats that are being reported to CERT NZ, along with advice on how to identify and report them.
Come along to this session and learn the tips and tricks that will help you be safe online and become a Cyber Savvy Senior.
12:00 PM to 12:45 PM
Spectrum Care: Joining the online community: opportunities and challenges for adults with intellectual disabilities
Hosted by Hannah Barnes, Practice Lead Speech-Language Therapy at Spectrum Care and Peter Kamphuis from Spectrum Care's Advisory Team
The internet is means for all New Zealanders, including adults with intellectual disabilities, to connect, learn, and access online communities and information.
Spectrum Care is a disability support provider who has been working together with Netsafe to make online safety information more accessible. In this presentation, you'll hear from people with lived experience of disability about the opportunities the internet provides. We'll also talk about some of the education and safeguarding we're working on to make sure people stay safe online, and discuss the importance of accessible information for all.
1:00 PM to 1:45 PM
Ako Aotearoa: Initiatives for supporting diverse learners
Ako Aotearoa, New Zealand's National Centre for Tertiary Teaching Excellence, offers a wide range of professional learning and development opportunities to support learner success.
In this presentation we, Graeme, Mike and Annette, will give you whirlwind tour of some initiatives designed to build capability in creating more inclusive learning and teaching environments, where the diverse needs and strengths of learners are catered for. We invite you to join us to learn more about our Neurodiversity Community of Practice, the Aotearoa New Zealand Dyslexia-Friendly Quality Mark, and some exciting projects to promote digital literacy.