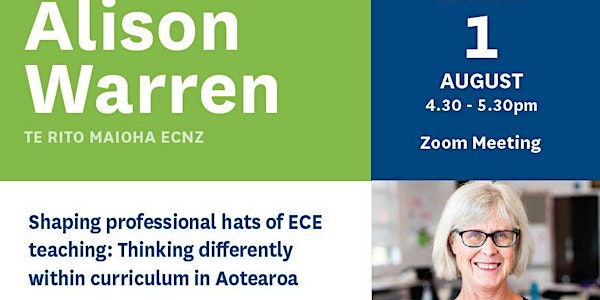 Shaping professional hats of ECE teaching
Thinking differently within curriculum in Aotearoa: How might we refashion professional hats in ECE teaching in Aotearoa?
About this event
In Aotearoa New Zealand, our early childhood curriculum framework continually shapes and is shaped within entanglements of children and teachers, teaching and learning practices and processes, policies and procedures, and materials and resources of early childhood settings.
This seminar takes the definition of curriculum from Te Whāriki as a springboard into creative possibilities for thinking differently about "all the experiences, activities, and events, both direct and indirect, that occur within the ECE setting". I invite seminar participants to consider early childhood teaching within curriculum using the concept of 'professional hat', an imaginary that was used by several early childhood kaiako participants in two focus group discussions in my doctoral research exploring emotions in early childhood teaching. These kaiako used the professional hat imaginary when they talked about their challenges of experiencing and expressing emotions when working with tamariki, within negotiated and fluid processes of professionalism.
I introduce two snippets of data from one participant in a focus group discussion and use four theoretical approaches weave together some different ways of understanding early childhood teaching and learning. I present a poem that weaves a complex and messy story that raises possibilities to rethink early childhood curriculum, teaching, and learning more expansively using posthumanist theories and concepts.
I encourage seminar participants to connect critique with creativity and innovation. How might we refashion professional hats in ECE teaching in Aotearoa?
Dr Alison Warren is Senior Lecturer for Te Rito Maioha ECNZ in the Nelson Regional Education Centre/Te Takiwa Ako o Whakatū. Her doctoral research explored emotions in early childhood teaching using concepts from the writing of Deleuze and Guattari. Her research interests are early childhood teaching, professionalism, and Tiriti-based ways of living ECE teaching and learning in Aotearoa. She enjoys thinking with posthumanist and feminist new materialist theories.