She# and GHC

Thursday, 17 October 2019 from 5:30 pm to 8:00 pm (NZDT)
Event Details
We are so excited to announce our next event. We are planning to screen the keynotes from Grace Hopper Conference - one of the biggest women in tech conferences in the world, with over 25,000 attendees. We are also running an
#IamRemarkable
workshop, which is a fantastic session where you will develop the confidence to promote yourselves in the workplace and personal life, breaking modesty norms and glass ceilings.
You can find more information here:
Tickets are only $5 each (industry or student). Limited spaces are available!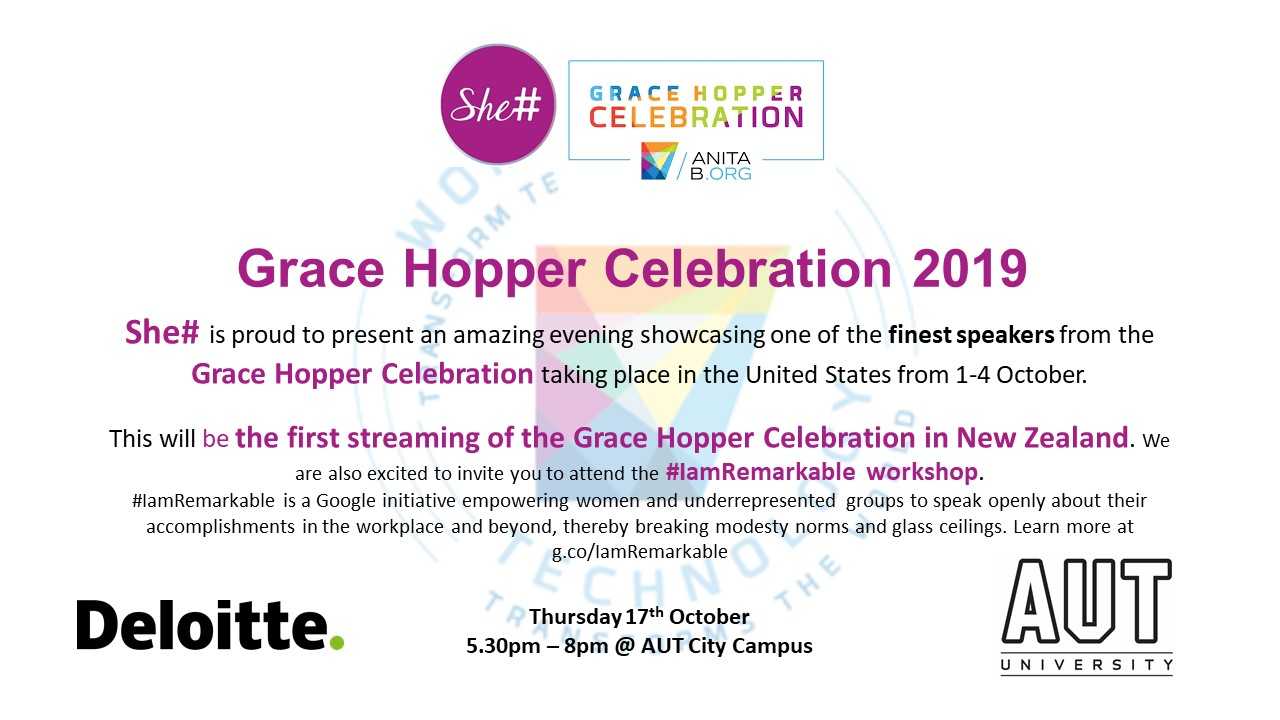 When & Where

AUT City Campus
WZ Building Room 416
Auckland
New Zealand

Thursday, 17 October 2019 from 5:30 pm to 8:00 pm (NZDT)
Add to my calendar
Organiser
Computer science, computer engineering, IT, and tech-related fields all battle a similar problem: gender imbalance. We believe this is mainly due to a misconception about these fields, and a pre-conception of who should study and work in this area. As there is already a low female-to-male ratio, people think this is the norm, and because of this, the situation remains this way.
She# has several missions.
We aim to link together women who are already in this field (in both academia and industry), and establish a platform to network with each other. It's hard enough being a minority, but harder still if we can't network with others in similar situations!
Secondly, it is our goal to influence the next generation for good; we wish to promote computer science and related fields to high school students who haven't yet decided which career path to follow. If we can show young girls how exciting, interesting, and relevant computer science is to their lives, not to mention the massive potential job opportunities there are for them; we can provide positive influence and help young women make informed career decisions. We hope those women can surpass and change what is believed to be normal and take opportunities to work as equals alongside their male peers.
Lastly, by opening events to men we aim to educate them in why encouraging women of all ages and skills is important. We invite them to work side-by-side with us to advocate gender balance in the workplace.
We can change things, if we work together.