Description
Showcase: The latest xAPI learning technology tools emerging in New Zealand
Join Bloom Learning Technologies and our blue chip partners for a fascinating look at some of the latest and fastest growing learning tech tools entering our shores and how the latest ones use xAPI tracking to track social learning. The Experience API (xAPI), is an e-learning software specification that allows learning content and learning systems to speak to each other in a manner that records and tracks all types of learning experiences.
Find out how your organisation can use xAPI for simple and flexible mobile learning, simulations, virtual worlds, serious games, real-world activities, experiential learning, social learning, offline learning, and collaborative learning.
So if you want to learn more about xAPI, or you are in the market for a better tool than Storyline, a LMS you will love to use, or simply want to speed up your time to creating magnificent eLearning, this is a 'must not miss' event!
Programme
8.30-9.00am: Welcome and networking
9.00-9.15am: Presentation on what is xAPI and what is the benefit.
9.15-10.00am: Demo of dominKnow's cloud based collaborative responsive authoring solution and xAPI, using eLearning Brothers template and cutouts. Create a SCORM object.
10.00-10.45am: Demo of Walkthru. Create a SCORM item and PDF QRG
10.45-11.00am: Morning tea break
11.00-11.45am: Demo of Docebo. Create and view a course (using previous SCORM and pdf items) and introducting 19 slides content development and examples
11.45-12.00am: eLearning Brothers demo of customisable courseware
Free trials of the tools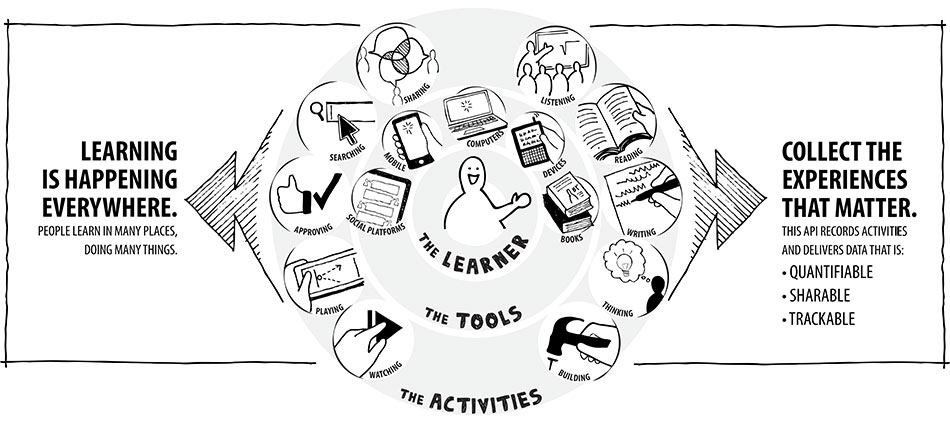 dominKnow- Work together, better. Content authoring and publishing for teams
We are excited to announce our latest partnership in a stable of official blue star partnerships Bloom holds.
For more than a decade dominKnow has been creating eLearning software for small teams and large organizations. During this time they have developed Learning Content Management Systems (LCMS), online authoring platforms, and formal and informal learning products used across almost all sectors of business and government.
dominKnow is best-in-class, year-after-year they have won gold in Brandon Hall's prestigious Excellence in Technology awards 4 times. In addition, TrainingIndustry.com has honoured dominKnow as a "Top Authoring Tool Company" for the past five years, eLearning 24/7 has rated the authoring tool #1 four times, and in the most recent edition of the Best of Elearning! awards they walked away with the Top Learning Content Management System and an Award of Excellence for Mobile Authoring.

Docebo - The LMS you will love to use. Drive improvements in your training program with this user-centric platform
Bloom is New Zealand's proud official partner for Docebo. It took us 18 months to find the best we wanted to represent, and to date both our clients and us agree, it really is the best LMS in the world!
Docebo's cloud-based, SaaS enterprise learning management system (LMS) is available in more than 80 countries. Established in 2005, Docebo (Latin for "I will teach") offers a learning ecosystem for companies, their employees, partners and customers for organizations of any size. Customers benefit from Docebo solutions thanks to a beautiful and modern UI, a scalable pricing model, a robust set of integrations and APIs paired with reliable support, available 24/7.
Docebo is also a multi award winning company year after year. In 2016, Docebo received not one, but two awards from Brandon Hall Group. Not only did Docebo bring home a shiny gold award for Best Advance in Learning Management Technology, but they also earned themselves a bronze award for Best Advance in Unique Learning Technology. The reason? Coach and Share, their social learning app. FinancesOnline, an independent reviewer of learning technologies, also named Docebo its top-ranked Corporate LMS for 2016, as well as honouring them as one of the best LMS with the Supreme Software Award for 2016.
Walkthru - Save 50% of the time compared to typical screenshot/capture tool - Software for efficiently creating Visual Instructions for Business
Bloom is on a partnership roll, so we are also excited to announce our latest partnership in a stable of official blue star partnerships Bloom holds.
Walkthru is a purpose built Windows software for fast production of QRCs, Standard Operating Procedures, Training Materials and other user friendly visual knowledge assets for print, presentation and online which enables each document to be instantly relevant. It helps Subject Matter Experts and IT professionals to quickly transfer knowledge in their head into the hands of others in the form of unambiguous, easy to follow and reusable documents.
Walkthru is very new to the market, but we at Bloom, have no doubt in a very short while this product will be award winning.
Elearning Brothers - Helping you become an elearning rockstar - by providing the broadest and deepest eLearning template and asset library on the planet
Well Bloom is really really on a roll. We have also just signed a reseller agreement with eLearning Brothers, who will be attending, speaking and exhibiting at eLearnz this August. We are excited by this partnership because eLearning Brothers share a similar philosophy, by bringing disruptive products to market, for the benefit of end users.
eLearning Brothers (eLB) began in 2009 like many startups do—in a basement with a great idea. Co-founder Shawn Scivally started making eLearning games and template designs while working from home and sold them online. His brother, and the other co-founder, Andrew, helped out at night and on the weekends until he joined full-time in 2010. Between the two of them, they believed that they had the skills and knowledge to put together interactive, engaging, and inspiring content to help others enhance their eLearning courses. And they were right!
Over the years, eLB has grown to become a global provider of eLearning templates, custom eLearning design, and training for eLearning professionals everywhere.
Based in Fork, Utah, the home of Goblin Valley, eLB now has over 50 employees and has been honoured as one of the fastest growing companies in Utah for the past 2 years and on the Inc. 5000 list twice. The eLB custom development team has also received multiple awards including a Brandon Hall HCM Excellence Award for Best Use of Games and Simulation in Learning.