'Sing Your Heart Out Auckland!'
Description
'Sing Your Heart Out, Auckland!'
'Sing Your Heart Out, Auckland!' is an in-depth experience of Vocal Psychotherapy, in a two-day workshop facilitated by Dr. Diane Austin, DA, ACMT, LCAT, a New York based Vocal Psychotherapist and Music Therapist.
Dr. Diane Austin is the Director of the Music Psychotherapy Center in New York City where she offers a two-year post-graduate certificate program in Vocal Psychotherapy. She has maintained a private practice in music psychotherapy for over 25 years, and teaches in the graduate music therapy department at New York University. Diane has lectured and taught internationally on the use of the voice in in-depth music psychotherapy and her work has been published in numerous journals and books.
Diane created the first international distance training program in Vocal Psychotherapy in Vancouver, B.C. She also has a distance training program in Seoul, Korea. Her book, The Theory and Practice of Vocal Psychotherapy: Songs of the Self was published by Jessica Kingsley.
You can also find Diane on Linked-in
'Sing Your Heart Out, Auckland!' Workshop Content
Songs of the Self: Vocal Psychotherapy
Through over twenty years' experience, Diane has researched the power of music to help people move beyond emotional and psychological challenges, to connect with their inner most feelings. Diane particularly noticed the key role of the voice in this process, and established 'voicework' as an integral part of the psychological process.
We bring you 'Sing Your Heart Out, Auckland' for the first time in New Zealand! This is a rare opportunity to explore and experience Vocal Psychotherapy with Diane Austin for yourself!

This workshop will provide opportunities for participants to experience Vocal Psychotherapy, a new in depth model of music psychotherapy that incorporates breath work, natural sounds and vocal improvisation with verbal processing in order to facilitate a connection to oneself and others.
Students will have opportunities to observe, participate in and conduct voice-centered therapeutic experiences, interventions and sessions.
Learning Objectives
• To acquire both didactic and experiential knowledge of the therapeutic qualities of vocal improvisation in music therapy
• To learn vocal interventions and how they can be adapted with different populations as well as when, how and where to use them
• To experience and learn the benefit of deep breathing practice not only as a necessary part of singing correctly but also as a therapeutic tool in helping clients relax, revitalize and reconnect to the body
• To understand how free improvisation using natural sounds and movements enable clients to access feelings, images, and memories, from the unconscious and integrate them into conscious awareness.
• To learn "Vocal Holding Techniques" and "Free Associative Singing," advanced methods of music psychotherapy that promote intrapsychic and interpersonal change and growth.
Required reading:
The Theory and Practice of Vocal Psychotherapy: Songs of the Self - Diane Austin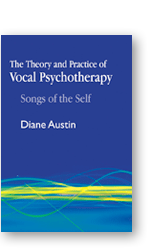 Availability:

1x copy in Auckland Public Libraries

1x copy at IHC Library

This can also be purchased from Jessica Kingsley Publishers, Fishpond, Amazon, and other retailers.

It is also available as an e-book from Jessica Kingsley Publishers:
http://www.jkp.com/uk/the-theory-and-practice-of-vocal-psychotherapy.html
People who would be interested in this workshop include:
Dr Austin's work has broad appeal and would interest music therapists, creative arts therapists, psychotherapists, counsellors, singers, singing and music educators, and musicians.
It would also appeal to anyone working directly with people who are experiencing mental health issues, or coping with trauma, grief, loss, and / or the effects of diagnosis of a terminal or life threatening illness e.g cancer.
However, Diane's work is also relevant to a wider community of people who are interested in vocal psychotherapy.


You Tube videos:

Vocal Psychotherapy by Diane Austin Review - https://www.youtube.com/watch?v=0ZGWVQRHSIw
Vocal Psychotherapy - Free associative singing - Diane Austin - https://www.youtube.com/watch?v=IkJja3RgUHg

Dr Diane Austin - shortened interview by Swedish crew, Part 11- https://www.youtube.com/watch?v=Z9BMR-KmHec



Testimonials for Diane Austin:
On Diane's book – 'The Theory and Practice of Vocal Psychotherapy: Songs of the Self'.
'Diane's pioneering work with the voice in music therapy is an inspiring and much needed contribution to our field.'
Dr. Clive Robbins, Founding Director of the Nordoff-Robbins Centre for Music Therapy at New York University.
On Diane's vocal psychotherapy workshops:
'I had insights, moments of grief and joy, a wide range of feelings that I've never accessed in a workshop before'.
Deborah G, Workshop participant
'It felt like time and space were being stretched and opened. I could make sing as long as I wanted, to get out what I needed to get out and go as far as I wanted to, but if I wanted to return, I could … the group chord never left.'
Tina W, Workshop participant
'I felt like a child learning to play. At first I felt silly but soon I started to like making sounds and moving to them and I began to feel free, and a melody emerged, and I liked it. Was this really me singing? My family used to tell me I couldn't sing but the louder I sang, the softer their voices became.'
Brian A, Workshop participant
Definitions of Terms used in Vocal Psychotherapy
Music Psychotherapy
Music psychotherapy is the use of music within a client and therapist relationship to promote the client's emotional, psychological, physical and spiritual growth and healing. This method combines instrumental and vocal improvisation, singing, song-writing, listening to recorded music and talk therapy.
Vocal Psychotherapy
Vocal Psychotherapy is a new model of music psychotherapy developed by Dr. Diane Austin. After more than 25 years working as a music psychotherapist in private practice with adolescents and adults, Austin's clinical practice and research led to the conclusion that the voice is a, if not the, primary instrument, and that singing is one of the most effective ways to build a connection to one's innermost self and to others. Vocal Psychotherapy is the use of the breath, natural sounds, vocal improvisation, songs and dialogue within a client and therapist relationship to facilitate intrapsychic and interpersonal change and growth. It combines the ideas and theories of depth psychology with the practice of vocal music therapy. This model includes vocal holding techniques©, free associative singing©, and other techniques for accessing conscious and unconscious feelings, memories and associations.
Vocal Holding Techniques
Vocal Holding Techniques is the name ascribed to a method of vocal improvisation I have been developing and refining since 1994 (Austin 1996; Austin 1998; Austin 1999; Austin 2001). Vocal holding techniques involve the intentional use of two chords in combination with the therapist's voice, in order to create a consistent and stable musical environment that facilitates improvised singing within the client therapist relationship. The therapist uses unison, harmony, mirroring and grounding to support the client in a developmentally based process. This method provides a reliable, safe structure for the client who is afraid or unused to improvising. Vocal holding techniques also support a connection to self and other and can be used to promote a therapeutic regression in which early injuries to the self can eventually be repaired.
Free Associative Singing
Free Associative Singing occurs when words enter the vocal improvisation. The process is spontaneous and the client is free associating in the moment. The therapist is contributing to the process by doubling the client's lyrics (single words or phrases) in the first person but also by offering questions or posing interpretations. An example is the client sings "she is critical" and the therapist sings, "yes, she is critical…like my mother." Because of the continuous flow of the music and the simple harmonic structure as well as the therapist's lyric contributions and vocal support (singing in unison, harmony, mirroring etc.), this method can easily access unconscious feelings, sensations, memories, and associations so they can be processed and integrated into a more complete sense of self.
Enquiries
Contact Maria at mariamonetfacoory@gmail.com or 021 251 7827

Refund policy
Full refunds, less 10% administrative charges, are available prior to July 21, 2017. Following this date, no refunds will be given. However, after this date you may send an alternative person to the event without additional charge.
To request a cancellation, or to make a change, please send an email to the mariamonetfacoory@gmail.com.
In the unlikely event of the workshop being cancelled, a full refund will be given less 10% adminstrative charges.



Acknowledgements
Dr Diane Austin's New Zealand tour, DADU 2017, includes Diane presenting talks in Wellington at the Victoria University Forum (Friday 11 Aug) and the Music Therapy New Zealand Symposium (Sat 12 & Sun 13 Aug). She is also teaching in Auckland at AUT (Thursday 17 Aug). All of these events are open to public attendance - please contact each organisation directly for further information.

Diane's trip to New Zealand has been made possible through a Lindgren Grant from Music Therapy New Zealand.
We also thank Rock Shop and KBB Music for donating the 'Sing Your Heart Out Auckland!' workshop venue.