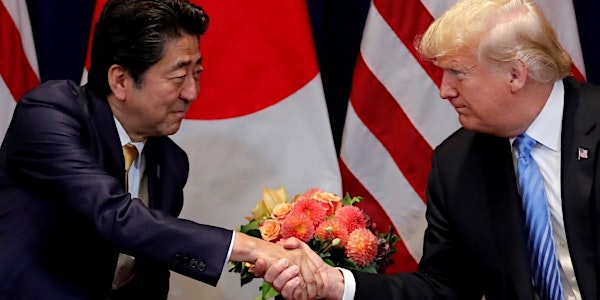 Sir Howard Kippenberger Public Lecture 2019 - 'An Alliance, An Indo-Pacific...
Event Information
Location
Hunter Council Chamber
Level 2, Hunter Building, Victoria University of Wellington
Kelburn Parade
Wellington, 6012
New Zealand
Description
'An Alliance, An Indo-Pacific Vision, and An Unpredictable U.S. President: What's Japan to Do?'
Presented by Dr Sheila A. Smith
Event starts at 6pm (Please be seated by 5.55pm)
Refreshments to follow from 7.15pm to 8pm
Prime Minister Abe Shinzo has earned the reputation for being one of the few world leaders who has built a good working relationship with President Donald J. Trump, and yet the U.S.-Japan alliance is under pressure. North Korea's emergence as a nuclear power, China's growing maritime assertions and Japan's own economic challenges make for difficult policy choices when it comes to Japanese security. But the most daunting for Abe is the growing sense that, despite Trump's rhetoric, the United States may be less interested in shaping regional military balance and far more interested in extracting trade and burden-sharing compromises from America's allies. Doubling down on security cooperation with the U.S., building greater defense capability for the SDF and advocating for a far closer security ties with other Indo-Pacific nations has been Abe's approach. But the danger of the U.S. security guarantee to its allies weakening is undeniable and this comes at a time when threats to Japan are growing. Will Japan be abandoned by the U.S.? Will Abe be able to navigate Trump's desire to upend trade ties and force Japan into ever greater spending on Host Nation Support? Will leaders after Abe be able to manage this new U.S. foreign policy revisionism? Japan's choices will have tremendous consequences across the Indo-Pacific. What would the region look like if U.S. alliances were no longer effective?

Sheila A. Smith is the 2019 Sir Howard Kippenberger Chair in Strategic Studies, at the Centre for Strategic Studies, Victoria University of Wellington. She is an expert on Japanese politics and foreign policy, is senior fellow for Japan studies at the Council on Foreign Relations (CFR). She is the author of Japan Rearmed: The Politics of Military Power (Harvard University Press, 2019), Intimate Rivals: Japanese Domestic Politics and a Rising China (Columbia University Press, 2015), which was released in Japanese as 日中 親愛なる宿敵: 変容する日本政治と対中政策 (Tokyo University Press, 2018), and Japan's New Politics and the U.S.-Japan Alliance (Council on Foreign Relations, June 2014). She is also the author of the interactive website, "Constitutional Change in Japan."

Link to Kelburn Campus map (map ref: g / 24)
Date and time
Location
Hunter Council Chamber
Level 2, Hunter Building, Victoria University of Wellington
Kelburn Parade
Wellington, 6012
New Zealand