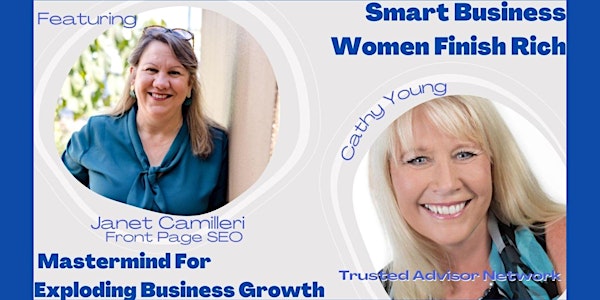 Smart Business Women Finish Rich - MasterMind For Exploding Business Growth
Location
The Local Business Network - Redland City
Unit 38/20 Masthead Drive
Raby Bay, QLD 4163
Australia
Refund policy
Refunds up to 1 day before event
Eventbrite's fee is nonrefundable.
As Smart Business Women it is up to us to kick start 2022. Create your Ideal Business. Join us - discover the true secret to making money!
About this event
Want To Attend For Free? Keep Reading To Find Out How!! 😉
As Smart Business Women Who Finish Rich, it is our job is to build an Ideal Business… The purpose of coming to The Smart Business Women Finish Rich MasterMind event is to create your Ideal Business faster!!
Our Kickoff for 2022 is focused on helping you become more PROFITABLE while learning the lessons that 2021 and Corona Virus presented all of us .
Smart Business Women Who Finish Rich work together with other like-minded business owners to
✅ Generate new ideas and insights ✅ Solve $20K problems ✅ Work together to help each other with challenges and give insights into what's working, so you can all explode your business growth
During this 90 minute session you will discover that focusing on working together and then creating a plan, will put you on the path to creating your Ideal Business in 2022. (And by the way, Profit is not a dirty word - it is THE WORD in business because without it you don't have a business. 😃 🌈 🌈 😉 !!!)
You'll also receive a workbook with all of the key learnings and discover the best strategies........and if that isn't enough you will also create an action plan to implement!
With Janet Camilleri of Front Page Web SEO
Janet specialise in driving CLICKS + CLIENTS to your website, through the search engines (known as Search Engine Optimisation).
⭐⭐⭐⭐⭐ ⭐⭐⭐⭐⭐ ⭐⭐⭐⭐⭐ ⭐⭐⭐⭐⭐
Working with Cathy and Geoff has given our business more focus on how to achieve our goals in a strategic manner.
Sales have increased without sacrificing profit margin and the team have worked more cohesively. We recommend contacting Cathy and Geoff to assist your business create a tailored plan to move your business forward offering guidance and advice with no judgment.
A very happy Karen and Len, Binary Music
⭐⭐⭐⭐⭐ ⭐⭐⭐⭐⭐ ⭐⭐⭐⭐⭐ ⭐⭐⭐⭐⭐
✅✅✅✅✅ Like to experience the Smart Business Women Finish Rich Mastermind for Free?
Contact me at :
✅ cathy@acceleratebusinessconsultancy.com.au
✅ 0407 251 855
and if you haven't attended one of our MasterMinds before, you will receive your free guest pass valued at $250.00
When you master these strategies , we will have several key "big-picture" projects to complete that will deliver a business that's easier to run and more profitable by the end of the year… in effect, your business will be working harder, so that you don't have to…
After working with hundreds of business women (and men) from every industry we've put together the best planning process to Frame Your Future for 2022… a 90-minute Workshop will have you interacting with Smart Business Women with the help of a qualified mentor and printed workbook to guide your discussions.
You'll find friendly, supportive, like-minded business women who want to get ahead and believe in the power of helping each other to get there... If you own a business you should totally be here! See you soon...
Lock it into your diary now and make the time to work 'on' your business. Also, who do you know who's a female business owner? Message them the registration link and invite them along too… Play a Bigger Game in 2022… See you there!