Smart Business Women Finish Rich MasterMind - Make 2022 Your Best Year Yet
As Smart Business Women it is up to us to kick start 2022. Create your Ideal Business. Join us - discover the true secret to making money!
About this event
Want To Attend For Free? Keep Reading To Find Out How!! 😉
As Smart Business Women Who Finish Rich, it is our job is to build an Ideal Business… The purpose of coming to The Smart Business Women Finish Rich MasterMind event is to create your Ideal Business faster!!
Our Kickoff for 2022 is focused on helping you become more PROFITABLE while learning the lessons that 2021 and Corona Virus presented all of us .
Smart Business Women Who Finish Rich, at this time of the year, ✅ Pause and
✅ Reflect to make new plans. ✅ Ensuring that 2022 delivers a more profitable and much more stable outcome than the last one.
During this 90 minute session you will discover that focusing on PROFIT FIRST and then managing costs, will put you on the path to creating your Ideal Business in 2022. (And by the way, Profit is not a dirty word - it is a truly important word in business😃 🌈 🌈 😉 !!!)
You'll also receive a workbook with all of the key learnings and discover the best strategies........and if that isn't enough you will also create an action plan to implement!
⭐⭐⭐⭐⭐ ⭐⭐⭐⭐⭐ ⭐⭐⭐⭐⭐ ⭐⭐⭐⭐⭐
FIGHT OR FLIGHT????? How Should I React To Covid?
As a small business owner, I set a goal of working with Cathy and Geoff Young from Accelerate Business Consultancy to bring me and my business to the next level (well quite a few levels). I felt I had enough experience within my industry, understood my clients, had my recruitment strategy perfected (or so I thought) and started working on my business one on one with our Cathy.
Since working with Cathy, she has helped me enormously with my profit margin, by analysing, recognising, and adjusting just a few things, creating a much healthier bottom line for me. This is not a one size for all strategy she uses, she got to know my business and worked with me from my level.
Now, our borders are open, and it's even scarier in small businesses. I have one of two choices, close my business, or continue to work with Accelerate Business Consultancy and survive this time.
Cathy is helping me work behind the scenes to become a market leader and create strategies to cope with all the challenges we are facing at this time, the uncertainty, the loss of consumer confidence.
We have now 'arrested' the decline of my business, and now have a healthy bottom line.
So, in reaction to Covid, it was fight or flight! I definitely recommend standing your ground, fighting, and getting our Cathy Young from Accelerate Business Consultancy to help you survive and thrive.
⭐⭐⭐⭐⭐ ⭐⭐⭐⭐⭐ ⭐⭐⭐⭐⭐ ⭐⭐⭐⭐⭐
✅✅✅✅✅ Like to experience the Smart Business Women Finish Rich Mastermind for Free?
Contact me at :
✅ cathy@acceleratebusinessconsultancy.com.au
✅ 0407 251 855
and if you haven't attended one of our MasterMinds before, you will receive your free guest pass valued at $250.00
When you master these strategies , we will have several key "big-picture" projects to complete that will deliver a business that's easier to run and more profitable by the end of the year… in effect, your business will be working harder, so that you don't have to…
After working with hundreds of business women (and men) from every industry we've put together the best planning process to Frame Your Future for 2022… a 90-minute Workshop will have you interacting with Smart Business Women with the help of a qualified mentor and printed workbook to guide your discussions.
You'll find friendly, supportive, like-minded business women who want to get ahead and believe in the power of helping each other to get there... If you own a business you should totally be here! See you soon...
Lock it into your diary now and make the time to work 'on' your business. Also, who do you know who's a female business owner? Message them the registration link and invite them along too… Play a Bigger Game in 2022… See you there!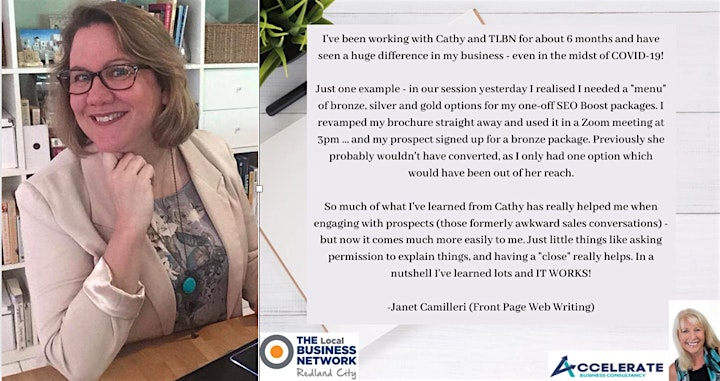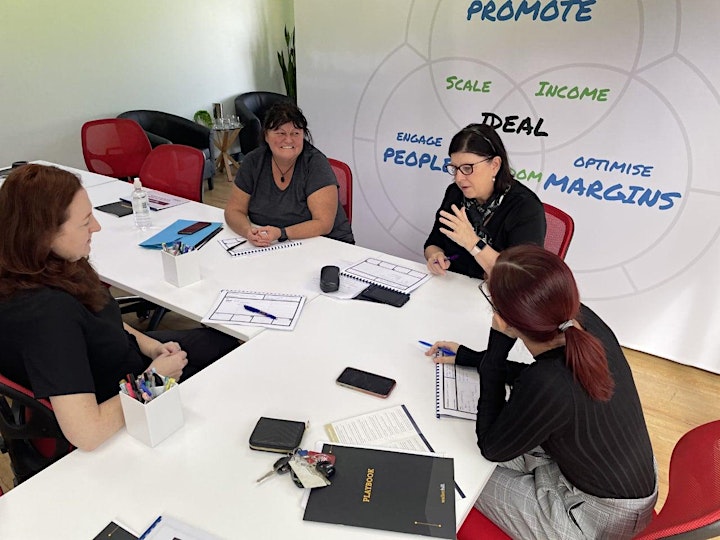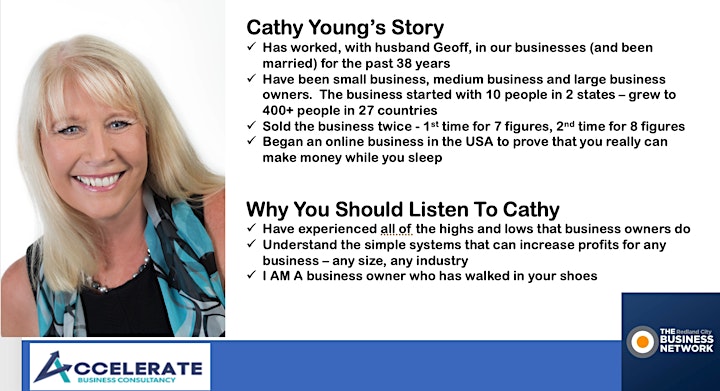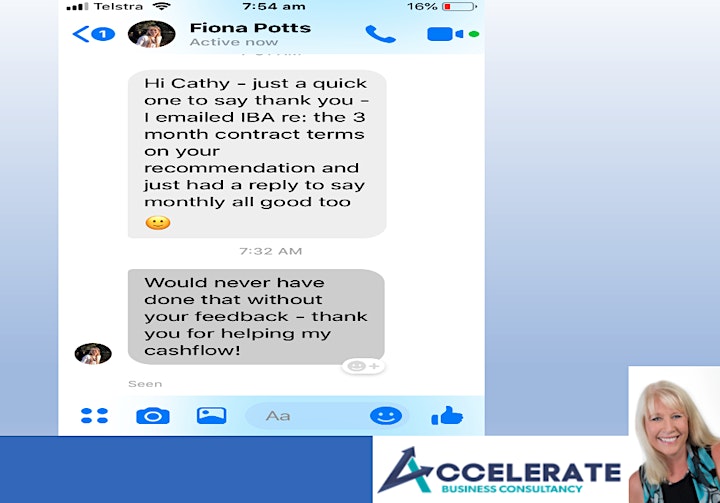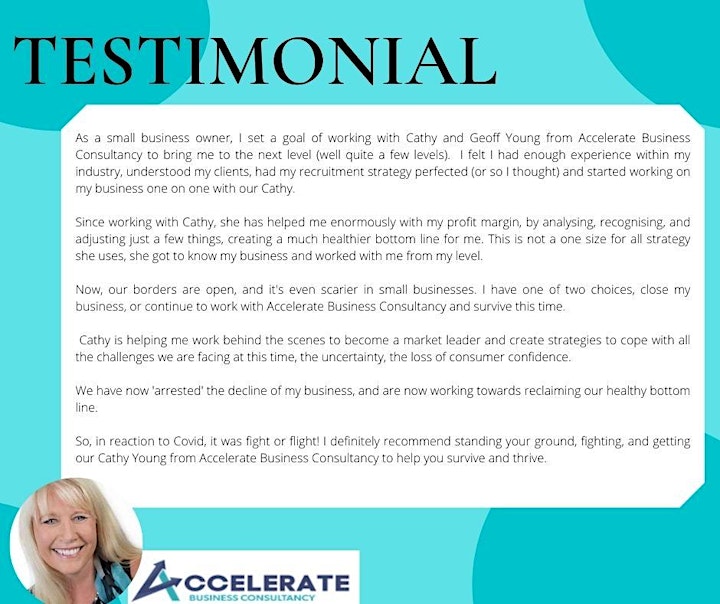 Organiser of Smart Business Women Finish Rich MasterMind - Make 2022 Your Best Year Yet
As your Local Director my job is to help your business in 3 different ways: 
1.Promote your business with an on-line Business Feature 
2. Bring local owners together into Events that focus on solving everyday business problems
3. Work with individual business owners to deliver their Ideal Business… that's your Ideal Income (so you're well paid), Ideal Hours (so you don't burn out) and Ideal Scale (so you get to the size you want)...
Every workshop that you'll see here has many strategies for your business that you can get started with immediately… they are simple, practical and have worked for hundreds of business owners over the last 16 years that we've been helping business owners for.  
Our events are for time-challenged, hard-working, practically-minded business owners who give their business 100% and know they want to their business to work as hard for them, as they work on it.  Book into an Event and join other business owners who want to Play a Bigger Game…