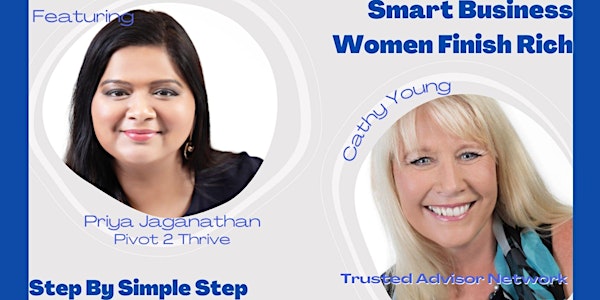 Smart Business Women Finish Rich MasterMind - WorkRoom Step By Simple Step
Location
The Local Business Network - Redland City
Unit 38/20 Masthead Drive
Raby Bay, QLD 4163
Australia
Refund policy
Refunds up to 1 day before event
Eventbrite's fee is nonrefundable.
Smart Business Women WorkRoom is a practical hands-on Implementation Session to make sure Business Development strategies are BANKABLE.
About this event
Want To Attend For Free? Keep Reading To Find Out How!! 😉
As Smart Business Women Who Finish Rich, it is our job is to build an Ideal Business… The purpose of coming to The Smart Business Women Finish Rich MasterMind event is to create your Ideal Business faster!!
Our Kickoff for 2022 is focused on helping you become more PROFITABLE while learning the lessons that 2021 and Corona Virus presented all of us .
Smart Business Women Who Finish Rich understand that WorkRoom is a practical hands-on Implementation Session to make sure Business Development strategies are BANKABLE. All practical, no theory, no fluff, just the raw materials you need to build the systems you need to get your business making you more money. You'll get tried and tested worksheets that make implementing change into your business seamless.
During this 90 minute session you will discover that focusing on PROFIT FIRST and then managing costs, will put you on the path to creating your Ideal Business in 2022. (And by the way, Profit is not a dirty word - it is a truly important word in business😃 🌈 🌈 😉 !!!)
You'll also receive a workbook with all of the key learnings and discover the best strategies........and if that isn't enough you will also walk out of the session with an action plan to implement!
⭐⭐⭐⭐⭐
Featuring our speaker for today, Priya Jaganathan!
Priya is an Online Marketing & Sales Coach helping business grow their online visibility and generate leads using organic social media marketing strategies. Priya has a holistic approach in optimising & value adding current services & products , price validation , marketing and sales strategies to increase revenue.
⭐⭐⭐⭐⭐ ⭐⭐⭐⭐⭐ ⭐⭐⭐⭐⭐ ⭐⭐⭐⭐⭐
After 7 years of having my own business, I felt like I was stuck in the slow lane. I was good at what I did, but had no clue about how to run a business, let alone grow it!
Since working with Cathy Young of Accelerate Business Consultancy, I have been able to see and take small steps towards success - and over the past 12 to 18 months, that's added up to massive growth in my business.
I am now achieving my financial goals and have made the leap from sole trader to a team, and am able to assist many more happy customers.
To any business owner feeling stumped like I was, I have no hesitation in recommending Cathy Young as a business coaches to help you move your business to the next level.
A very happy Janet Camilleri, Front Page SEO
⭐⭐⭐⭐⭐ ⭐⭐⭐⭐⭐ ⭐⭐⭐⭐⭐ ⭐⭐⭐⭐⭐
When you master these strategies , we will have several key "big-picture" projects to complete that will deliver a business that's easier to run and more profitable by the end of the year… in effect, your business will be working harder, so that you don't have to…
After working with hundreds of business women (and men) from every industry we've put together the best planning processes… a 90-minute Workshop will have you interacting with Smart Business Women with the help of a qualified mentor and printed workbook to guide your discussions.
You'll find friendly, supportive, like-minded business women who want to get ahead and believe in the power of helping each other to get there... If you own a business you should totally be here! See you soon...
Lock it into your diary now and make the time to work 'on' your business. Also, who do you know who's a female business owner? Message them the registration link and invite them along too… Play a Profitable and Bigger Game in 2022… See you there!