A Spoken Word workshop hosted over dinner. Looking at how spoken word poetry speaks to our stories, to justice, & to our communities.
About this event
Join us in a night of exploring the world of arts and activism - through the medium of spoken word poetry. This is a workshop hosted over dinner.
We are delighted to have Dietrich, Zech and Eric Soakai sharing. These brothers are renowned poets, but also community educators and youth workers. Total legends.
It'll be a true workshop where we'll all learn how to write a poem, and encounter a medium for giving voice and telling stories. Spoken word is a powerful way of exploring stories - those of the land, our communities and the world around us. It can lend words to justice. To authenticity. And to change.
Maybe poetry is a medium you're familiar with. Maybe not. All are welcome! There'll be spaces to listen, learn, and give it a go.
This event is co-hosted by South West Baptist Church and the Soakai brothers. For more information on your hosts, keep scrolling.
Tickets Required
Due to the venue health and safety requirements, there are limited tickets available for this session, and only people holding tickets will be allowed entry on the night. Please select multiple tickets if you would like to bring a guest.
Your hosts: South West Baptist Church
South West Baptist Church is a church on a journey towards becoming a more Presence Based Church. This means we are making slow and deliberate movements towards solidarity with a people and a place.
Our commitment to this journey is guided by our timeless kingdom vision focused on Redemptive Communities and Lifelong Followers and a sense that we are responding to where the Holy Spirit is at work bringing new life and raising up a new way of living out our redemptive life.
Your hosts: Soakai Brothers
Dietrich Soakai
Dietrich Soakai is of Sāmoan, Tongan, German, Irish, Scottish and Fijian heritage and is a spoken word poet. He has been involved in the spoken word scene since 2011 where he joined the South Auckland Poets Collective (SAPC). Dietrich has performed in numerous shows with SAPC both nationally and internationally. Some highlights have been performing on various stages in Melbourne, Adelaide, Brisbane and in LA on the world-renowned spoken word stage Da Poetry Lounge. He also has performed with the Auckland Philharmonia Orchestra where he performed a poem for the ANZAC commemoration concert. 
Aside from writing, performing and creating, Dietrich has used Spoken Word Poetry as a medium to facilitate workshops of a reflective nature. He currently is writing a book of poetry and continues to facilitate Spoken Word workshops across the country.
Zech Soakai
Zech Soakai is a young Pasifika poet, performer, educator, and change-maker. He works in the spaces where equity, performing arts and education intersect. Zech believes relentlessly in the limitless potential, talent and excellence that exists within our Māori and Pasifika youth. He is most proud to watch the students he serves go on to flourish in the different spaces that they inhabit.
Eric Soakai
Eric Soakai is a Samoan (from Poutasi, Falealili)/ Tongan (from Felemea and Pangai in Ha'apai) artist based out of South Auckland. The Grounded Slam Champion 2018 and New Zealand National Poetry Slam Champion 2019, Erics work now focuses primarily on 'returning to Indigeneity'. His latest poem 'Arriving at the Path-Well Trodden' will be featured in the 2021 Fifth Edition of the Knowledge Makers Journal out of Thompson Rivers University in Canada.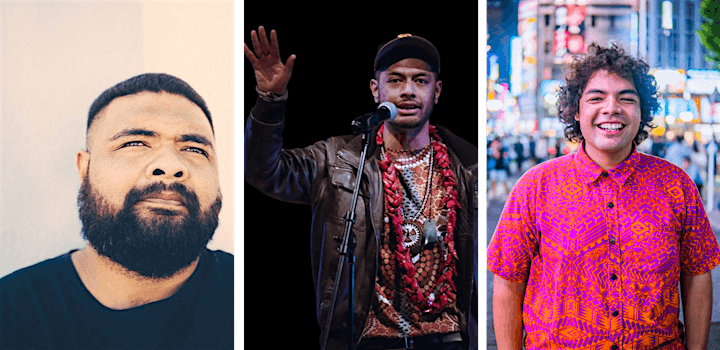 Organiser of Social Justice & Leadership - A Spoken Word Workshop
We're a slow and deliberate movement towards solidarity with a people and a place.
We're rediscovering the importance of place for belonging.
We're individuals, groups and churches on a journey towards becoming more presence based.
We're following Jesus into the places we live.
We want to see kingdom transformation for Aotearoa and to the ends of the earth.
And we're better when we do this journey together. So we gather to learn, connect and share. You'll find some of our events here.