Soul Journey Mongolia 2018

Sunday, 2 September 2018 at 12:00 pm

-

Wednesday, 12 September 2018 at 9:00 am (Ulan Bator Standard Time Mongolia (Ulaanbaatar) Time)
Event Details
Mongolia: The Shamanic Warriors Tour
Join Ancient Wisdom expert Mike Handcock and Shamanic Tradition expert Landi Jac in the home of the great Khan's - Gengis and Kublai - for one of our most special and remote Soul Journeys.
'Shamanism encompasses the premise that shamans are intermediaries or messengers between the human world and the spirit worlds. Shamans are said to treat ailments/illness by mending the soul. Alleviating traumas affecting the soul/spirit restores the physical body of the individual to balance and wholeness. The shaman also enters supernatural realms or dimensions to obtain solutions to problems afflicting the community.'
SACRED CIRCLES | PAST LIVES | ANCIENT WISDOM | PROFOUND LIFE EXPERIENCES
Day 1. Ulaanbaatar City 
Accommodation: Best Western Premier Tuushin or Similar
Itinerary
Our Tour starts at a Welcome Lunch for all Soul Journey participants, which includes a briefing on the Shaminic Mongolia journey. After lunch, take a city sightseeing tour including a visit to Gandan Monastery with its huge gold plated Buddha, a symbol of Mongolian national pride and cultural revival. See the monks chanting and spin some prayer wheels. Then visit the National Museum of Mongolian History where you will see artefacts from Mongolia and Central Asia dating from the Stone Age to the present. Enjoy a cultural performance in the evening. 
Soul Experience
Reconnect with new and old friends, experience the JOY in Gandan - which literally means "The Big Place of Complete JOY'. Delve into the energy of complete uninhibited joy just for a few minutes and see what shifts in your soul - then shift that energy to the relics of the great Khans. Were they butchers, egotists or brilliant leaders committed to their people? Your soul - your choice. Become light as you uncover a land somewhat untouched by time, where the old customs are still prized. What role does the word culture and tradition have in your life?
Meals: Lunch & Welcome dinner 
Day 2. Ulaanbaatar – Bayangobi 
Accommodation: Hoyor Zagal Ger Camp or similar
Distance: 280 km/4 hours driving 
Itinerary
Bayangobi is a unique combination of mountains, forests & Gobi-type landscape in one location which makes habitation here fractionally less harsh than other parts of the Gobi. 
In the afternoon we visit a horse breeder's family and try out fresh mare's milk, a traditional healing drink. Fresh mare's milk cleans the liver and gallbladder and boosts the immune system. Compared to other livestock's milk, the amount of lactose contained in mare's milk is almost the same as in breast milk. Lactose is a fuel for the brain. Compared to cow's milk, mare's milk contains 3.2 times less cholesterol and 14 times more vitamin C. Tonight is our first night in a traditional Ger Camp. 
Soul Experience
New experiences abound. Notice how you adapt to new experiences. Do you embrace them or shy away from them? Why is that? What methodology do you employ in your life to boost your immune system, to physical issues, or work and relationship issues? What relationship do you have with desert? It the expanse enrapturing or frightening? What programs and undercurrents do you have within you that surface in situations like these. Today we will explore what new environments and experiences have in store for your soul.
Meals: Breakfast/Lunch/Dinner 
Day 3. Bayangobi – Kharkhorin 
Accommodation: Anja Eco Camp or similar
Distance: 100km/2-3 hours driving 
Itinerary
After breakfast at the hotel, we drive to Kharkhorin for a full day of excursions. Visit the ancient Capital of the Great Mongolian Empire and Erdenezuu Monastery, the main treasure of Mongolian Buddhism. Kharkhorin was established in the valley of the Orkhon river in 1220. The monastery is surrounded by beautiful white walls with 108 stupas. For centuries it was a spiritual and intellectual centre of Mongolia. There is an extraordinary collection of Buddhist paintings, priceless religious objects, special costumes for Tsama religious dance and superb Buddhist iconography in true Mongolian and Tibetan style. 
Soul Experience
The Capital of Mongolia during the great Khan's. What energy do you pick up at Kharkhorin? And the Erdenezuu Monastery - named the Jewel of Temple, built from the remnants of the great city. Today we study the significance of energy balance plus the role of sacred numbers. 108 is one of the most sacred. With not only a role in Buddhism but also a role in the Precession of the Equinoxes. 108, links Cambodia, the Vikings, Egypt and Mongolia. Find out why these ancient site are inextricably linked.
Meals: Breakfast/Lunch/Dinner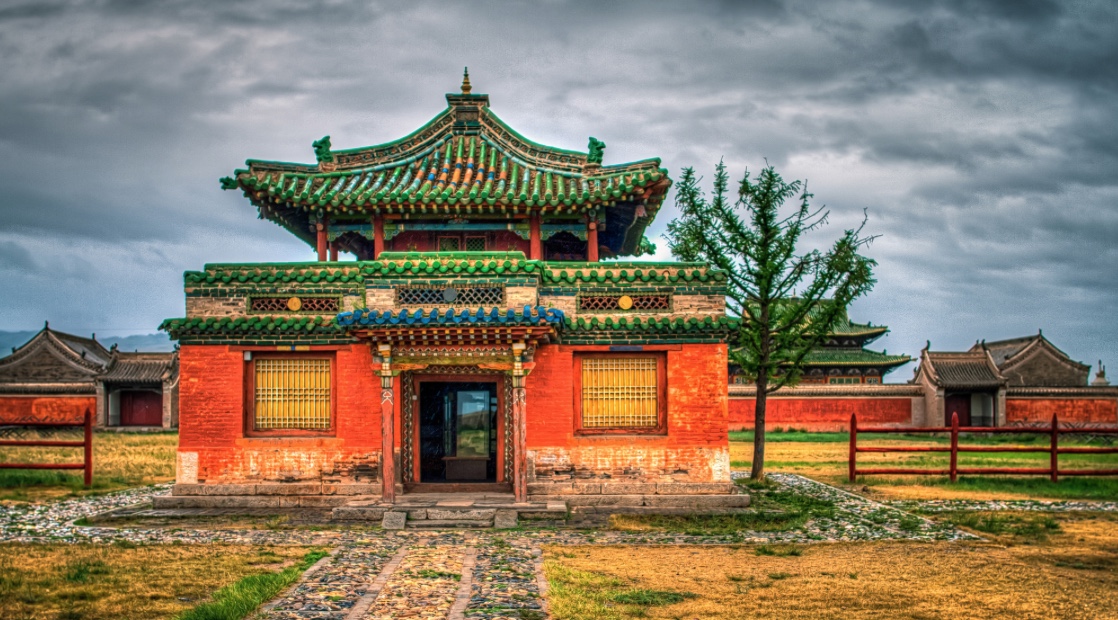 Erdenezuu Monastry
Day 4. Kharkhorin - Tuvhun Temple (walking is involved to visit the temple) 
Accommodation: Talbiun Ger Camp or similar
Distance: 80 km 
Itinerary
After breakfast, we will drive to Tuvkhun monastery. The first Bogd Gegeen Zanabazar built this monastery in 1651 for his meditation. He subsequently created some of his most famous works of art in this place. The monastery is located at the altitude of more than 2000m, surrounded by mountain larch forests. On the back of this temple there is a cave called the Mother Cave. In the late afternoon drive to our base camp located in the Orkhon Valley. 
Soul Experience
Ceremony at the place of the most sacred first Mongolian Lama to ground warrior energies that may have surfaced in your past and replace them with tranquility if you chose. What role does art have in creating your reality, exercising your inner voice and expression? Today is a day to discuss spiritual meaning and services as part of our daily lives. Tonight will be a special Astrological shamanic ceremony and celebration of the universe and all its gifts.
Meals: Breakfast/Lunch/Dinner 
Day 5. Tuvhun Temple – Bayanhongor 
Accommodation: Local hotel
Distance: 5-6 hours driving 
Itinerary
In the afternoon arrive in Bayanhongor province known for its hot spring "Shargaljuut" known for its natural healing powers. once we check into the hotel the balance of the afternoon will be free for your own exploration.
Soul Experience
Mid Tour. It's time to check in with our on bus workshop. We will be sharing the story of Ghengis Khan and Kublai Khan and the formation and crumbling of the great Mongolian Empire. This Empire was second only to the British Empire in terms of size and reach. It's also time to check in to the revelations and insights from each participant as that will shape what we have in store for the next part of our journey. This will be highlighted in the shamanic journey of ancestory.
Meals: Breakfast/Lunch/Dinner 
Day 6. Bayanhongor 
Accommodation: Local hotel
Itinerary
Today we will spend the day trying out several hot springs in the Shargaljuut complex. "Shargaljuut" hot springs contains approximately 100 springs, most of them are rich in hydrocarbonat, sodium sulfate. The hot springs are good for metabolism, arthritis, skin irritation. (Please kindly note that people with heart problems are advised not to use the hot spring.) 
Soul Experience
The Springs also revolutionise emotional and spiritual healing. Our discussions today with be around alternative healing and the future of health. We are assuming our group will have strong views, be well researched and educated and have strong views and abilities in healing modalities. We will give an overview of the shamanic healing processes.
Meals: Breakfast/Lunch/Dinner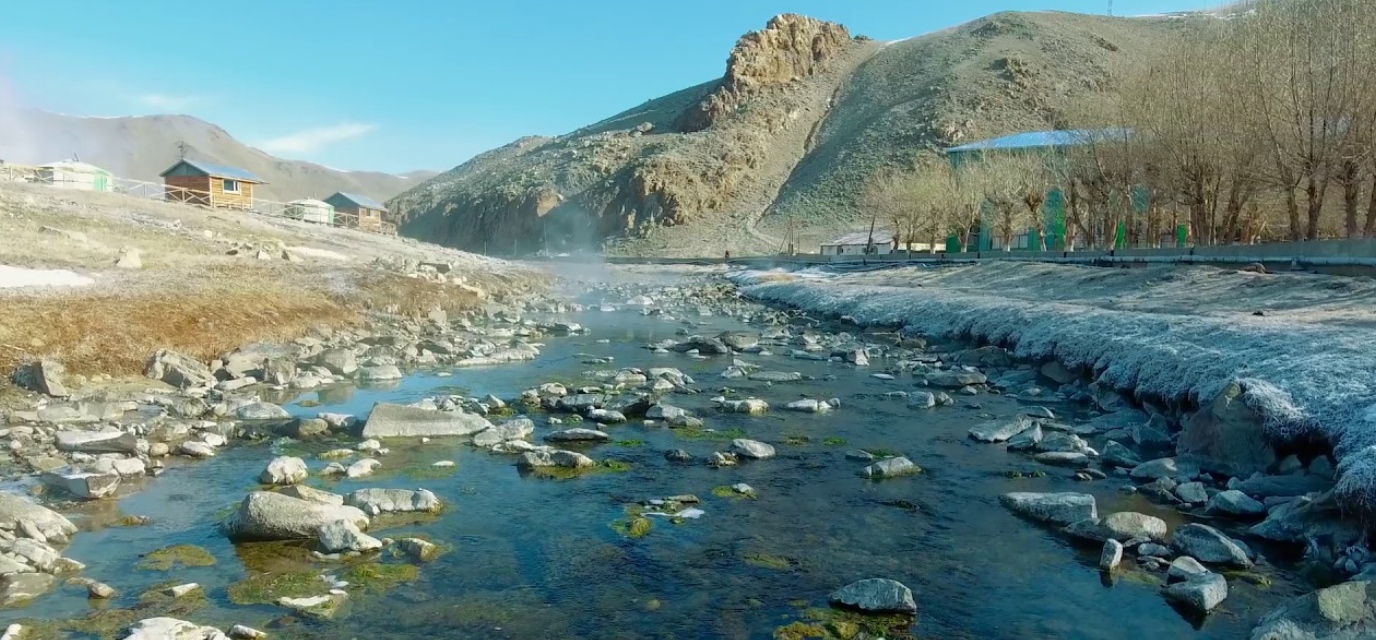 Hot Springs Camp
Day 7. Bayanhongor – Gobi Camel Camp 
Accommodation: Gobi Camel Ger Camp or similar
Distance: 260km dirt road/5 hours driving 
Itinerary
In the morning we drive to Gobi camel camp near Ih Bogd Mountain, the highest mountain in Bayanhongor province at close to 13,000 ft. We spend the afternoon peacefully in our small nomadic "Ger". 
Soul Experience
Following our bus journey through what truly is desert and mountains our workshop today will be on the relevance of past lives, DNA memory and Shamanic Guides in our normal western lives. You will explore and learn some of the shamanic traditions and some practical techniques you can use in everyday life to get on top of your own emotions and develop a stronger internal GPS. This ceremony elaborates and goes deeper into the relationship with your ancestors.
Meals: Breakfast/Lunch/Dinner 
Day 8. Khongor sand dunes 
Accommodation: Ger Camp
Distance: 240km 
Itinerary
The magnificent Khongoriin Els sand dunes stretch for an extraordinary 180 km. The intense sound of wind-blown sand can be heard from long distances. This sound is so melodic that 200m high sand dunes are called "Singing Dunes". Here you will have an opportunity to ride two humped Bacterian camels, referred to by locals as "Living Dinosaurs". 
Soul Experience
Today we explore natures songs and the vibration and frequency nature provides for us to calm us, excite us, revive us and nurture us.
Meals: Breakfast/Lunch/Dinner 
Day 9. Yoll Valley and the Flaming Cliffs 
Accommodation: Ger Camp
Distance: 170kms/ 4 hours driving 
Itinerary
After an early breakfast we head into the sand dunes for a 3 hour trek then back to camp in time for lunch. After lunch we head towards Bayanzag to experience an amazing sunset at the Flaming Cliffs. Dinner at our overnight camp. 
Soul Experience
The Flaming Cliffs are red like Ayres Rock or Sedona at Sunset. However they are also Mongloia's Fossil treasure trove and the home of the Velociraptor and Protoceratops of Jurassic Park fame. Found in the same year that Tutankhamun was found this eerie place is indeed a place for reflection and final clearing of your past. At sunset we will complete a very special sunset ceremony at the cliffs to completely wipe away any imprint that is restricting you from your past.
Meals: Breakfast/Lunch/Dinner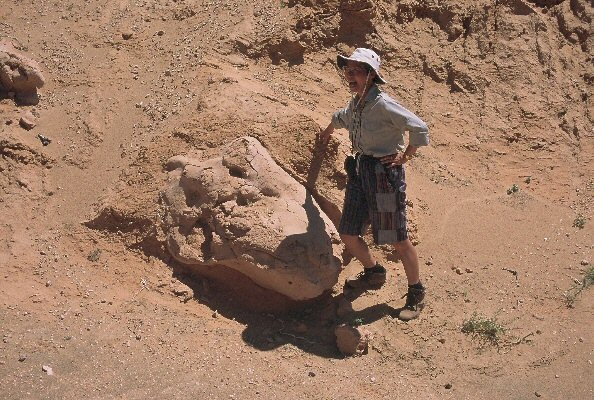 Raptor Fossil at Flaming Cliffs
Day 10. Ulaanbaatar City 
Accommodation: Best Western Premier Tuushin or Similar
Distance: 1.5 hours flight (Included)
Itinerary
In the morning we fly back to Ulaanbaatar from the Gobi Desert. After landing in Ulaanbaatar we transfer to our hotel. In the afternoon we visit the Mongolian shaman centre and have discussion time with a Shaman. You can ask any questions you are interested in. The Shaman can tell about healing methods but is unable to demonstrate them as it takes preparation and is carried out after sunset. Enjoy our farewell dinner in the evening. 
Soul Experience
Be prepared to ask our shaman questions. Not only those about what they do, but about how that can be applied to your life. We will have a final sharing meeting at the hotel prior to our leaving  dinner. 
Meals: Breakfast/Lunch/Dinner 
Day 11. International Departures
Itinerary
After breakfast you are free to continue your own journey, all the while remembering and rejoicing in your new additions to the family of Soul Journeys.
and remember:
"People love to travel because they love who they are when they travel" - Mike Handcock
INCLUDED:
Arrival Day and Departure Day transfers

Transportation throughout the Tour

Gobi Desert to Ulaanbaatar one way flight 

English speaking tour guide throughout and Soul Journey Leaders

All meals as described

Sightseeing as per itinerary

Entrance fees at various sites

6 nights in Ger Camps 

2 nights in local hotels 

2 nights in Best Western Premier Tuushin hotel or similar

Daily water 
NOT INCLUDED:
Flights to Mongolia

Visas

Tips (we may collect tips and will advise the amount required)

Personal Expenses
$6,995 NZD
Earlybird $6,495NZD - (For bookings prior to Feb 28, 2018)
Unifier of the thoughts of the Mongols.…
Your gigantic, great body is like lightning,
Ruler over many clouds,
With ten thousand eyes…   
(Shamanic Invocation)
For Full Terms and Conditions on all our Tours please refer to https://www.souljourneys.tours/terms-conditions Be aware that we have a 100% no refund policy that is rigidly enforced to protect pricing for all our customers.
For enquiries email: souljourneys@rockyourlife.net
When & Where

Ulaanbaatar

Ulaanbaatar, Ulaanbaatar
Mongolia

Sunday, 2 September 2018 at 12:00 pm

-

Wednesday, 12 September 2018 at 9:00 am (Ulan Bator Standard Time Mongolia (Ulaanbaatar) Time)
Add to my calendar
Organiser
Rock Your Life is a composite group of companies that operates across the globe. Comprising events, training, media, publishing and soul journeys Rock Your Life produce transformational information for entrepreneurs and intrepreneurs on Business, Health, Wealth and Wisdom.
We work with many of the world's leading cutting edge experts in their fields (Global SAGE's) and deliver this information through live and virtual events, our videos, audio, radio, books and publications as well as our amazing 7 – 14 day soul journeys. We absolutely love what we do and are committed to assisting everyone 'play a bigger game' in their life.
The home of www.entrepreneurxfactor.com
info@rockyourlife.net
www.RockYourLife.net
Cancellation Policy
Due to the global nature of our events, we have a strict no-refund policy and are unable to offer any refund on payments received.  
While this is the case, we would like to offer you an upgrade or a possible transfer to one of our future global programs or events.
Another alternative is that we would assist you to transfer your attendance spots to one of your business associates or partners for any of our upcoming events. It is however your responsibility to find a new ticket owner.
 Please refer to the terms and conditions particular to SOUL JOURNEYS here:
 http://www.rockyourlife.net/#!terms/chw7