Event Information
Refund Policy
Refunds up to 7 days before event
Description
Let our legendary line up walk you through the 'Head to Toe' of sports performance innovation. Starting at the eyes and working their way down to the feet, this fascinating forum will feature four distinct perspectives from leading professionals in the world of sports innovation. The event will be on Wednesday 9th August from 9am-1pm (2pm with lunch) at the Adam's Centre of High Performance, home to Bay of Plenty Rugby, New Zealand Rugby Sevens and visited by other national sports teams.
Why attend?
The Sports Performance Innovation Forum is filled with inspirational talks from four experts - this is your chance to gain an inside view of the processes involved when it comes to creating innovation within sports performance.
You will get to:
Hear exemplar case studies from leading experts

Gain visibility on future trends and impacts in sport

Walk away with new frameworks to consider for sports innovation and performance in your area of interest

Connect with other New Zealanders working in sports performance, product development and the nutrition community

Visit the cutting edge new University of Waikato Adams Centre for High Performance
The Speakers
The Eyes: Steve Stanley, Business Development, Siliconcoach
Steve Stanley is a Business Development Manager at Dunedin-based Siliconcoach: a software company advancing sports performance. Through the use of high quality videos, Siliconcoach helps athletes accelerate their sport performance. Steve has split the last eleven years between Product Design, Account Management, Project Management and Business Development. Steve first studied at Dunedin's School of Physical Education, where he earned both an undergraduate and master's degree in PE, focusing on biomechanics. He worked as a Research Officer at AUT's School of Physiotherapy before returning to Dunedin to become a qualified Physiotherapist. His impressive career includes research, lecturing and hands-on physio practice. Steve will share Siliconcoach's unique journey as well as new and emerging technologies across the sector.
The Hands: Peter McGlashan, NZME, Cricket Commentator/Panelist
Peter McGlashan spent the last twenty years exploring opportunities and advancing ideas. Always seeing things from an unorthodox angle, his career path has included being a professional cricketer, a product designer, a shoe salesman, a campaigner against domestic violence, a radio commentator and television presenter. Each role has required a focus on innovation, always with the end result in mind. As an athlete, Peter's constant desire to improve pushed him to stand out from the pack and the experience now shapes his everyday decisions. A former Northern Knights player, Peter holds a world record for most catches in a match which he won whilst wearing a prototype glove he developed himself...which he's still not sure was actually legal.
The Belly: Stacy Sims, Senior Research Fellow, Waikato University's Adams High Performance Centre
Exercise physiologist and nutritional scientist, Stacy Sims, MSC, PhD, is a Senior Research Fellow at Waikato University's Adams High Performance Centre. Her research delves into the sex differences of heat and altitude stress, recovery, genetics and nutrition in order to moderate adaptive responses for performance. Stacy applies her research to the practice of some of New Zealand's top elite athletes. She examines cooling and heat strategies, hydration practices and nutrition to improve sports performance and overall health. She modifies elite athletic practices to help obese and sedentary individuals improve exercise tolerance and clinical outcomes. Stacy is touted with creating the new sports nutrition niche of low carbohydrate electrolyte functional hydration. She is the author of ROAR, a comprehensive, physiology-based nutrition and training guide for active women.
The Feet: Wade Flanagan, Innovation Developer, Nike
Originally from Tauranga, Wade Flanagan, now works as an innovation developer in Nike HQ's prestigious innovation kitchen. A mechanical engineer with a Masters of Engineering in Management, Wade worked as a design engineer in Nelson before heading overseas where he started an innovative fresh flower delivery business in Portland, Oregon. He worked as a project manager at leading global railcar manufacturer, The Greenbrier Companies, before eventually moving to his current role at Nike. For Wade, maintaining a rich pipeline of innovations to fuel a multi-billion-dollar sports business can only be described as a childhood dream come true.
There are two ticket types available:
Forum $50
Forum + Lunch $70

This event is part of Groundswell, Tauranga's inaugural innovation festival.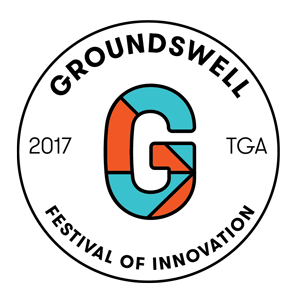 Date and Time
Location
The University of Waikato Adams Centre for High Performance Tauranga
52 Miro Street
Tauranga, Bay Of Plenty 3116
New Zealand
Refund Policy
Refunds up to 7 days before event