The pulsating sounds of the steelpan will reverberate at Anthology Lounge on Saturday 27th November, courtesy of Steel'n Beats.
About this event
Come and experience the upbeat grooves of Steel'n Beats Steelband as they perform live at Anthology Lounge, Auckland's lavish music lounge & premier wine bar set amidst historic Karangahape Road.
A tight-knit ensemble with an ambitious repertoire, Steel'n Beats take their blend of classic calypso and modern pop tunes to clubs, festivals and private events around New Zealand using instruments hand-built by the legendary pan maker and musician Lennox Jordan from Trinidad & Tobago.
Steel'n the Show will pump out a host of styles and feel, with Steel'n Beats' lively and sophisticated interpretations of music by Santana, Sting, Daft Punk, Six60, as well as classic calypso tracks by the likes of Lord Kitchener or Calypso Rose.
WHEN: Saturday 27th November
TIME: Doors open at 7pm.
Event concludes by 11pm.
Licensed Bar - eftpos / cash (Strictly no BYO)
Earlybird Tickets: $15 (plus booking fee) - available until 10th October (unless sold out prior).
General Admission: $20 (plus booking fee) - on sale once Earlybird ends.
Please kindly note that door sales may be limited on the night and is subject to venue capacity.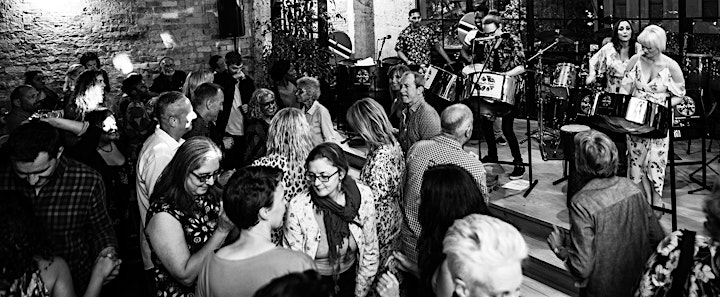 Steel'n Beats is a central part of the Auckland steelpan scene, the beating heart of a global community devoted to the steelband tradition. The ensemble is the realisation of Tish Viljoen's long-held vision for a tight-knit group working on ambitious arrangements of traditional calypso to modern pop and vintage soul music. "The diversity of great material plays an important role," says Viljoen. "Everyone in the band has something great to bring to the table, and together we create this incredible vibe combining steelpans and percussion instruments. It's so addictive that we just love performing to our audiences!"
The steel pan has Caribbean roots in Trinidad & Tobago stretching back generations, and today there are steelband groups active in over 50 countries around the world, with numerous thriving festivals and competitions. It takes hours of precision hammering to fine-tune recycled 55-gallon oil drum, resulting in a series of different sized instruments, each capable of intricate harmonies and textures. But the instrument truly comes to life when it's played in unison - as part of a steelband ensemble, one of the world's most boisterous, glorious noises. "For the casual listener the music might at first evoke something laidback and summery, but it's so much more dynamic when played as a group, and it has such a rich history. We're not just a regular covers band. Experiencing a Steelband is something completely different and it will get into your heart. It is exciting and the sound is otherworldly." she says.
Steelbands have been at the heart of carnival tradition in Trinidad since at least the 1930's, where groups more than a hundred strong perform thunderous and irresistibly funky arrangements of traditional and modern tunes. Steel'n Beats maintain that connection through their use of custom instruments from Trinidad & Tobago hand-built by the legendary maker and musician Lennox Jordan, who is in demand in places as far afield as Australia, Switzerland and Oman.