Teacher, author, storyteller, spiritual activist, farmer. A special opportunity to spend an evening with Stephen Jenkinson.
About this event
Evening event $35.00 + booking fee
The book 'Come of Age' will be on sale. There will be an opportunity to have your copy signed personally.
In his landmark provocative style, Stephen Jenkinson makes the case that we must birth a new generation of elders, one poised and willing to be true stewards of the planet and its species. Come of Age does not offer tips on how to be a better senior citizen or how to be kinder to our elders. Rather, with lyrical prose and incisive insight, Stephen Jenkinson explores the great paradox of elderhood in North America: how we are awash in the aged and yet somehow lacking in wisdom; how we relegate senior citizens to the corner of the house while simultaneously heralding them as sage elders simply by virtue of their age. Our own unreconciled relationship with what it means to be an elder has yielded a culture nearly bereft of them. Meanwhile, the planet boils, and the younger generation boils with anger over being left an environment and sociopolitical landscape deeply scarred and broken.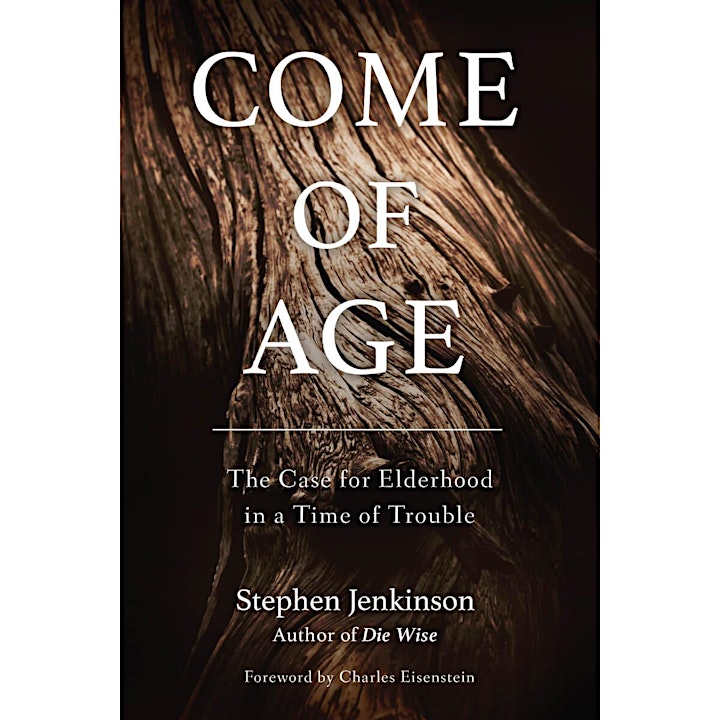 Stephen teaches internationally and is the creator and principal instructor of the Orphan Wisdom School, founded in 2010.
With Master's degrees from Harvard University (Theology) and the University of Toronto (Social Work), he is revolutionizing grief and dying in North America. Stephen is redefining what it means to live, and die well. Apprenticed to a master storyteller, he has worked extensively with dying people and their families, is former programme director in a major Canadian hospital, former assistant professor in a prominent Canadian medical school, consultant to palliative care and hospice organizations and educator and advocate in the helping professions. He is also a sculptor, traditional canoe builder whose house won a Governor General's Award for architecture.
He is the author of 'Come of Age: The Case for Elderhood in a Time of Trouble' (2018) and award-winning 'Die Wise: A Manifesto for Sanity and Soul' (2015), 'Homecoming: The Haiku Sessions' – a 3day live recorded teaching (2013), 'How it All Could Be: A work book for dying people and those who love them' (2009), 'Angel and Executioner: Grief and the Love of Life' – a daylong live recorded teaching (2009), and 'Money and The Soul's Desires: A Meditation' (2002), and former contributing author to Palliative Care – Core Skills and Clinical Competencies (2007). Stephen Jenkinson is also the subject of the feature length documentary film 'Griefwalker' (National Film Board of Canada, 2008), a lyrical, poetic portrait of his work with dying people.