Description
Storying our lives: exploring our past and present through the lens of story
A retreat in a day led by Pádraig Ó Tuama and Simon Harger-Forde and hosted by the Auckland Spiritual Community in collaboration with the Corrymeela Community.


"Story is a key part of our wellbeing. When we know our story, we can know that our story will be heard, we can find words to share our story, and we can find ways in which our story both resembles and differs from others. When we know our story, our wellbeing is deepened."
Pádraig Ó Tuama
This retreat is open to those of all faiths, and those of none. While our venue is part of a particular faith tradition, the retreat will welcome people of all genders, sexualities, cultures and faith traditions. All are very welcome.
This retreat day will be a valuable way to enter fully into 2019, and a remarkable opportunity to spend time with renowned storyteller, poet and reconcilliation leader Pádraig Ó Tuama, joining us from Ireland. Through a mix of reflective and practical experiences, Pádraig and Simon will guide us to reflect on the stories that inform us and the world around us. We will consider what stories are valuable and serve us well, and those that do not. We will explore how those stories have informed who we are today, and consider ways to retell stories in new ways; let some stories go; and strengthen others.
What to expect
This day will be an encounter with others who share a commitment to understand the world and its stories with significance and depth. It will also be a special day of commitment to yourself. In taking a day out to nourish yourself, you will feed your spirit and wellbeing.
The day will be a mix of styles including listening and teaching time, quiet reflective time (some in silence), and small group discussion and listening time. This will all be assisted with healthy, delicious food and the beautiful environment at St Francis Retreat Centre.
Pádraig Ó Tuama and the Corrymeela Community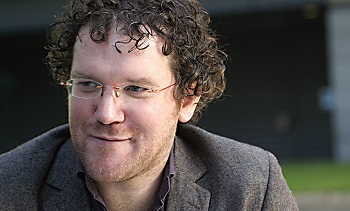 Pádraig Ó Tuama is a poet, theologian and leader of the Corrymeela Community. He was poet in residence with Corrymeela for eight years and has worked extensively with narrative methodologies for the past decade. With his partner Paul Doran he started the popular storytelling event Tenx9 in Belfast.
Corrymeela has been a place of story for over 50 years, founded in 1965 as a response to the growing community tensions in Northern Ireland. Now it encompasses a residential centre, an urban office, staff and volunteers working across multiple projects - education, community, faith and youthwork. The Corrymeela Community also exists as a community of faith, with a membership of 150 who commit to "embracing difference, healing division and enabling reconciliation" in their daily lives - through prayer, work at Corrymeela events, and support of initiatives that help make a world of difference.
Simon Harger-Forde and the Auckland Spiritual Community
Simon Harger-Forde is a skilled facilitator, spiritual explorer, and social change leader. He co-leads the Auckland Spiritual Community and spent half of 2018 on sabbatical, which included spending time at Corrymeela. He trained in social work and has clinical experience working with young people and families using narrative methods. For the past 15 years, he has worked in health leadership and strategy roles. Most recently he led a social innovation organisation which focused on bringing the lived experience of people's lives to the heart of care and policy.
The Auckland Spiritual Community is a community of people committed to exploring questions of spirituality in an informal environment, with a desire to live more wholeheartedly conscious and loving in our world. The community grew from people who participated in retreats led by writer, social activist and interfaith minister Stephanie Dowrick at Mana Retreat Centre. The community honours all faiths without privileging any and welcomes those from all and no faith traditions.