About this Event
Kerikeri Business Association and Your PRANA has great pleasure in inviting you to our next event:
Success in Uncertain Times
Kerikeri is blessed to have dynamic entrepreneurs who have continued to thrive despite times of uncertainty. Our panel of speakers will talk you through productivity and practical tips mastered before, during and post-pandemic.
Leading others during periods of growth and uncertainty requires endurance, passion and commitment. Our panel are excited to share some of their experiences with you to help you navigate, grow and succeed through challenging times.
Networking, nibbles and Your PRANA's official opening will follow.
The Panel
• Becky Cashman- Founder of Goodbye
• Jason Vokes – Advisor, Wealthpoint North & CFO Olivado
• Paul Spooner – Director, Spooner Architectural Solutions
• Lynda Adams – Director, Ella & Co and Pallet Design
Moderator & Event Coordinator: Mary Anne Waldren, MAW Action
Venue Hosting & Official Opening: Antoinette Elizabeth, Your PRANA
READ MORE ABOUT THE PANELISTS:
Becky Cashman - Founder of Goodbye
Becky is the Founder and Product Maker for Goodbye, a Kerikeri-based business that makes certified natural products that protect skin outdoors. Goodbye has just celebrated 20 years in business. Goodbye SANDFLY and Goodbye OUCH are certified natural by internationally recognised NATRUE and give back through One Percent for the Planet. A former river guide, she has grown the business from being told to "go back to the health food stores" into a top selling brand in the New Zealand grocery channel where Goodbye challenges the predominance of multi-national and non-natural competitors. She believes that life is better outdoors.
Jason Vokes – Advisor Wealthpoint North and CFO Olivado
Jason is a Financial Adviser and Management Consultant based in Kerikeri Bay of Islands. With a background in Senior Management, Jason has extensive experience with a wide range of industry categories with a specific focus on the manufacturing of branded products focused on export markets. A Registered Financial Adviser since 2014, Jason has added insurance and lending to the services he offers clients with a focus on developing and reviewing risk management plans for clients throughout Northland. Jason and wife Kim, share six adult children and two grandchildren and love the distinct lifestyle that living in the Bay of Islands provide.
Paul Spooner – Director, Spooner Architectural Solutions
Paul Spooner is a Kerikeri based architectural designer and Director of Spooner Architectural Solutions. Spooner Architectural Solutions was formed by Paul in 2001. Based for the past 10 years from offices in Kerikeri, this followed earlier years based in the Auckland suburb of Devonport. Paul and his team of six carry out architectural design for clients throughout New Zealand, on a diverse range of projects, from high end residential to commercial and industrial developments. Prior to forming Spooner Architectural Solutions, Paul worked as a draftsman and designer with a number of leading New Zealand architects, learning his craft and soaking up experience on projects in locations ranging from Northland to Central Otago. He is an avid DIY-er and serial renovator of houses, boats, landscapes and a lover of New Zealand architecture.
Lynda Adams – Director Ella & Co and Pallet Design
Lynda Adams and husband Ray have been in the wholesale/ retail industry for twelve years. It's been a fun journey for them so far with a few headaches along the way. Lynda always wanted to own a shop and sell gorgeous things, so much so, they now have six retail outlets in Kerikeri, Paihia and Whangarei. Helping people out and finding the perfect gift for her customers is Lynda's passion and a big part of what she loves to do. The business has fourteen fantastic staff members including Lynda and Ray. They all share the same values and their family atmosphere is the key to their business success.
Your PRANA Official Opening @ 7.00pm - 8.00pm
Antoinette Elizabeth Your PRANA's Director will share her journey, business vision and present her studio to you all. Detailing the 3 aspects, PRANA Body, PRANA Collective and PRANA Events.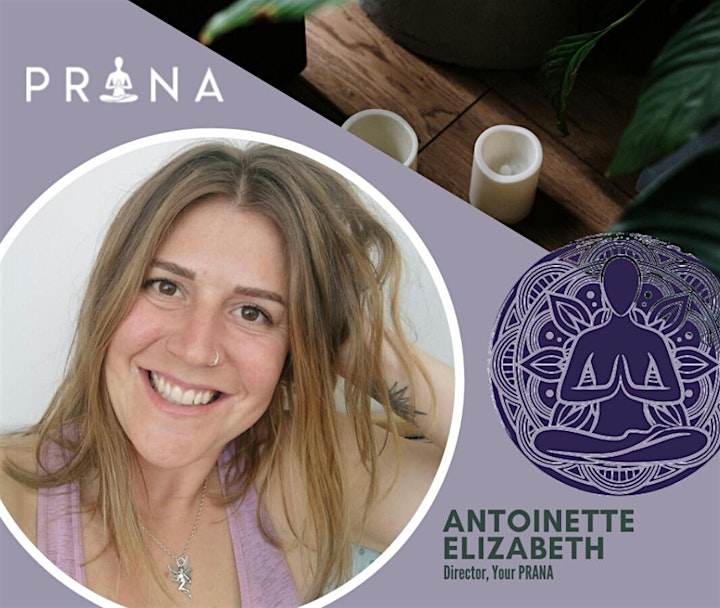 Antoinette Elizabeth is the Director of Your PRANA Ltd (yourprana.com). She is a Movement & Rehabilitation Coach, Personal Trainer, Holistic Health Practitioner, Nutritionist and Yoga Teacher. Antoinette also holds a huge passion for mother nature and all her magnificent creations, admiring minerals & creating jewellery. She pursues education and excellence in each field & has done passionately for the past 12 years.
"I thoroughly enjoy the learning process and consider myself a student of life. I look forward to sharing my experience and love of wellness with you."
Enhancing your Vitality, Purpose & Strength, is Antoinette's ultimate aspiration.
Enhancing YOUR prana (life force, energy & breath).
Her expertise is leading individuals on a completely supportive transformational holistic journey that will help them look at their health, relationships, movement, business & environment in an entirely new light. A 360° degree view approach – every angle covered. Catered to your Lifestyle & Genetics. Discover how unique you are, she will customize every aspect of your experience, 100% to you!
Antoinette will inspire you, make you feel empowered & ignite your energy within!