Join me in Auckland to celebrate my new book, Suck It Up Princess and get real life strategies to get over excuses and live your best life
About this Event
This book is for women (and guys too) the world over, who want to get over your excuses and get on with living a rich, fulfilling and rewarding life, on your own damn terms.
It's an inspiring, refreshingly honest, witty, fun, loving and ass-kicking book, designed to show you where you can take control of your life and bring out your inner heroine.
6-6:30pm - Join me to mix and mingle with drinks and nibbles (and you can buy a copy or two of the book!)
6:30-7:00pm - Author moment where I'll share more about what you'll learn in this book, do a live reading and finish with a Q&A.
7-7:30pm - Book signing and celebrations, whoop!
Note: This is an invite only event with limited space as that's what the bookstore can hold! Please RSVP so I know for catering numbers.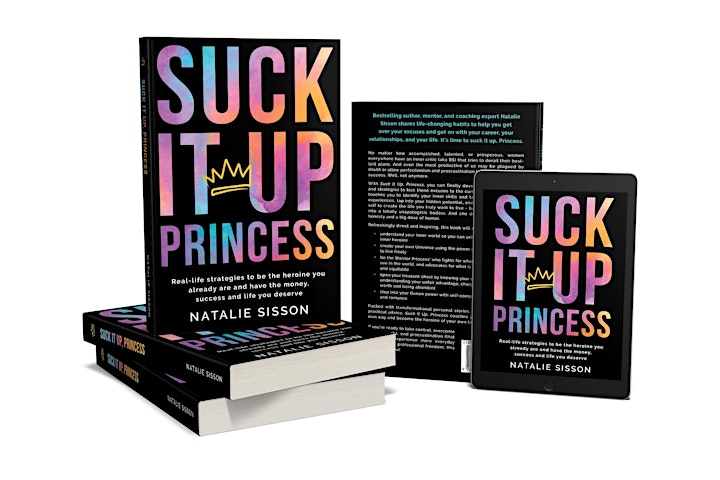 About the book and who I wrote it for:
Suck it up, Princess, is for women the world over, who are playing it small, or not playing at all, who are hiding their gifts from the world and need a bestie to show them how to start living as their best self.
It's for women in business, at the helm of their own ship, who have simply veered off course, or hit some rough seas (puking ain't fun) and need to reset their navigation to sail in the right direction again, with the help of their co-pilot (that's me, lovely).
It's for women who thought they had it all together, and have reached a stage in their life or career where they realise they don't at all and are wondering what the f*ck do I do now?
Or they've achieved their wildest dreams and are wondering what their new why should be, and wondering why they've got to this place after everything they've done.
And it's for women, like you and me, who simply love reading a great book, that makes them laugh, cry, snort, resonate, ponder, reflect, take action and become a heroine of their own life!
See you at the Open Book store for the official launch party!