An EnerPhit renovation in Auckland; a staged renovation of 1906 Villa; and a Christchurch SuperReno earthquake reinstatement.
About this Event
The next Super Session Webinar is on SuperRenos: How to renovate homes to be Superhomes, with Bob Burnett and Darryl Sang.
This event will be an online webinar, as well as an in-person event at 11 Church square, Christchurch.
Zoom link
https://us02web.zoom.us/j/84904821546?pwd=S294Mkd0VFduaTNpRTFuVlVvNy9Bdz09
Three homes will be covered:
- An EnerPhit renovation to Passive House standard in Auckland (Presented by Darryl Sang)
- A staged renovation of 1906 Villa to make it Healthy Home (Presented by Bob Burnett)
- A Christchurch SuperReno earthquake reinstatement to be super resilient and super-insulated with externally insulated walls (out-sulation) and a retrofitted "Warm Roof" etc. (Presented by Bob Burnett)
Darryl Sang: Darryl is a Registered Architect who has been practicing for nearly 30 years in London and New Zealand. Darryl brings a unique set of skills to each project; he is also a qualified engineer and a Certified Passive House (Passivhaus) Designer.
Bob Burnett: Bob has over 30 years experience, starting out working in leading local firms on large scale commercial projects. Bob is a Licensed Building Practitioner, Homestar Practitioner and Assessor and professional member of ADNZ (Architectural Designers NZ). In 2015 he founded the Superhome Movement and co-founded the Quakestar rating system. Recently Bob received the Sustainability Superstar award at the Sustainable Business Network Awards.
PIHA PASSIVE HOUSE ENERPHIT
This project is the renovation of a mid-2000s 2-storey 4-bedroom 345-sqm house on an elevated exposed site on Auckland's West Coast, facing west with expansive views of Piha and Lion Rock.
The existing construction was plastered concrete blockwork walls on a concrete slab with a suspended concrete mid-floor, aluminium single-glazed window joinery and a membrane roof.
The initial brief was for a renovation to upgrade the single-glazed aluminium window joinery, kitchen and bathrooms, add an extra guest bedroom and add some extra internal insulation.
When mould was discovered throughout the structure it was decided to undertake a full renovation aiming for Certified Passive House EnerPHit standard to stop this recurring.
The building envelope was upgraded with an external insulated plaster system, a warm membrane roof and high performance Passive House certified timber-aluminium joinery.
The effect of existing thermal bridges were remedied or reduced including concrete terraces over internal habitable spaces, the concrete floor slab and cantilevered steel and timber roof structure
A provisional blower door test measured air-tightness at 0.8 ACH air changes per hour (EnerPHit target is 1.0 ACH).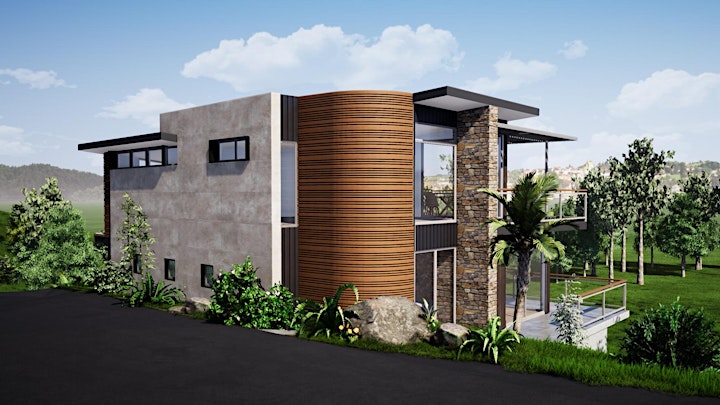 SuperReno BroadOaks
Project Description : An exemplar demonstration project to educate and share innovative ideas, technologies and techniques to renovate a home to transform it into a Superhome, a 'SuperReno'. Creating awareness for both homeowners and industry about clever new ideas to adapt our homes for our changing climate. Important ideas to renovate New Zealand's notoriously subpar existing housing stock to be healthy, energy efficient and low carbon so that it is fit for purpose and future proofed for us and our children and the planet.
• Structural upgrades for low damage design for better resilience to earthquakes and superstorms etc.
• Super-insulated with a warm roof and external wall insulation (outulation) reducing thermal bridges.
• Windows replaced with high-performance windows triple glazed thermally broken recessed windows.
• Shading devices added for protection from overheating
• Ventilation, heat-exchange ventilation added for improved internal air quality (IAQ)
• Materials, natural, non-toxic sustainable selections, low carbon, Declare and Red List free.
• Renewable energy and storage, Solar PV panels and batteries, electric vehicle charging.
• Rain water harvesting
Why is this project so important?
We recognise the crucial importance of upgrading New Zealands over one million unhealthy and eco-unfriendly homes that are inefficient, difficult, and expensive heat. The Superhome Movement focused initially on new homes designed and built to far superior standards than the New Zealand Building Code (NZBC), which is not fit for purpose and around 20 years out of date. Even new a home built to NZBC produces 5 to 7 times the carbon emissions as are required to meet our targets and the Paris agreement which aims to limit global warming to 1.5 degrees. We cant solve climate change by only building better new buildings. It is essential that we fix the existing poor building stock to be better for people and the planet.