Sales Have Ended
Ticket sales have ended
Our Amotai team look forward to meeting you.
Sales Have Ended
Ticket sales have ended
Our Amotai team look forward to meeting you.
Amotai are hosting the inaugural Supplier Diversity Aotearoa Summit: Navigate 2021, in Tāmaki Makaurau on Thursday 10th June 2021.
About this event
Who should attend Navigate 2021?
Navigate 2021 will benefit 'buyers' who are wanting to know more about procuring services from diverse suppliers, in particular Māori and Pasifika businesses:
Amotai Buyers
Procurement specialists
Project managers
Policy teams
Māori/iwi leaders
Mandated government agencies
Council members
Navigate 2021 relates to the importance of navigating the systems, changes and actions that are needed for Māori and Pasifika-owned businesses to fully participate in the economy through the lever of social procurement.
Social procurement is the untapped opportunity for creating impact and equitable outcomes for Māori and Pasifika. It is the intentional practice of purchasing goods, services and/or works that result in a positive change.
Social procurement has many branches which can create social, environmental and/or cultural impact. One of the many branches of social procurement is supplier diversity - which is creating opportunities in the supply chain for diverse suppliers, in particular, for Māori-owned businesses.
Supplier diversity targets were announced late last year, by Minister Willie Jackson and are crucial to changing the New Zealand economy and we are pleased that Minister Jackson will be opening this inaugural event.
Laura Berry, CEO of Supply Nation, Australia's leading intermediary in Supply Diversity will be joining us virtually to share her experiences of the significant changes in Aboriginal businesses since legislation to embed supplier diversity.
We are also pleased to hear from one of New Zealand's leading economists, and now Chair of the Productivity Commission, Ganesh Nana and Vui Mark Gosche, Chair of Kāinga Ora, who are setting their sights on social broader outcomes.
Māori and Pasifika business leaders, iwi leaders, government and corporate representatives will share their experiences and challenges that face Aotearoa as we launch into new ways of thinking, doing and being. Panel sessions and workshops will ensure that you have the opportunity to be part of this highly interactive and transformative summit.
• Workshop 1: Social Procurement in Practice
• Workshop 2: Social Return and Impact of Social Procurement
• Workshop 3: Global Perspective
• Workshop 4: Shaping the Future
Amotai is Aotearoa's Supplier Diversity Intermediary tasked with connecting Māori and Pasifika-owned businesses with buyers wanting to purchase goods, services and works - www.amotai.nz.
Thursday 10th June 2021 - Akarana Yacht Club, Tāmaki Drive, Ōrākei, Auckland
Registrations open: 9am
Summit starts: 10am
Workshops: Start at 12pm
Networking event: 5.30pm
Cost: $350.00 pp
Limited to 200 seats
If due to the need to cancel the Summit (i.e. COVID-19), we will reschedule the event to a later date. If we are unable to reschedule, we will refund the fees, less any fees that have been charged to us by Eventbrite or management of the venue.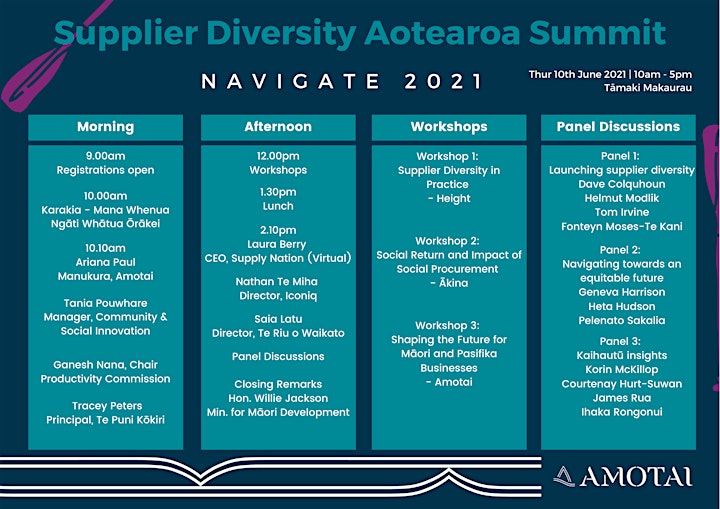 Organiser of Supplier Diversity Aotearoa Summit: Navigate 2021