Symposium on Democratic Governance & Recession in the Indo-Pacific Day 1
A symposium co-hosted by SEARI, RITS and TIGCR on the phenomenon of democratic recession in the Indo-Pacific.
About this event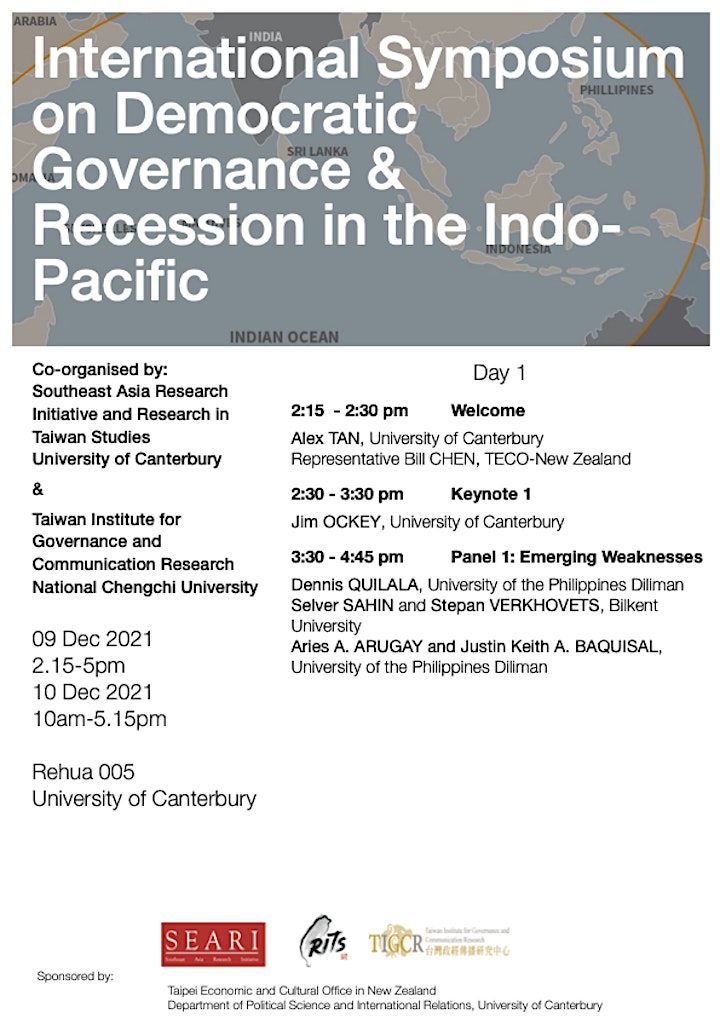 *Please note that with the recent announcement confirming the shift to Orange level under the new COVID-19 Protection Framework (aka the Traffic Light System), we will be required to use My Vaccine Pass for this event.*
Since 2005, democracy has been in recession globally. Freedom house reported a decline in each year since that time, with countries improving their democracies outnumbered by those in recession, and the global average in decline. In recent years, this recession has affected not only new, but also more advanced democracies with serious consequences and implications to democratic politics and governance.
The symposium will be held on the 9-10 December and features papers focused on the various aspects of democratic governance and recession in the Indo-Pacific, with 5 separate panels and 2 keynote speakers.
This symposium is organized by the Southeast Asia Research Initiative (SEARI), the Research Initiative on Taiwan Studies (RITS) of the University of Canterbury together with the Taiwan Institute for Governance and Communications Research (TIGCR) of the National Chengchi University, made possible with a grant from the Taipei Economic and Cultural Office in New Zealand.
Organiser of Symposium on Democratic Governance & Recession in the Indo-Pacific Day 1