Syringe Driver Competency Friday 12 Nov - Venue Nelson Tasman Hospice
Syringe Driver Competency: Venue: Nelson Tasman Hospice, 331 Suffolk Road, Stoke, Nelson
About this event
Facilitated by Nelson Tasman Hospice
The programme assists registered nurses (RNs) and enrolled nurses (ENs) to obtain the skills and knowledge required to manage a syringe driver in their work setting.
A pre programme workbook will be emailed to participants. Successful completion of a written test is required for certification.
NB: We are taking registrations for upcoming education sessions however whether we can hold the event will be dependent on Covid-19 levels at the time. We will keep you informed as we are informed by the Ministry of Health. Kia Kaha, stay safe.
Date: Friday 12 November 2021
Time: 1000 - 1130
Cost: No charge
Limited attendees: Max 10 people per session
Target Audience: RN's/Aged Residential Care RN's, District Nurses, EN's subject to scope of practice
Duration 1.5 hrs.
Facilitators: Chris Dunn, Mariana Reinoso Nelson Tasman Hospice, Clinical Nurse Educator
Venue: Nelson Tasman Hospice, 331 Suffolk Road, Stoke, Nelson
Limited Places: Max 10 attendees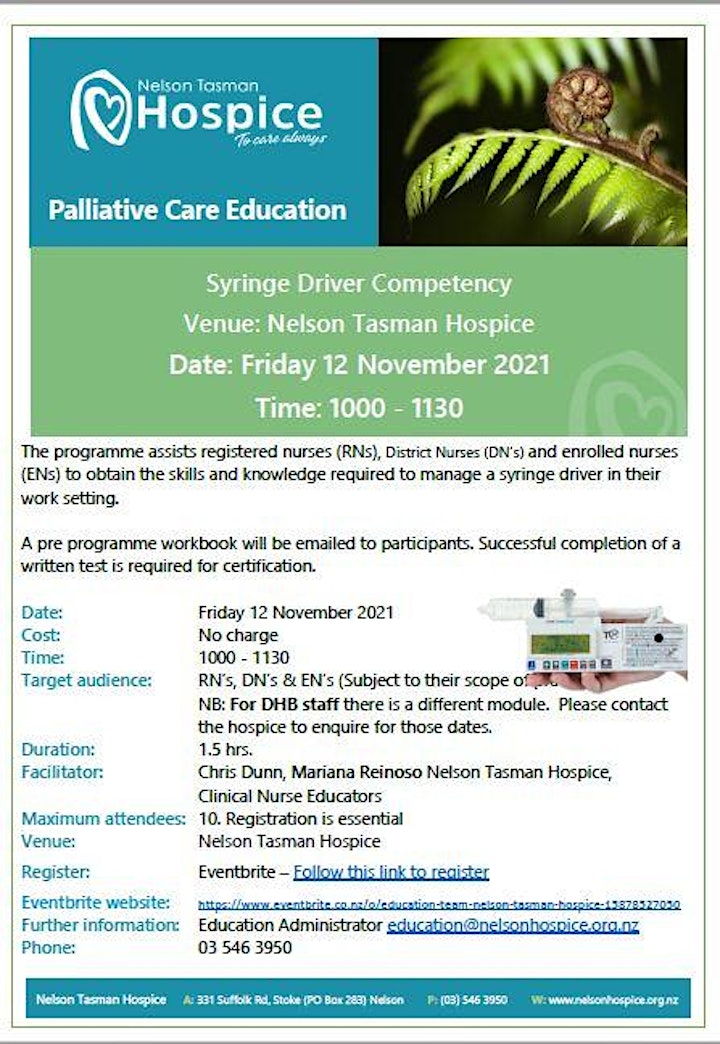 Organiser of Syringe Driver Competency Friday 12 Nov - Venue Nelson Tasman Hospice