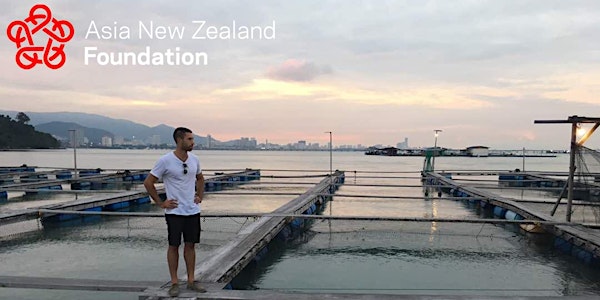 Tasty Business Taranaki: Kiwi success stories in Southeast Asia
Location
Strategy Collective
Level 1 - White Hart
47 Queen Street
New Plymouth, Taranaki 4310
New Zealand
Description
How do ordinary people create extraordinary companies? What does it take to be a successful entrepreneur? Are Kiwi entrepreneurs succeeding in Asia?
Learn the answers to these questions at the fourth instalment of the Asia New Zealand Foundation's popular Tasty Business series. Hear from a group of impressive food and beverage entrepreneurs from across New Zealand who will recount their success stories and share their perspective on how the New Zealand food and beverage scene is tackling Asia. The event will be capped by an interactive Q&A session. Join us at this entertaining and informative evening and learn how the next generation of Kiwi entrepreneurs are approaching Asia. The Asia New Zealand Foundation acknowledges Venture Taranaki and Green Meadows Beef as partners and supporters of this event.
Featured speakers:

Richard King is a former ski instructor, first class cricketer and property financier. Five years ago Richard set out to create 'the greatest energy bar in the world'. The exceedingly healthy Moonbar includes David Bowie-inspired names and is sold across New Zealand and exported to Australia, Malaysia and Singapore. Richard visited Malaysia and Singapore with the Asia New Zealand Foundation in 2017.

Morgan Maw is the founder of Bonnie, an award-winning Auckland-based wholefoods brand specialising in oat-based products. This includes range of oatcakes, perfected while living in Edinburgh, and a recently launched new product – Bonnie Oat Biscuits. The Bonnie range can be found in specialty stores and supermarkets nationwide and are also exported to Australia and Singapore. Born and raised in New Plymouth, Morgan is passionate about contributing to the story of better food in Aotearoa New Zealand. She visited Indonesia with the Asia New Zealand Foundation in 2016.

Nick Hammond is the co-founder and COO of Spring Sheep Milk Co. which is a leading Kiwi food business that recently won the Supreme award at the New Zealand Food Awards. They produce sheep milk on a number of innovative farms and are exporting their high value products to multiple parts of Asia. He is also the Chairman of ADC Microfinance who has assisted over 7,500 people living below the poverty line in Africa and Asia to launch their own businesses. Nick was recently a semi-finalist in the 2018 New Zealander of the year awards under the Innovator of the Year category. Nick visited Indonesia with Morgan and the Foundation in 2016.
Nick, Richard and Morgan travelled to Southeast Asia under the Asia New Zealand Foundation's ASEAN Young Business Leaders Initiative, a programme the Foundation manages on behalf of the New Zealand government. It facilitates trade and builds relationships and networks between entrepreneurs and business leaders in New Zealand and Southeast Asia.