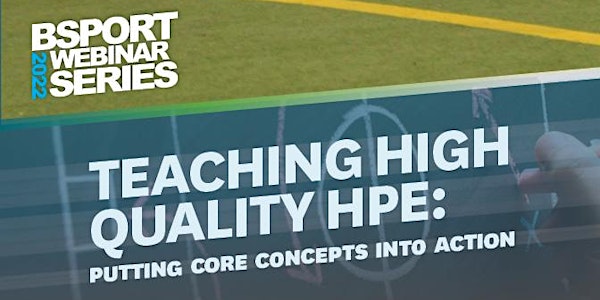 Teaching high quality HPE: Putting core concepts into action
Join our experts on each Thursday this August for our webinar series: Teaching high quality HPE: Putting core concepts into action.
About this event
Growing up is hard. Our youth are struggling with an ever-increasing number of concerns as they search to find their place in the world and schools are trying their best to find the magic solution.
As teachers, you might be struggling with the ever-increasing workload of caring for your students' wellbeing and making sure they feel included, safe and engaged in school.
While there is no magic answer to these problems, there is significant new research to help you (and your students) on the way.
If you're feeling a little lost in how to ensure your lessons are engaging, diverse and inclusive, or you're simply interested in upskilling your teaching practice with the latest research – we can help!
Join our experts on each Thursday this August for our webinar series: Teaching high quality HPE: Putting core concepts into action
Thursday, 4 August - Mental health education: Why positive psychology and mindfulness are not enough
Many schools are struggling to respond to the growing mental health and wellbeing needs of students, and are looking for support from the health sector, as well as taking on new learning programmes and other initiatives. Expensive programmes, conferences and other professional learning opportunities are offered to schools with the promise of providing answers to the mental health crisis. In this seminar, Dr Katie Fitzpatrick, looks at some of the pros and cons of positive psychology and mindfulness programmes in schools.
Thursday, 11 August – How can we make schools more inclusive for sex, gender and sexuality diverse youth?
Despite Aotearoa New Zealand becoming increasingly diverse, it currently has one of the highest rates of bullying in schools in the developed world. Recent research shows that heteronormative environments are endemic in schools and contribute to a culture of bullying and exclusion for students who identify as sex, gender and sexuality diverse. This is more evident in health and physical education spaces due to the inherent focus on the body, fostering normative discourses and marginalising LGBTQI+ students even further. Join Dr. Hayley McGlashan as she discusses her research in schools and shares the experiences of sex, gender and sexuality diverse students and what they found to have had a positive contribution to their feelings of safety and wellbeing at school.
Thursday, 18 August – Becoming a JEDI master: Exploring how your HPE teaching addresses issues of justice, equity, diversity and inclusion.
Social justice, equity and inclusion are actively promoted as key outcomes of education – but how can teachers ensure these are achieved? Join Rod Philpot for this interactive webinar, as he explores the complex nature of these concepts and discuss a selection of research-informed teaching practices that can align with these outcomes. Rod will share examples of Health and Physical Educators 'pedagogies for social justice' that have been reported in the EDUHEALTH research project and explore your understanding, and use of, teaching strategies for and about social justice.
Thursday, 25 August – Making games educational: Using the Movewell resource with the New Zealand Curriculum
Young people love playing games - but how can teachers link this love of play to the New Zealand Curriculum? Join Alan Ovens and Marisa McKay as they explore how new resource, MoveWell, can help. Aimed specifically at primary and intermediate teachers, the MoveWell resource is free to all schools and easily downloaded from the PENZ website. Grounded in good pedagogy and supporting the development of the whole child through physical education, MoveWell is a resource full of ideas and games.