Zoom Link: https://zoom.us/j/97281812401
About this event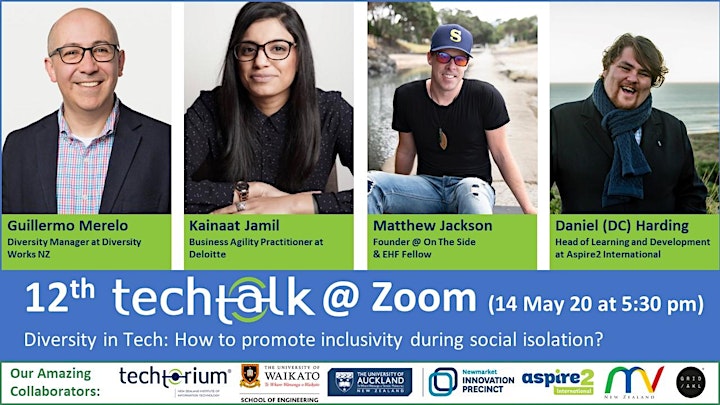 TechTalk is a platform to share and discuss a wide variety of technological ideas, in the form of short and engaging talks.
TechTalk's mission is to help close the STEAM skill shortage gap. We do this through a variety of activities, including planning tech-focused events with multiple speakers followed by networking.
About this Event
TechTalk is proud to present the 12th TechTalk event (2nd Virtual TechTalk).
Theme: Diversity in Tech: How to promote inclusivity during social isolation?
Speakers: We have 4 amazing speakers with both industry and tertiary education background.
Guillermo Merelo | Diversity Manager at Diversity Works NZ
Kainaat Jamil | Business Agility Practitioner at Deloitte
Matthew Jackson | Founder @ On The Side & EHF Fellow
Daniel (DC) Harding | Head of Learning and Development at Aspire2 International
When and where:
Date: Thursday, 14th May 2020
Time: 5:30 PM to 7:00 PM (Time Zone: UTC+12 Auckland)
Venue: Virtual Event at Zoom (We will send the Zoom link soon)
Note: You can join the event either using phone or your laptop/PC/Mac. Please make sure to install the Zoom app before the event. For more information about Zoom you can refer to the following link: https://www.youtube.com/user/ZoomMeetings
Please let us know if you need any help.
Agenda:
We will have 4 amazing talks
Q&A sessions after each talk and
Networking and team building session (Breakout rooms)
Please refer to the table below for more information
Our amazing sponsor and collaborators:
Techtorium | New Zealand Institute of Information Technology
The University of Waikato | SOE
The University of Auckland | NIP
Aspire2 International
Migrant Views New Zealand
GridAKL
Follow us on:
Website: https://techtalk.nz/
YouTube: https://www.youtube.com/channel/UCLyNt7-JrM4wky6_mellFzw
LinkedIn: https://www.linkedin.com/company/techtalknz/
Facebook: https://www.facebook.com/techtalknz/
Twitter: https://twitter.com/TechTalk_Nz
Instagram: https://www.instagram.com/techtalknz/