Location
20 Symonds Street
20 Symonds Street
Auckland, Auckland 1010
New Zealand
At this event we'll talk about AI, robotics & automation; how tech will affect the future of work & help growth, resilience & sustainability
About this event

We are proud to announce the 21st TechTALK seminar (hybrid event) as below:
When and where:
Date: Thursday, 19th May 2022
Time: 6:00 PM to 9:00 PM
Venue: 4th Floor - Room 405-470, 20 Symonds Street, Engineering Faculty, The University of Auckland, CBD Auckland
TechTALK 2022 Theme: Reimagining our Future Together
Event Special Theme: AI and Automation - Future of Work for Growth, Resilience and Sustainability
Speakers: We have three amazing speakers and five great panel members with both industry and university backgrounds:
Event Hosts:
Get directions to the event venue:
We are at the University of Auckland, Faculty of Engineering City Campus - 4th Floor - Room 405-470.
If entering from 5 Grafton Road, you will enter on the 2nd floor. Walk past the big staircases and you should come to the area where the lifts will be on your left. Take these to the 4th floor. Exit the lifts and turn left, you will see TechTALK and CARES team and our banners.
If entering from 20 Symonds Street, you will come in on the 4th floor. Walk towards the back of the building, and you will find yourself in the atrium area, you will see TechTALK and CARES team and our banners.
Car Parking:
The closest car park is underneath Owen G Glenn Building (12 Grafton Road) which is across the road from the Engineering building (5 Grafton Road). This is a flat rate of $6 after 5 pm.
There is also (paid) parking available on Princes Street and in the CBD area.
Public Transport:
Symonds Street is well served by bus routes: 22, 24, 27, 70, 72X, and 75, as well as the orange OuterLink and 321 on Grafton Road. Britomart train station is approx. 15 minute walk away.
TechTALK's mission is to help to close the STEAM skills shortage gap! We do this through various activities, including planning tech-centric events with multiple speakers followed by networking sessions, running industrial workshops, and collaborating with other organisations to enhance learning and development. We want to increase the technical knowledge level of everyone in New Zealand and all around the world.
At this event, we are partnering with The Centre for Automation and Robotic Engineering Science, UOA, to take the TechTALK events to the next level, co-organising a Techweek event and focusing on AI, robotics, automation and how technology will affect the future of work and will help growth, resilience and sustainability.
About CARES:
The Centre for Automation and Robotic Engineering Science (CARES) is a transdisciplinary research centre based at the University of Auckland. Our researchers develop robotic technologies for humans to improve their quality of life. CARES' research activities are principally based in the area of Human-Robot Interaction and Robot Programming Systems and their multitude of applications, such as healthcare, precision farming, offices, and factories.
TechTalk Audience Demography: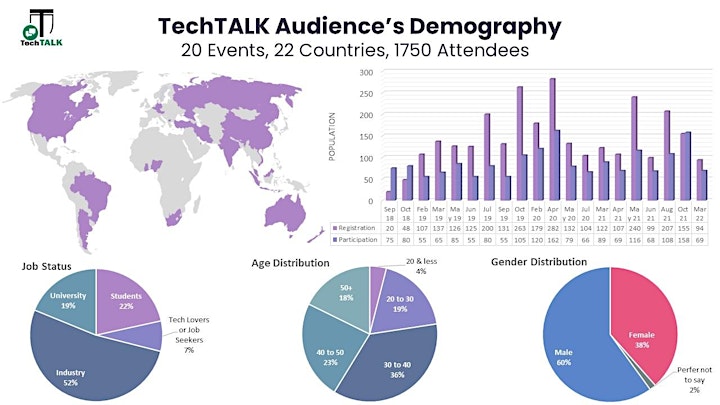 Agenda:
We will have 3 amazing talks
Followed by a panel discussion and Q&A session