Sales Have Ended
Registrations are closed
Thank you for choosing to invest in yourself and building a sustainable, strong tribe around you using the LinkedIn Platform. linkedIn really is a sleeping Giant of opportunity and taking action in this challenge will unlock so many opportunities for you. Keep an eye out for more information coming your way very soon and we will see you on the inside on the 1st of April! Glenn
Sales Have Ended
Registrations are closed
Thank you for choosing to invest in yourself and building a sustainable, strong tribe around you using the LinkedIn Platform. linkedIn really is a sleeping Giant of opportunity and taking action in this challenge will unlock so many opportunities for you. Keep an eye out for more information coming your way very soon and we will see you on the inside on the 1st of April! Glenn
Description
Use The L.T.V. Attraction Marketing Method To Build Long-Term, Sustainable Relationships On LinkedIn That Deliver Opportunities To You.
From Day 1 you will immediately grow your network with like-minded professionals and you will learn from some of the biggest LinkedIn power users in the world.
---
Some of the Contributors to the LTV Challenge...
Robett Hollis: FORTUNE 100 Consultant + Global Speaker
A passionately driven Maori Entrepreneur named by LinkedIn as one of the Top 3 Most Influential New Zealanders on the platform.
James Kemp: Helps Build Businesses For Fun and Profit
In a fast-moving, digital world James shows businesses how to translate their impact and talents from the old model into the new model and become the default choice in their market.
Jeff Hunter: The King of Outsourcing Leveraging Virtual Teams to Build Iconic Brands Featured on CBS & Inc. Speaker
Jeff is a massive LinkedIn Superuser and is asked to speak regularly at events around the world on how he has used LinkedIn to build his brand and business.
---
Why is the L.T.V Method so powerful?
The L.T.V. methodology not only attracts people to you online but also provides you with the tools to nurture those online interactions and forge them into powerful 'real world' relationships with people that want to do business with you.
Here's My Promise To You...
Within a short 30 Days you will dramatically improve your appeal with potential clients and professionals who will be compelled to want to do business with you!
Trust me, if you put the work in the difference will be staggering & you will wonder why you haven't done something about this sooner!
The L.T.V. Method will show you how to...
Build a core tribe around you
Create Power Positioning with Purpose
Make your PROFESSIONAL profile 'pop'
Get REAL-TIME feedback from L.T.V. Members
Create a stream of referrals, sales and new business
This interactive challenge starts on April 1st 2019.
We want to make this one of the best professional business investments that you have ever made, that can have a rapid and transformative impact on your business, and keep you ahead of your competition.
What is involved?
30 Days of 'Step by Step' interactive learning including, learning, live training, hot seat opportunities, and networking.
Contributions from LinkedIn Super Users sharing their LinkedIn success strategies.

Interactive Group Sessions (automatic network expansion opportunities)

Gain confidence and clarity (know exactly what to do and when to do it) resulting in exponential growth when implementing all the L.T.V. Methods and strategies.


Your Time Commitment?

Most Modules only take 10-15min to work through BUT if you are committed to making

change and executing on what you learn then be prepared to commit a couple of hours a week minimum.


Here's Just A Few Of The Key Areas Covered In The L.T.V. Program...
Supercharged Network Growth
What would it be worth to you to gain an immediate boost to your network of like-minded people who will support you in your quest for growth!
Positioning Your Profile
Guest contribution from James Kemp, the master of refining your 'message to the market' and creating your authority statement.
Engagement Strategies
Engagement strategies that will boost the organic reach of your posts AND strengthen relationships (not burn them)
Content Planning
Learn the 4 pillars of LinkedIn content creation to enable you to build authority, connect, educate and engage with your target audience.
Tools Of The Trade
Tips, tricks, and apps to fast track your content creation, look like a pro, and stand out within the LinkedIn feed.
Weekly Challenges
Action is the key to success (even imperfect action). Weekly challenges embedding your learning all supported by your L.T.V Challenge peers.
Live Group Training Sessions
"Wednesday Whisky Sessions". Every week we will host a 30 - 45 minute live training session where we review your progress, answer your questions and prepare you for the week ahead.
Hot Seat Learning
Open, honest and constructive feedback opportunities throughout the course in the weekly hot seat challenge.
Magnetic Mindset
Everyone that puts themselves out there has to deal with negativity. Some from haters, but mostly from your internal mindset. We discuss the mindset you need to deal with the negativity and keep breaking through the glass ceiling.
---
Meet Your L.T.V. Challenge Coach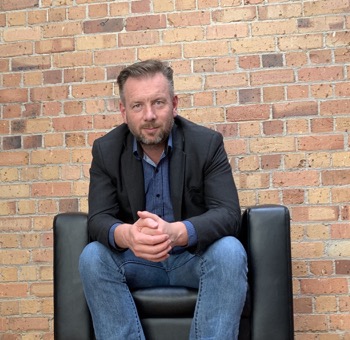 Glenn Marvin left the NZ Police in 2005 thinking he had no transferable skills in the corporate world.
At the time he had no idea the years of Policing the streets of South Auckland and South Canterbury had given him some incredibly powerful insights and experience in human behavior that would transform his career.
Quickly rising through the corporate ranks he fell in love with the world of Digital Marketing.
Joining the team at SureFire Search Marketing in 2010 as director of sales he built an entirely new division focused on SME businesses. In a 4yr period that team grew to 25 staff and over $5million in turnover and was eventually sold to an International Agency.
While all that sounds like massive success it nearly broke Glenn and after 12 months with the international Agency he threw in the towel, sick of being part of the problem and determined to make a positive impact once again to NZ Small businesses.
It was then he bought back into SureFire Search determined not to make the same mistakes that had previously let down so many businesses at the expense of growth.
His open honest and often unorthodox approach to utilising LinkedIn was a cornerstone strategy to rebuild the business and in 2017 he began his infamous "Work For Whisky" pro-bono consulting scheme to help SME's.
This rapidly validated the business case for a new approach to support Small Businesses in NZ. he found that most Small Businesses were in the same situation...
Lack of Clarity on what marketing activity would give them the best results

Lack of trust in traditional agencies

Lack of Expertise to execute marketing in-house effectively
In March 2018 he stepped down as Managing partner of SureFire Search and founded Konnector which is a business founded exclusively to educate and support Small Businesses to become better marketers themselves and overcome their challenges.
Glenn is now frequently asked to speak and present by organisations and conferences around NZ about 'Social Selling' SEO and his personal take on "L.T.V." to build personal brand and business.

---
NOTE: You Must have a Facebook account to be able to take part in this Challenge as much of the training (including the live training sessions) will be held in our private FB Group.
---
Date and Time
Refund Policy