The Second Annual Auckland Xmas Party For Small Business - Let your hair down, have a few drinks and give Covid the two-finger salute!
About this Event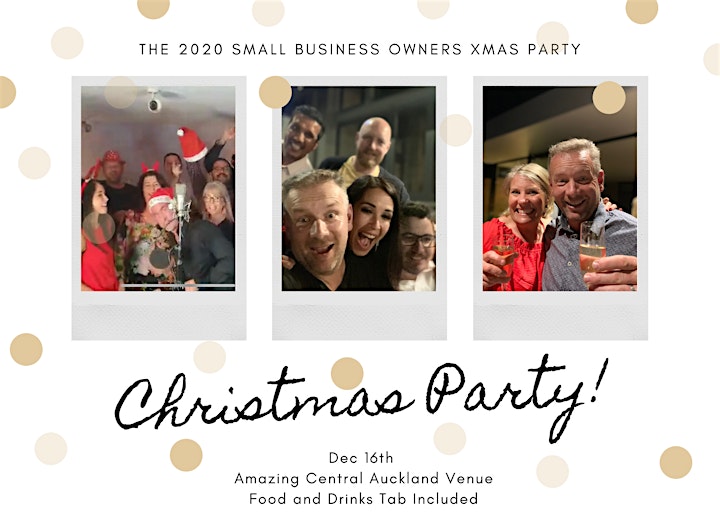 Let's face it 2020 for most has been a stressful and tough year. so let's say "screw you Covid" and have a Xmas Blowout!
The Konnector Community is at it again and we want to bring you all together for a fun night.
If you own a small business or work with small businesses then we are putting this night for you!
Don't restrict yourself to yet another boring dinner at the local restaurant for your Xmas. Come and have a bit of a blow out with a bunch of other great people to give 2020 a send off it deserves and say screw you to Covid..
Lets celebrate the amazing opportunity we have to be able to get together and have a blast.
A casual night to get together with other great people in the wider small business and LinkedIn network before we all take some time out so we can catch up, let our hair down and have a great night.
Who is this for?
Small Business Owners and their teams
The amazing LinkedIn community in Auckland
Anyone who works in or with small business that wants to have a bit of fun after a pretty crappy 2020 with a bunch of other great people in business.
We have organised the catering and already sponsored a significant tab so we can keep the ticket prices so low and we have some other great sponsors on board that are committed to putting on a great affordable night for all.
All drinks (beer and wine) and food included.
Date: 16th December
Time: 6:30 - 11:00 (and we will kick on into town afterwards for those that are keen).
Location: An incredible venue has been booked in Drake St Victoria park which you will get directions to prior to the event (You Will Not Be Disappointed).
Fancy dress is definitely not needed but we will be recognising those that get into the spirit.
Check out the video below from the 2019 Xmas party and see how business owners felt at the end of 2019!