Don't miss this opportunity to meet Jamie Beaton in-person and learn about US/UK Admissions from a Harvard, Stanford & Oxford Graduate!
About this event
In many countries around the world, it's a rite of passage for students to leave home straight after high school and find their independence at college or university. However, in Australia and New Zealand, many children stay home until their mid-20s or even later and miss out on this extremely important opportunity for growth and development. If you're curious about what it'd be like to leave home at the age of 17 and study at some of the world's leading universities, this event is for you.
Crimson Education CEO, Jamie Beaton, will be sharing his advice for families considering overseas study based on his journey going from high school in Auckland to studying at Harvard, Stanford, and Oxford while working alongside world leaders and founding a global education company.
Topics covered include:
The benefits of studying overseas
My application experience and the challenges I faced
How I focused on each part of the application
What I did for extracurrriculars and how I made them resonate
How the admissions landscape is changing - including the admissions process
Why the impacts and opportunities that come with a top university degree are more powerful than ever
How I succeeded in pressure cookers like Harvard, Stanford and Oxford
The amazing support given to international students
International uni application tips
Q&A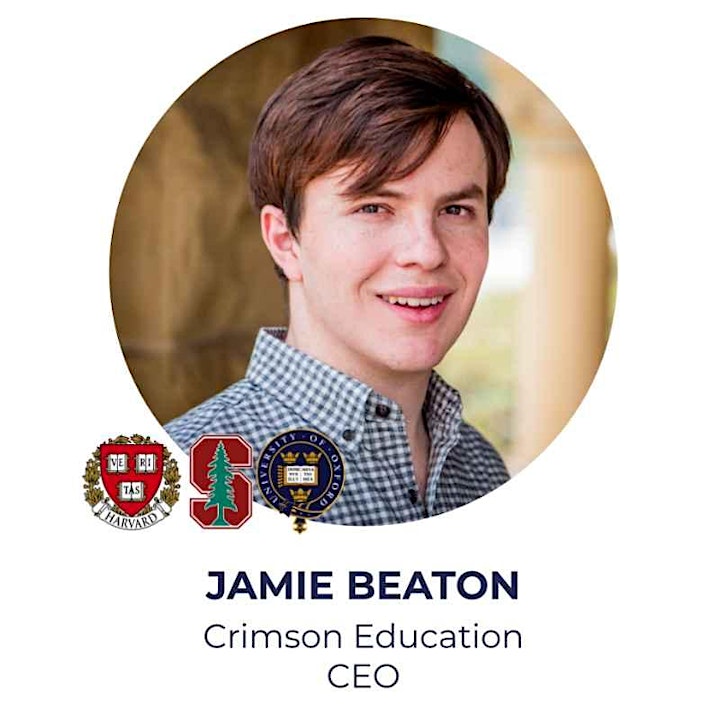 About Jamie Beaton
Leaving home straight after high school is both a scary and exciting experience and that's exactly what Jamie did, leaving his hometown of Auckland, New Zealand, to pursue a double degree at Harvard. After three years at Harvard including weekend internships in New York, Jamie became one of the youngest students ever to be accepted into Stanford's coveted MBA program before becoming a Rhodes Scholar at Oxford where he recently completed his PhD in education. Join Jamie to learn if overseas study is right for you, how to succeed overseas and the challenges students have to overcome.