The Ultimate Pregnancy Second Trimester Workshop: Nutrition and Exercise
Key nutrients for the second trimester of pregnancy and safe exercise to support a pain free pregnancy
About this event
Are you confused about all the different advice and opinions you are receiving during pregnancy?
Claudia and Hazel are trusted health professionals and experts in their fields of pregnancy nutrition and pelvic floor health.
Join them as they share their advice on how to safeguard your pelvic floor through pregnancy, delivery and beyond as well as key foods during pregnancy to boost your baby's brain development giving them the best start in life.
Refreshments, goodie bags and recipes provided.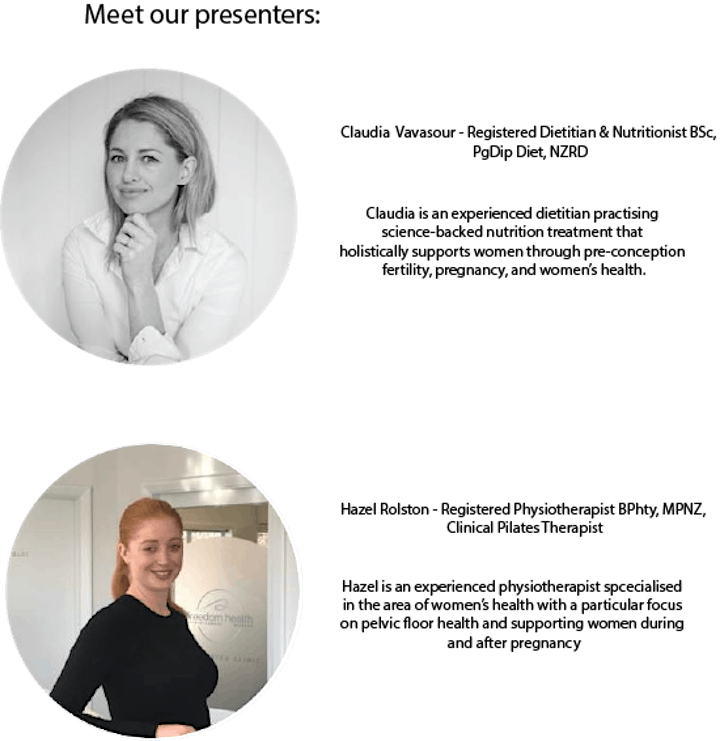 Topics that will be covered in the workshop:
Key nutrients for trimester 2 of pregnancy
Weight gain targets and energy requirements for trimester 2 of pregnancy
The correct dose of folic acid, beyond trimester 1
The importance of iron, how frequently to check iron, when to supplement, and common side effects
The role of iodine in a baby's brain development
Omega 3 fatty acids and their role in pregnancy
The importance of exercise for you and your baby's health
Safe exercise for trimester 2 of pregnancy
Exercise modifications to make pregnancy 'safe'
Pelvic floor health for trimester 2 of pregnancy
Abdominal exercises that are safe during trimester 2 of pregnancy
By the end of the workshop you will have an understanding in:
Key nutrients for the second trimester of pregnancy and safe exercise to support a pain free pregnancy
Organiser of The Ultimate Pregnancy Second Trimester Workshop: Nutrition and Exercise