The Writing Room - (6 November 2018)

Tuesday, 6 November 2018 from 7:00 pm to 9:30 pm (NZDT)
Event Details
Wish there was a space where you could get some writing done and hang out with other writers?
The Writing Room is a friendly, distraction-free place to write.  
Think of it as your regular monthly writing appointment.
It's for you if you want to write more often and nail that writing goal.
"I have recovered the ability to write on a regular basis from attending The Writing Room; for which I am truly grateful." Lucille H
"It was so great to meet people who are just like me -want to get their damn stories out, but struggle for time!" Susy Egneus
"Thank you for another wonderful event.  I noticed how much sharper I was with my deadline writing yesterday morning too, and I'm sure it was the mental discipline spilling over from the night before." Robyn Welsh
Got questions?  Drop me a line
What happens at a Write-In?  
We start with a facilitated creative warm-up exercise, then we write and then we socialise. 
Q: Do you have to share your work?  A: No. This is your private writing time.
When: 1st Tuesday of every month.
Where: Studio One Toi Tu, Ponsonby Road (K Rd end), Auckland
Facilitator:  Kathryn Burnett

How does a Write-In Work?
The facilitator warms you up with an interesting and stimulating writing exercise. Then everybody writes for a while ( a timed session.)  We take a break and then we go through the process again. Then we stop and socialise over a glass.
What Do I Bring?
Your idea or project, a laptop or pen & pad, and water. (Plus something warm - just in case.)
What if I Don't Have An Idea to Work On?
Don't worry.  Not everybody has a specific project they come to Write-Ins just to enjoy the creative act of writing and stay creatively limber.  
Do I Have To Share My Work? 
Not at all. The primary focus of a Write-In is getting words on the page and moving your project forward.
Which Kind of Writers Can Attend?
Any kind, it doesn't matter what you're working on or what level of experience you have.  This friendly space is for you to work on whatever you want to progress.
What is The Writing Room Group?
A subscription to The Writing Room Group- which is a big ol' writing group.  We meet up online or in person every week. (Access to this LIVE In Person Write-In is part of the subscription.) You can read more about subscribing to The Writing Room Group here.
What People are Saying:
 "At Kathryn's first write in, I managed 1,170 words of my horror novel "Painted". I think I managed that in an hour!" Kirsten McKenzie 
"Seriously helpful in enabling you to actually get shit done - which is a major hurdle for plenty of writers." Jack C
"Accountability works - another great evening of making progress on my novel."  Fiona Hall
"Setting aside time (without wifi) just for writing. So obvious, so difficult." Anna F
When & Where

Studio One Toi Tu
1 Ponsonby Road
Ponsonby
Auckland, 1011
New Zealand

Tuesday, 6 November 2018 from 7:00 pm to 9:30 pm (NZDT)
Add to my calendar
Organiser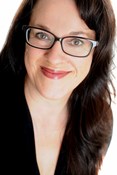 Kathryn Burnett is a professional screenwriter, playwright and writing coach who delights in creatively inspiring others. She has worked in the arts industry for 20 years and has helped numerous writers both new and experienced.  She is also a creativity coach who runs dynamic Ideation and Creativity workshops for businesses and organisations.