This engaging and insightful in-person event is designed to equip and empower parents of teens and tweens so that we can thrive.
About this event
How do we empower & support our teens and tweens during this challenging time? With covid uncertainty and social media everywhere... It's not easy being a teen/tween right now and it's not easy being a parent or caregiver, teacher, coach or counsellor either.
Wouldn't it be awesome if you had insights and strategies to help you navigate the joys and challenges that come with the teenage and in between years?
As a mother of a 10, 12 and 14 year old a speaker and a parenting Author I'm excited to bring a series of Thriving Teens & Tweens events to Auckland and other locations around New Zealand. I'll be wearing my MC hat but have an incredible line up of hand-picked speakers to empower & equip you and your family to THRIVE.
WHAT TO EXPECT
During this two hour event you will hear from incredible speakers who are specialists in their area and ready to help you with just that! Whether you're a parent, caregiver, teacher going through something big at the moment with your teen/tween or if things are smooth sailing and you just want to be prepared, this event is for you! *Or if you're not yet in the teen/tween years but keen for insight you're welcome too.
The topics covered by speaking and Q&A Panel at this event include:
Mental health (anxiety & depression)
Confidence and Self belief
Navigating friendships
Impacts of social media - digital resilience, sex & relationships
This event is brought to you by Natalie Cutler-Welsh at Go to Girl Ltd and proudly supported by the I'm Enough Trust.
Meet Your Speakers...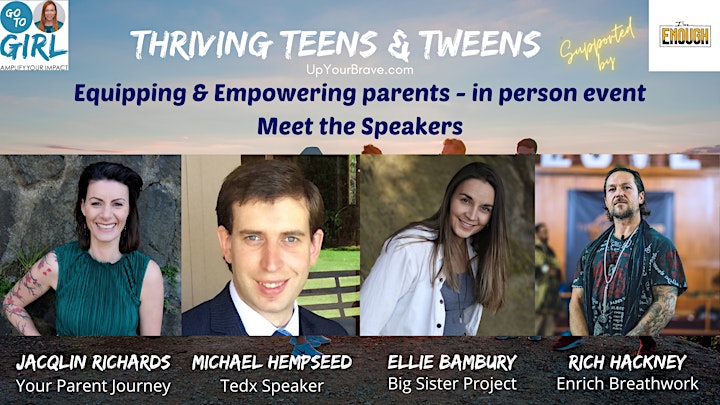 Your Speakers on the Night
Jacqlin Richards from Your Parent Journey is known as The FREEDOM Finder for Parents. Jacqlin is a Mother of 2, a Parent Empowerment Mentor, Speaker and Facilitator who is deeply passionate about bringing greater awareness to the way we raise our children & teens.
Jacqlin will talk about the impact of social media & screen time and online porn on relationships and self worth.
Over the past 7 years Jacqlin has worked with and walked alongside hundreds of clients (men and women) to transform the way they parent via her 'Pathways for Parenting' to lift out of the 5 'parent traps' that we ALL nose-dive into unconsciously when we become parents.
Jacqlin has been a guest on the AM show on teens and alcohol, TV3's The Cafe about Co-Parenting and featured in numerous magazine publications sharing her message in the light and playful way that she does, to empower parents into a very different way of parenting their kids in this very different world.
https://www.yourparentjourney.com
https://www.facebook.com/YourParentJourney
Michael Hempseed - Life Skills for Teens to Face life's Challenges
Being a teenager and a parent can be really tough today. In this funny and insightful talk, Michael will present a number of essential skills to help teens successfully navigate today's challenging world. Michael will cover:
What do teens really need to thrive?
How to raise teenagers that can effectively navigate life's challenges?
What can be done to protect teenagers from suicide?
Michael Hempseed is the author of Being A True Hero: Understanding and Preventing Suicide in Your Community. The book is being used by the New Zealand Police as well as many other organisations. He speaks to people such as army medics, teachers and parents. He usually delivers between 150-200 talks per year. Although he speaks on "dark topics" he always presents the material in an uplifting way that leaves the audience feeling hopeful. Michael gained an honours degree in psychology from the University of Canterbury in 2008. Funny, full of enthusiasm and taking a genuine interest in people are all qualities that make Michael a captivating speaker. Michael has also spoken at TEdx.
https://www.michaelhempseed.com/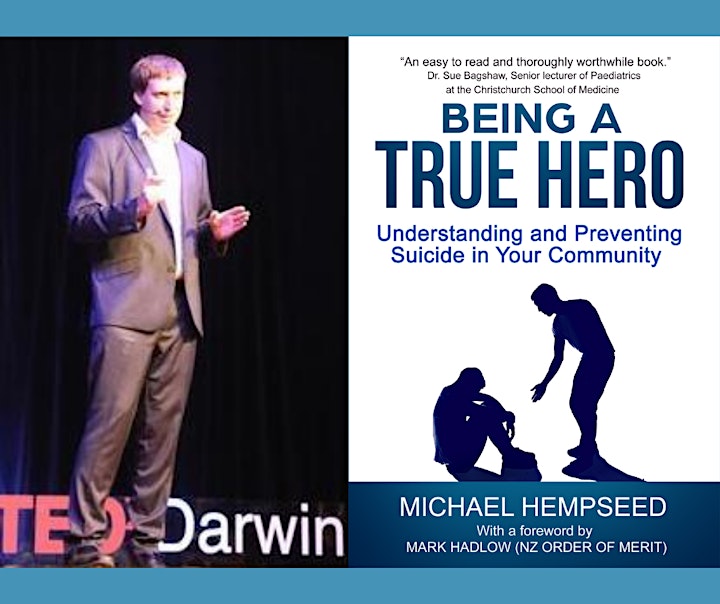 Ellie Bambury - The Big Sister Project
Ellie will speak on Navigating friendships, confidence & self belief.
As seen on the AM show, I'm enough series and HerStory Summit, Youth life coach and mentor Ellie Bambury is going to be diving head first into the world of friendships, 'fitting in' and self-worth. Ellie has a broad experience working in the 1-1 coaching space, running retreats, ongoing programs and one-off workshops for both young people and parents. Still being in her 20's herself, Ellie's insights will be fresh, dynamic and grounding. She believes there is no use in hiding behind the stories we have been conditioned to hold onto to justify our feeling of 'stuckness' in whatever challenges we face in life, and in her talk she will be sharing ways you can support your young person's journey as they find themselves and their people.
https://the-bigsisterproject.com/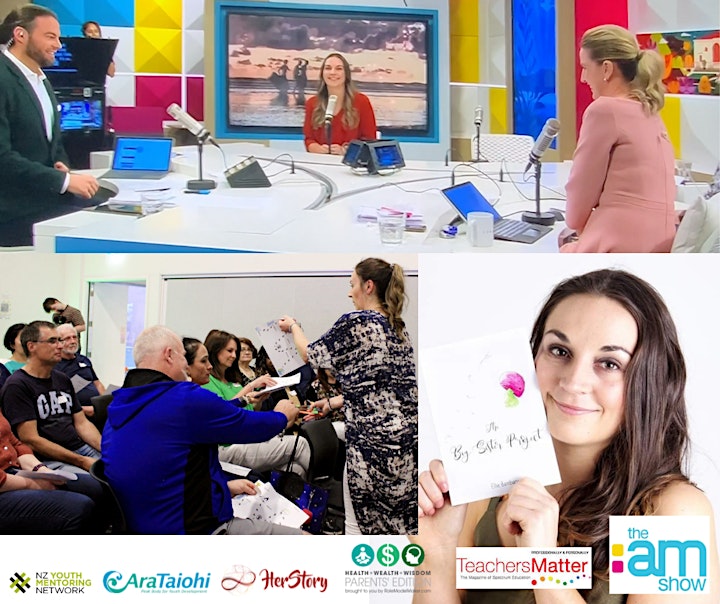 Rich Hackney is 45 and passionate father of 2 daughters and a step son. He brings a world of knowledge and wisdom via hands on experience from blackbelts in martial arts, being in prison for defending himself as a teen, turning that experience into becoming a professional fighter, leaving his birth country at 28 and traveling the world.
Putting himself through 21 days in silence in India, Natural medicine retreats in the Amazon to a year through south Africa with his family and the webber bros circus.
He brings a high energy of positivity towards life and proof anything is possible. His wisdom and experience brings inspiration, motivation and hope.
He is the founder of enrich breathwork which is rapidly growing movement in Auckland. His breathwork classes create a platform for men and women of all walks of life and ages to come Holistically reset themselves.
Rich is a Holistic coach and mentor with his biggest passion being to wake people up into this magical existence.
He motivates and inspires people from the minute he wakes with a 6am online Holistic "wake up" routine aka "RICHual" aka "Holistic hit" which he has personally developed through 17 yrs of travel to keep himself Holistically healthy whilst on the go. He believes and proves there is no excuses to live this experience optimally and the best version of your self.
He's literally saving lives with his breathwork classes from people having suicidal thoughts and actions to seeing a new light and future.
Rich will speak about the power of breath work to literally self regulate and heal ourselves mentally, physically and emotionally.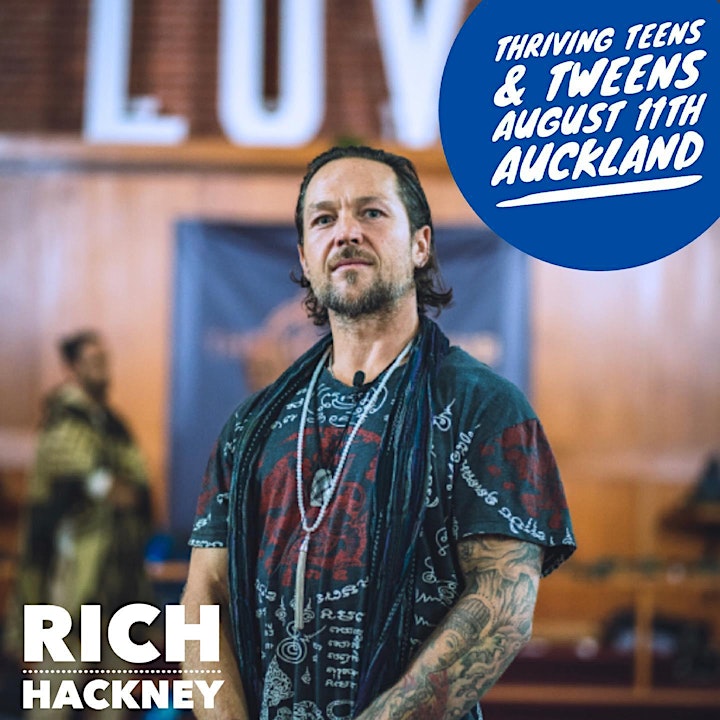 See you there!
Book your spot and tell your friends! This will be a fun and insightful event that will also likely be a turning point for your family!
See you there! Your host & MC, Natalie Cutler-Welsh
Parenting Author & podcast host at If Only They'd Told Me
Founder & Chief Connector at Go to Girl Ltd. Maximise your Superpowers & change the World for Good.
**More events to come in other areas/regions in New Zealand. Contact me if you would like one in your area or a speaker on some of these topics to speak at your school or organisation.
Big thank you to our Supporter for this event: The I'm Enough Trust - Reducing the impact of digital addiction and anxiety by supporting Youth and the people who care about them.
THANKS TO OUR SPONSORS:
Paige Gemmell from Ray White Real Estate
Sheridan & Dave Kay from Dynamic Chiropractic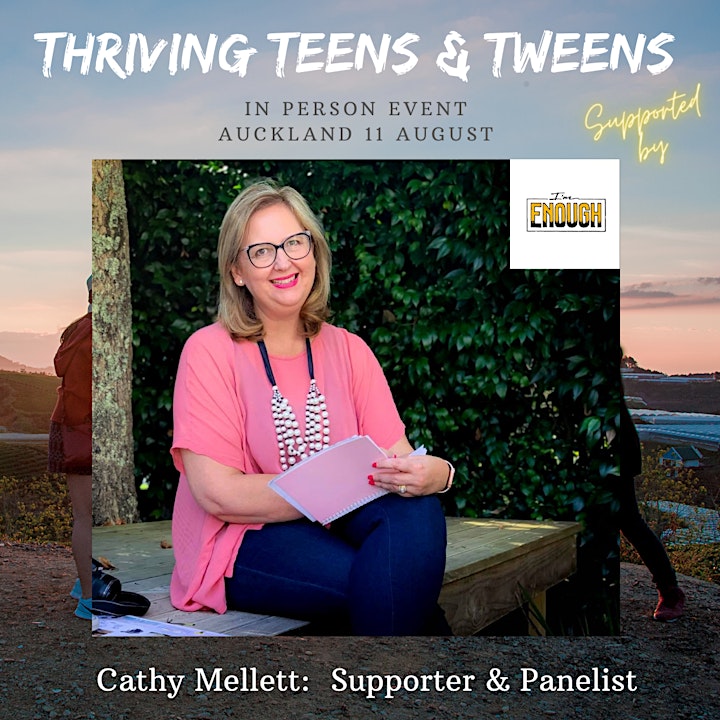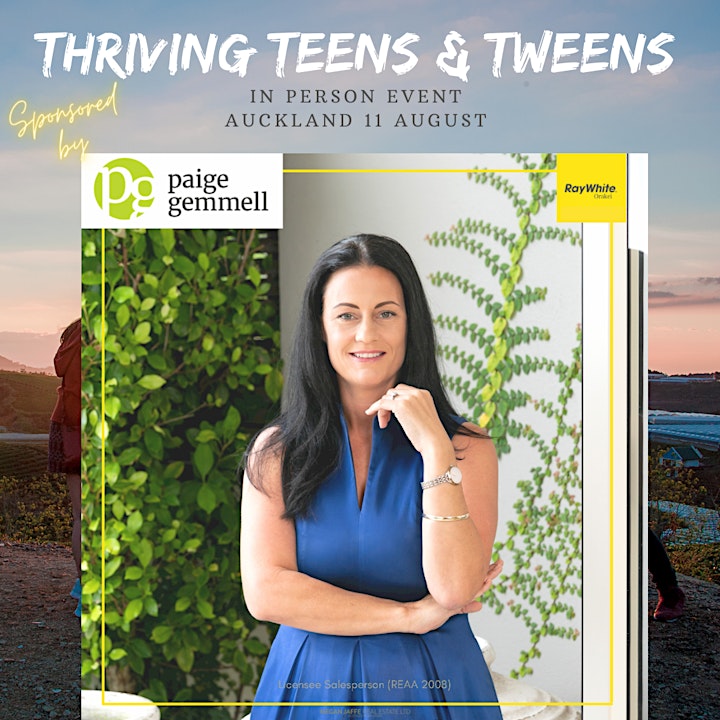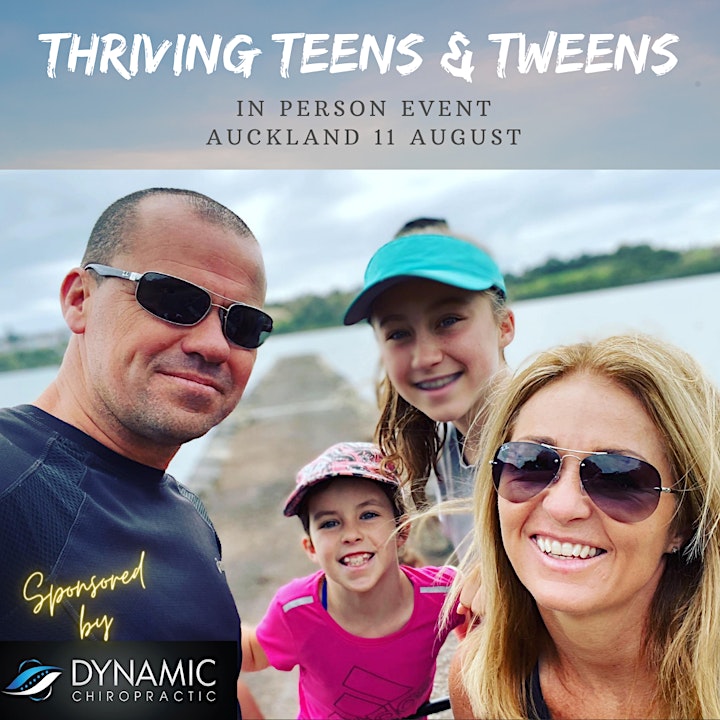 FAQ
Can I bring my teen or tween along? This event is designed for adults, parents or caregivers of teens. This is so that the audience can publically or anonymously ask any questions they would like.
However if you feel your teen would benefit from coming along and they want to - that is your decision.
What other locations are you doing? We are starting in East Auckland with North Shore & West Auckland events coming soon. Also planning to do one (with various different speakers at each one) in Christchurch, Wellington and some smaller locations as well. Please contact me if you want a speaker or event like this in your school or community.
__________________________________________________________________________
Any Ticket refunds?
In the event of a Covid 19 Lockdown L2 the event will proceed (with no more than 100 people attending). In the event of a L3 lockdown, the event will be postponed and rescheduled rather than cancelled. No refunds available but you are welcome to swap or gift your ticket.
Any digital tickets?
We won't be livestreaming the event but we will likely film just the speaker segments - available to purchase after the event. Contact the organiser Natalie Cutler-Welsh by texting your name & email to: 021 182 2908.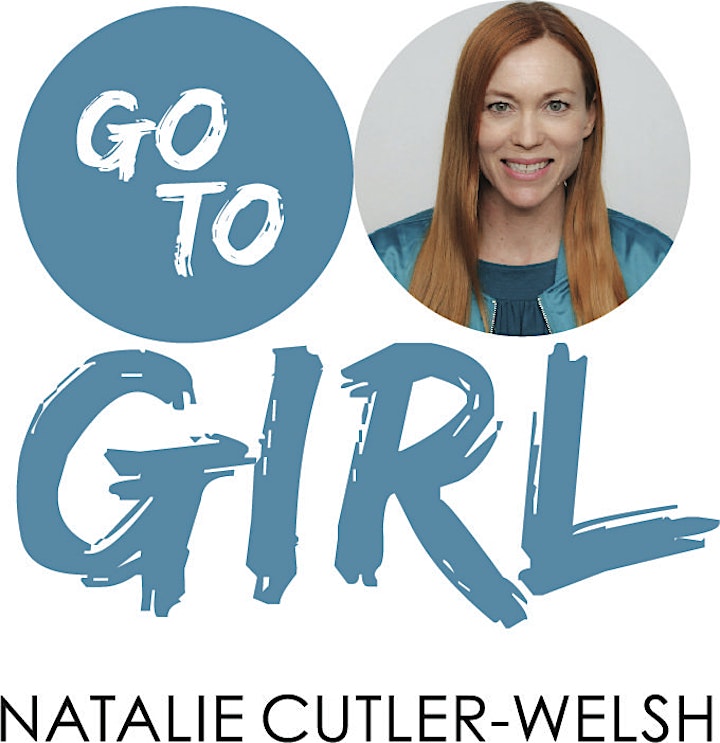 Organiser of Thriving Teens & Tweens - Auckland
Natalie Cutler-Welsh is on a mission to massively raise the state of resilience, health and happiness in New Zealand and on a global scale. As a Visibility and Confidence coach, an International speaker, MC, Parenting author, and mother of three, she specialises in helping "the people who help the people". Known as the Go to Girl, Natalie works with organisations and individuals to maximise their Superpowers, Amplify their impact and change the world for Good.
As seen on the AM show, Seven Sharp & Breakfast TV, digital media and stages with up to 4500 people, and numerous online & print publications, Canadian-born Kiwi, Natalie is known for her entertaining and on-point insights, Up Your Brave and Superpower talks and Amplify workshops and courses that leave people feeling empowered and inspired towards positive change.

Natalie is Director and founder of Go to Girl Ltd and co-author of parenting book, blog & podcast If Only They'd Told Me, a Wellness Advocate at Go to Girl Essential Wellness and creator of the Up Your Brave video series.
https://nataliecutlerwelsh.com/