This in-person event is designed to equip and empower parents and caregivers of teens and tweens. Location: Wellington
About this event
How do we empower & support our teens and tweens during this challenging time? It's not easy being a teen/tween right now and it's not easy being a parent or caregiver, teacher, coach or counsellor either.
This 2 hour event is designed to give you insights and strategies to help you and your teen/tween navigate the joys and challenges that come with the teenage and in between years.
As a mother of a 10, 12 and 14 year old a speaker and a parenting Author I'm excited to bring a series of Thriving Teens & Tweens events to Auckland and other locations around New Zealand. I'll be wearing my MC hat but have an incredible line up of hand-picked speakers to empower & equip you and your family to THRIVE.
WHAT TO EXPECT
You will hear from 4 incredible speakers who are specialists in their area and ready to help you with just that! Whether you're a parent, caregiver, teacher going through something big at the moment with your teen/tween or if things are smooth sailing and you just want to be prepared, this event is for you! *Or if you're not yet in the teen/tween years but keen for insight you're welcome too.
The topics covered by speaking and Q&A Panel at this event include:
Mental health (anxiety & depression)
Managing the impacts of over-indulgent parenting
Healthy body healthy mind
Confidence & Communication
Family dynamics and digital resilience
This event is brought to you by Natalie Cutler-Welsh at Go to Girl Ltd and proudly supported by the I'm Enough Trust. Thanks to our sponsor Ali Sullivan at Body of Work.
Meet the Speakers & Panelists: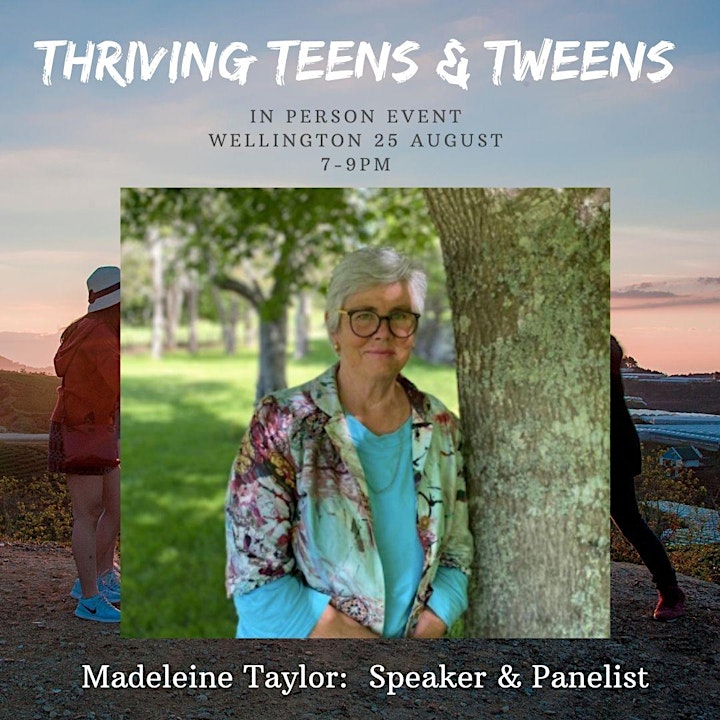 Madeleine Taylor - Raising resilient teens in this overindulgent world
Madeleine is a speaker, author and parenting Advocate. She is a parent of three boys in their 20's, Having originally trained as a social worker, working in health and mental health working with families in difficult times.
In 2013 Madeleine went to Minnesota and trained with Jean Illsley Clarke – Co - author of "How Much is Enough", then returned to New Zealand to share the "new normal" – parenting in a world of overindulgence.
Since then she has run yearly 5 day retreats – focusing on groups skills and parenting, presented at schools, early childhood centres and conferences to share this vital information and to support parents. She provides coaching, presentations and workshops to grow awareness and to help our communities raise competent, capable, likeable and resilient people in this crazy world.
Madeleine has written a book - Parenting Road Code - to support parents and has an online training.
Specialties: Conflict resolution, Communication, Managing people in change, Mentoring, Coaching, Supervision, Organisational development, Grief and loss, Group work, Team Building, parenting in today's world.
https://www.peopleskillsconsulting.co.nz/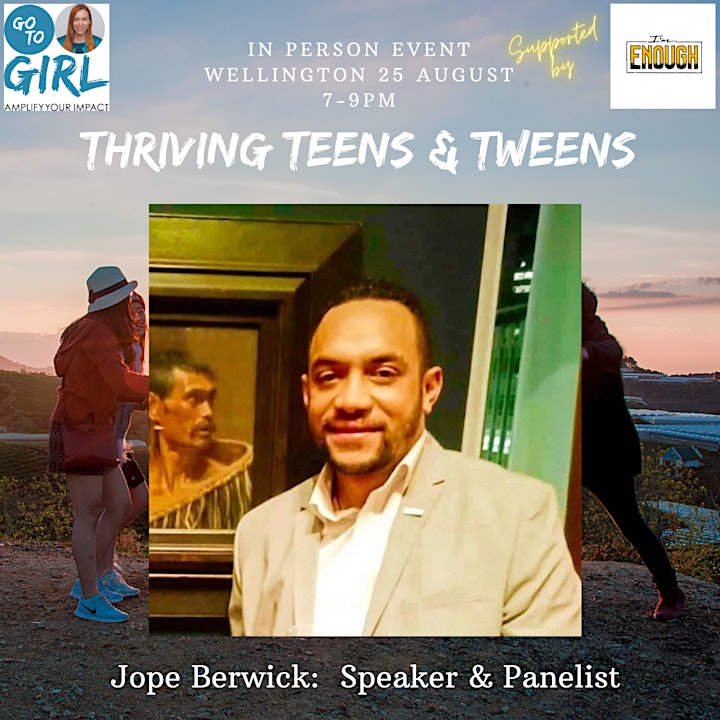 Jope Berwick
With 20 years experience in working with youth and families, Jope will be speaking about Family Dynamics and how to manage and minimise the impacts of social media and boost digital resilience.
Jope is the Founder & Executive Director of PVI - Positive Vibrations International.
PVI is driven to provide a holistic, person-centred, wrap-around youth service for young people at risk of "losing their way" in life or those who have found themselves in trouble and need support, guidance and mentoring.
We also support and develop young people with promise to develop their potential by setting goals and following through so achieving can become their second nature.
Provide a world-class youth development social service that supports young people, their families and communities to become self-reliant positive contributors in society. https://positivevibrations.co.nz/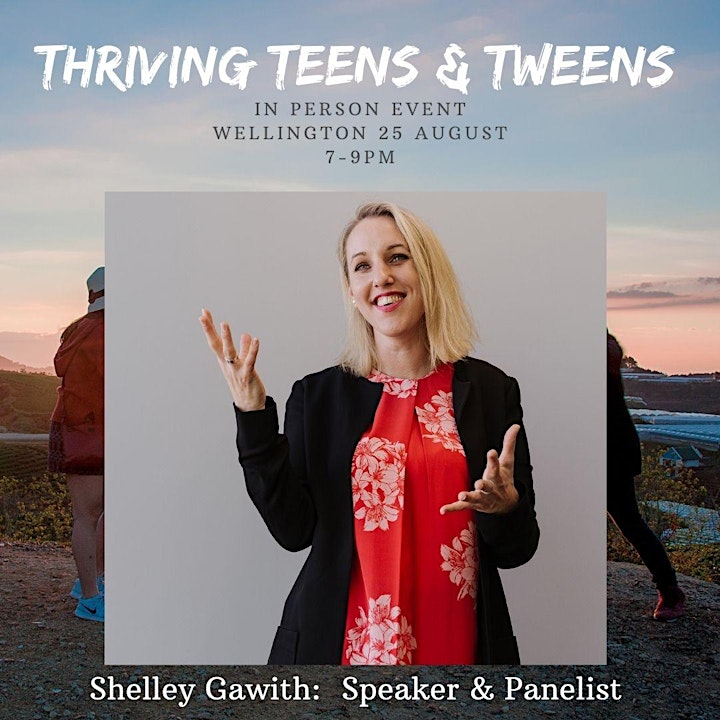 Shelley Gawith - International Speaker and Functional Nutrition Specialist at Shelley Gawith Functional Nutrition
Shelley will speak about Healthy body healthy mind & digital resilience. Whether your Teen/Tween has a sore tummy from the food their eating or from anxiousness we can help to reduce their discomfort.
We view our lives through the lense of our hormones. If we are feeling stressed, or we have too much going on in our lives, we can feel out of control and our lives can feel unnecessarily hard, which impacts every area of our lives including our mental health and our immune system.
In this presentation Shelley will cover some quick actionable techniques that can be implemented in our daily lives for instant results. Including:
How our 'stress levels' affect our immune system.
Mindset & power foods for boosting resilience.
Positivity : How this impacts our immune system and stress levels.
Shelley healed herself through education and food from near death burnout in her 30's. Shelley has a busy (and often booked out) clinic in Wellington CBD.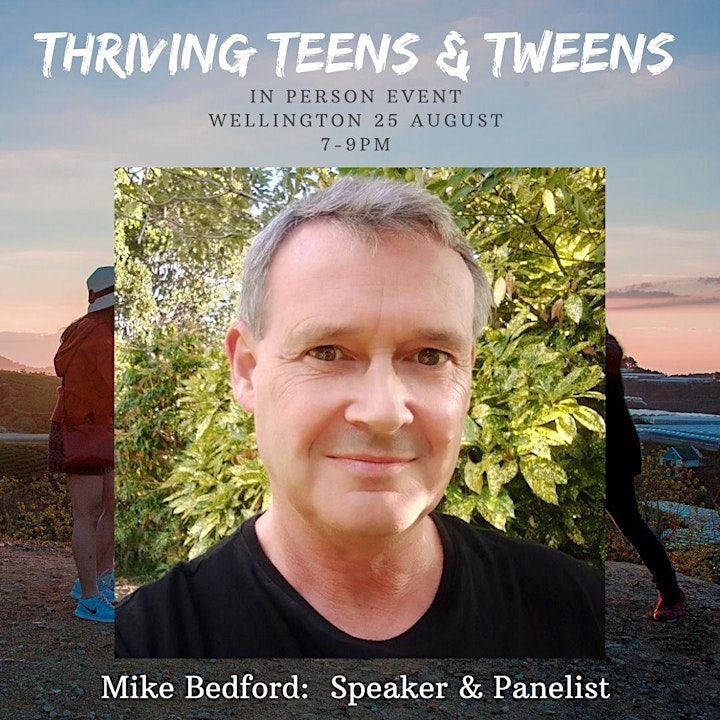 Mike Bedford
Open communication is worth so much! Whatever your tween or teen is going through in life, being able to openly and honestly talk to someone, knowing you will be heard, knowing that what you say will be respected, provides a great place of safety. Children will be able to look after themselves best when they are able to sort for themselves the information and feelings they encounter, without being pushed around by societal pressures or their own emotions. The safe person to talk to provides a place to test their answers to life's problems, especially if that person instils confidence, treating them no longer as a fully dependent child, but as someone who can decide some things for themselves. But parents can't be everything for their children, and that's when the 'significant other' – the known and trusted person who isn't their parent, can be so valuable. Mike will talk about the value of communication, and illustrate the role of the 'significant other'.
Mike is a specialist in early childhood education and wellbeing, having worked in the sector for about 30 years. This year he established the organisation ECE Reform, a child advocacy group designed to bring system level change to the ECE and childcare sector, placing the wellbeing of children first. One of the drivers for this organisation is the understanding of the way our care for children and their earliest years affects their resilience, and their emotional security in adolescence.
In his talk, Mike shares insight from the perspective of a 'non parent' who has had the opportunity to walk alongside very several close friends in their parenting journeys. This has involved many hours of discussion over many years, as his friends worked through their best attempts at parenting. He has had the privilege of being a 'significant other' and their children's lives. He can also provide some valuable reflections from his own adolescent experience with parents who talked in depth, as well as having had the value of that 'significant other' person for guidance.
Thanks to our Sponsor... Body of Work
Body of Work is a multi-disciplinary wellness centre, comprising a fantastic team of experts, headed up by Ali Sullivan.
Our Lower Hutt Studio offers:
Massage Therapy
Yoga
Pilates
Exercise Therapy
Acupuncture
Chiropractic
Naturopath Services
These services can be used independently or packaged together for your particular needs.
Body of Work is a Collaborative Wellness hub and we are proudly sponsoring this Thriving Teens and tweens event as we are often seeing the effects our crazy modern world and lifestyles are having on our clients, both parents and young people alike.
Having the opportunity to learn new techniques and skills from these experts is fantastic and will give parents, and others working with young people, the ability to make a huge difference in a young person's life.
https://www.bodyofwork.co.nz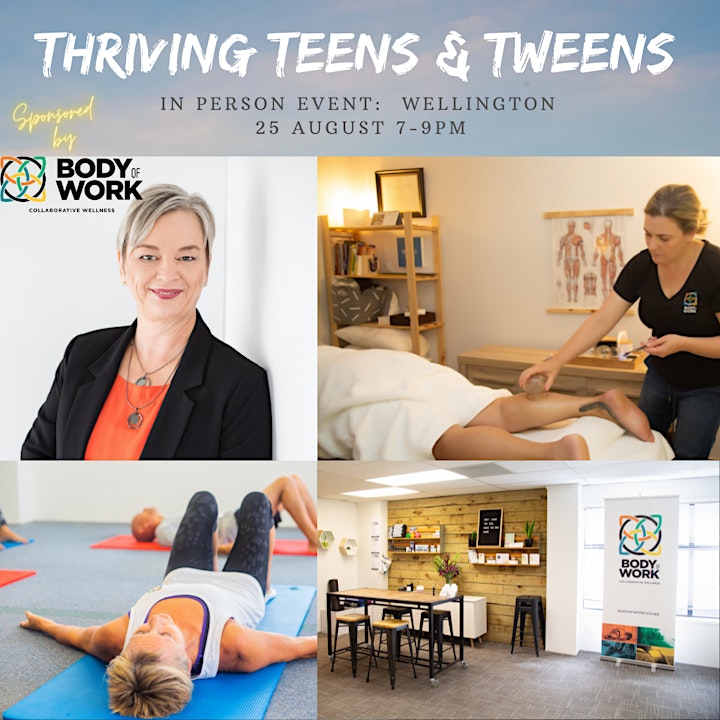 See you there!
Book your spot and tell your friends! This will be a fun and insightful event that will also likely be a turning point for your family!
See you there! Your host & MC, Natalie Cutler-Welsh
Parenting Author & podcast host at If Only They'd Told Me
Founder & Chief Connector at Go to Girl Ltd. Maximise your Superpowers & change the World for Good.
**More events to come in other areas/regions in New Zealand. Contact me if you would like one in your area or a speaker on some of these topics to speak at your school or organisation.
Big thank you to our Supporter for this event: The I'm Enough Trust - Reducing the impact of digital addiction and anxiety by supporting Youth and the people who care about them.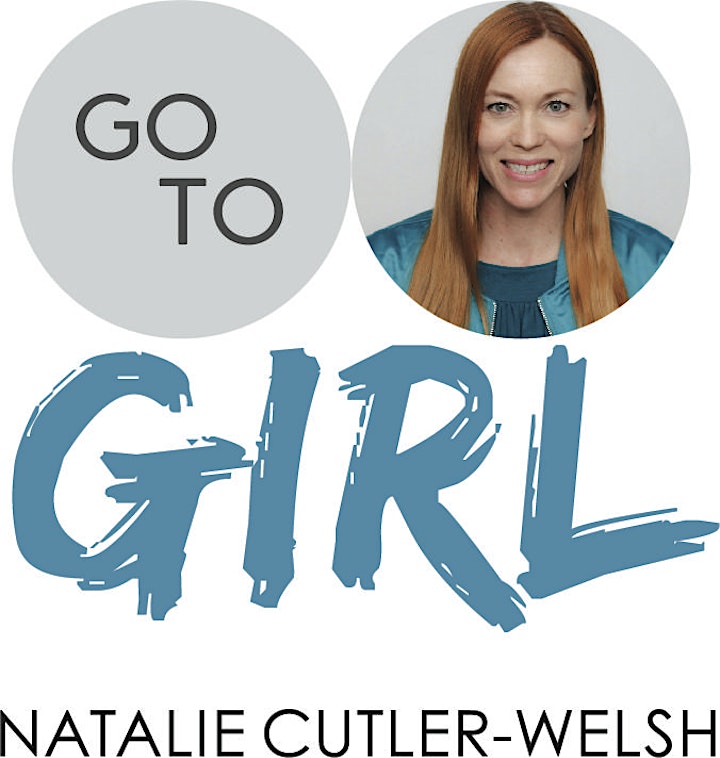 FAQ
Can I bring my teen or tween along? This event is designed for adults, parents or caregivers of teens. This is so that the audience can publically or anonymously ask any questions they would like.
However if you feel your teen would benefit from coming along and they want to - that is your decision.
What other locations are you doing? We are starting in East Auckland with North Shore & West Auckland events coming soon. Also planning to do one (with various different speakers at each one) in Christchurch, Wellington and some smaller locations as well. Please contact me if you want a speaker or event like this in your school or community.
__________________________________________________________________________
Any Ticket refunds?
In the event of a Covid 19 Lockdown L2 the event will proceed (with no more than 100 people attending). In the event of a L3 lockdown, the event will be postponed and rescheduled rather than cancelled. No refunds available but you are welcome to swap or gift your ticket.
Any digital tickets?
We won't be live streaming the event but we will likely film just the speaker segments - possibly available to purchase after the event. Contact the organiser Natalie Cutler-Welsh by texting your name & email to: 021 182 2908.
Organiser of Thriving Teens & Tweens - Wellington
Natalie Cutler-Welsh is on a mission to massively raise the state of resilience, health and happiness in New Zealand and on a global scale. As a Visibility and Confidence coach, an International speaker, MC, Parenting author, and mother of three, she specialises in helping "the people who help the people". Known as the Go to Girl, Natalie works with organisations and individuals to maximise their Superpowers, Amplify their impact and change the world for Good.
As seen on the AM show, Seven Sharp & Breakfast TV, digital media and stages with up to 4500 people, and numerous online & print publications, Canadian-born Kiwi, Natalie is known for her entertaining and on-point insights, Up Your Brave and Superpower talks and Amplify workshops and courses that leave people feeling empowered and inspired towards positive change.

Natalie is Director and founder of Go to Girl Ltd and co-author of parenting book, blog & podcast If Only They'd Told Me, a Wellness Advocate at Go to Girl Essential Wellness and creator of the Up Your Brave video series.
https://nataliecutlerwelsh.com/