Todd Belt will provide guidance on how to look through the noise and current uncertainty to read the various US electoral races.
About this event
The current economic, pandemic and racial justice context is unprecedented, creating high levels of uncertainty, and making electoral outcomes difficult to pick. We'll focus in on this uncertainty and look at how the Trump and Biden campaign strategies are shaping up and their respective pathways to victory, how the small number of swing states come into play, their changing demographics and the potential implications. Who might benefit most from a digitally focused campaign? Will voters turnout? What difference will advance and mail in voting make? How reliable is polling in this current environment? and many more questions.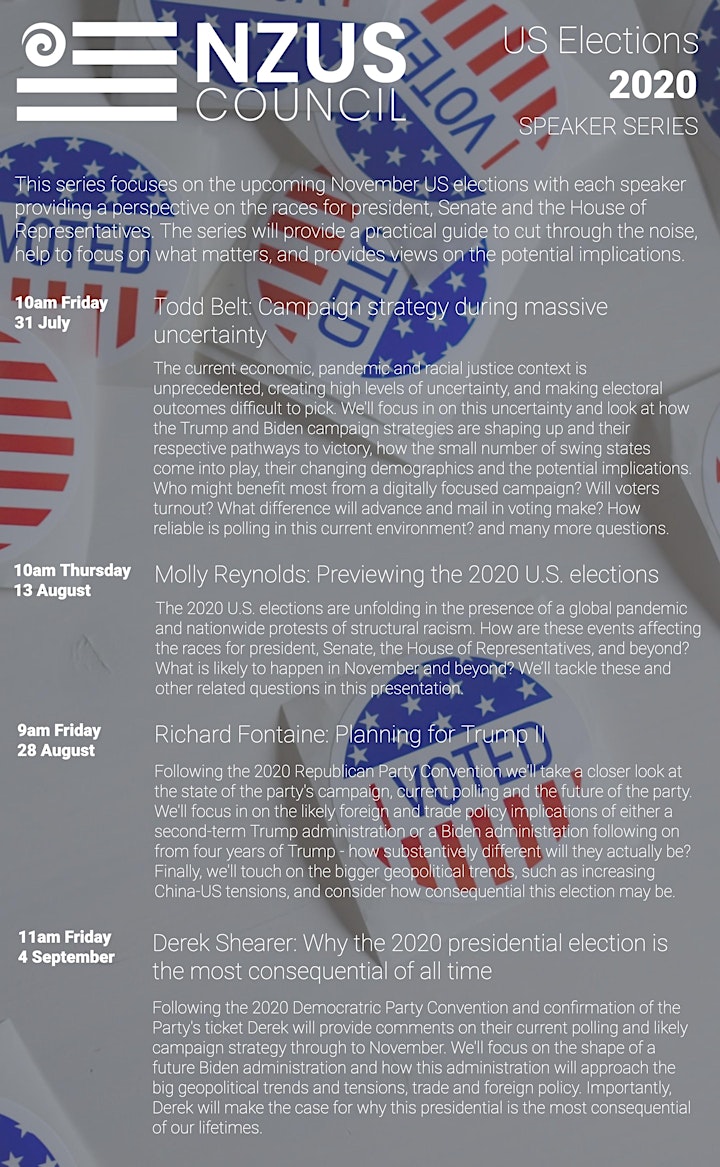 Todd Belt (Professor and Political Management Program Director - George Washington University)
Todd L. Belt is the director of the Political Management program at The Graduate School of Political Management. Before joining GSPM, Dr. Belt was the John W. Kluge Fellow in Digital Studies at the Library of Congress and Professor of Political Science at the University of Hawai'i at Hilo. His research and writing focuses on the mass media, public opinion, the presidency, campaigns and elections. He is the co-author of four books: The Post-Heroic Presidency: Leveraged Leadership in an Age of Limits (Praeger, 2nd ed.), The Presidency and Domestic Policy: Comparing Leadership Styles, FDR to Obama (Paradigm, 2nd ed.), We Interrupt This Newscast: How to Improve Local News and Win Ratings, Too (Cambridge University Press), and Getting Involved: A Guide to Student Citizenship (Longman). He has published over a dozen chapters in edited scholarly books and over two dozen scholarly articles. Dr. Belt received his B.A. in Economics and Political Science and the University of California, Irvine, and his M.A. and Ph.D. in Political Science at the University of Southern California. He is the recipient of two teaching awards.