Description
NZ Travel Magazine together with Adobe, and The Art of Night bring you our annual Tourism and Travel Showcase Media Education Day
Confirmed Speakers
Mark Gee - Astrophotographer & Visual Effects Supervisor in the Film Industry
Rachel Gillespie - Magazine Editor & Media Strategy Consultant
Kate Baxter - Ngai Tahu Tourism
Lucy Gaskell - Unilad Adventure
Lisa Chambers - Tourism Marketing Manager Inflite South Island
Senka Radonich - Adventure Girls NZ
Rina Sjardin-Thompson - Professional Photographer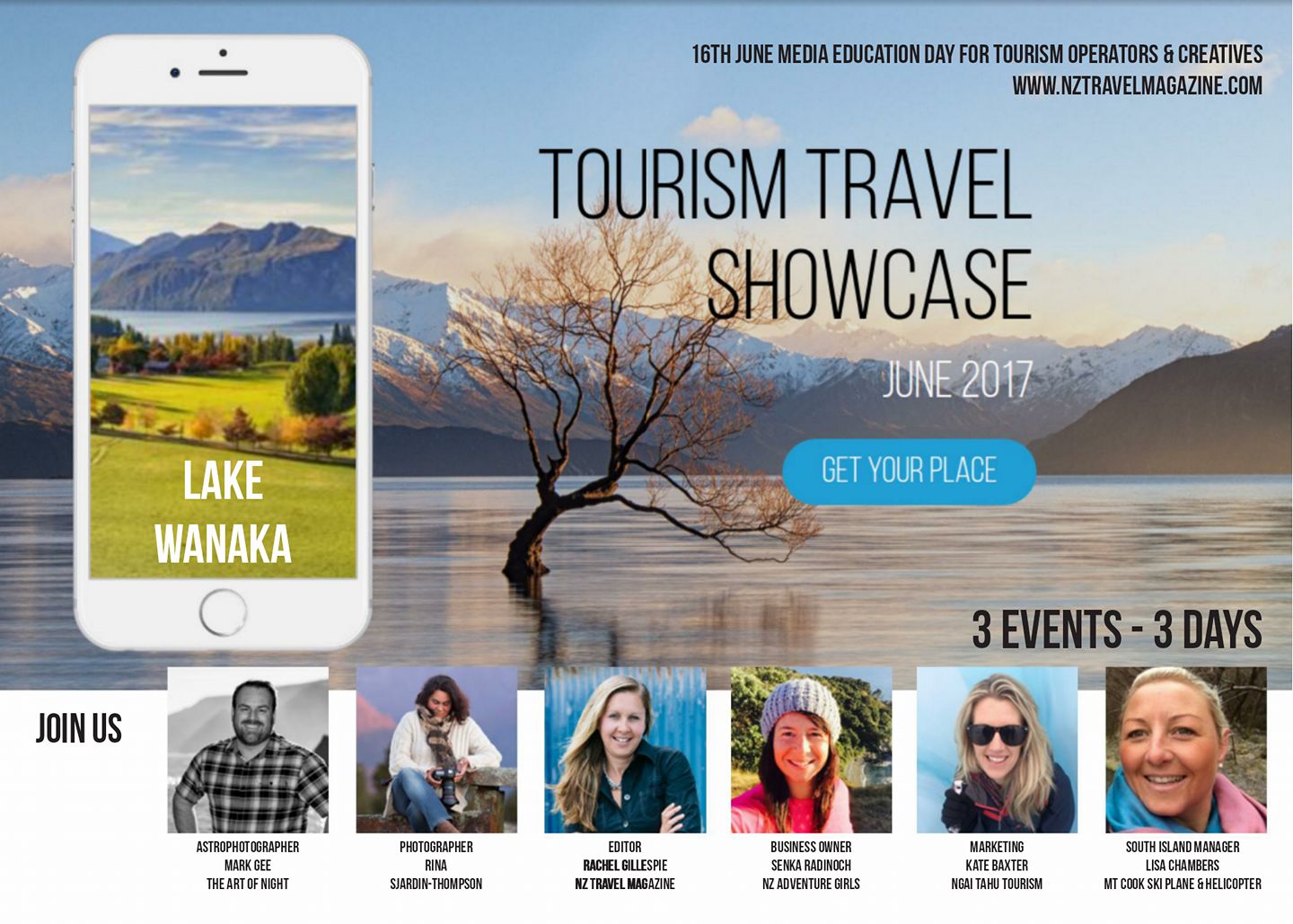 BONUS
This ticket includes a free Social Media Strategy Plan you can personalise, a follow-up free seat on our online webinar of "What Next" and access to our Instagram Masterclass Online Program
Join Rachel Gillespie, Mark Gee, Kate Baxter, Lisa Chambers, Senka Radonich and Rina Sjardin-Thompson and other Tourism Creatives and Photographers in Lake Wanaka for a day of networking, inspiration and learn new skills
Speakers and Breakout Sessions with each speaker throughout the day will leave you with a load of new skills after you leave this awesome one day event.
I am opening up the showcase to any Content Creative for this as we have some extra seats, so get yours quick


MARK GEE - THE ART OF NIGHT ASTROPHOTOGRAPHY
Mark has worked on many high profile and Oscar award winning feature films. His love of the New Zealand landscape is a big part of the inspiration for his photography. With almost 400,000 Organic Likes on Mark's Facebook Page and 6 million views on Vimeo with his timelapse videos, Mark has so much to share.
Wholly self-taught, Mark's style of photography is influenced by his many years of experience in the feature film business, & with an eye for detail he strives to produce creative images of exceptional quality, no matter what the subject. Since he began to seriously focus on developing his photography skills over a decade ago, Mark has continuously worked on improving his craft, thriving on setting the bar ever higher and challenging himself to do better yet every time he sets out to shoot.
While his images portray a wide variety of subjects, in the past few years astrophotography in particular has captured Mark's imagination and interest. He often ventures out to the darkest, most remote skies all around the country, enjoying the challenge of combining New Zealand's striking landscapes with the ethereal beauty of the night sky in new, creative ways. This has led to international success with Mark being short-listed in the Astronomy Photographer of the Year every year from 2012 onwards, a finalist in the 2012 World Open of Photography, and 4th place in the 2014 International Earth and Sky Photo Competition, as well as having images published in various books and magazines.
Marks short film, 'Full Moon Silhouettes' also gained him international acclaim after going viral online, and has been broadcast all over the world by the likes of CNN, The BBC, NASA and various other main stream media.
In 2013, Mark won the prestigious Astronomy Photographer of the Year. Not only did he win it overall, but Mark also won the Earth and Space category, and the People and Space category which had never been done before in the competitions history.
RACHEL GILLESPIE – EDITOR NZ TRAVEL MAGAZINE AND KAIKOURA NZ TOURISM
Rachel is local business woman, whom has lived in Kaikoura for many years and currently based out of Timaru so she can travel the round trip to visit clients on a regular basis. Rachel has been in business for herself 23 years and traveled extensively. Now a mother of 3 she works online with this business. As a background in business coaching and training she will teach you some real grass roots strategies you can use and implement
Her Magazine and other website KaikouraNewZealand.com profiles many amazing breathtaking and once in a lifetime stops to magical places on earth.
KATE BAXTER - NGA TAHU TOURISM
As one of New Zealand's largest operators, Marketing Co-ordinator Kate Baxter will share on how she manages multiple business brands media and social across the Ngai Tahu brand to keep the work flow consistent within all the businesses.
SENKA RADONICH – OWNER OF ADVENTURE GIRLS NZ
Kick-ass adventure & travel exclusively for women. Try surfing, mountain biking, pistol shooting and more. Senka has mastered how to fill her adventures online and will teach you how she did this
LUCY GASKELL - UNILAD ADVENTURE
Stoked to be adding the awesome Lucy Gaskell, Social Media Head at UNILAD Adventure to our Tourism Travel Showcase this Friday!
Lucy and Rachel are heading up a presentation together on what kind of content Unilad Adventures is interested in and how you can create yours with more likelihood to feature. With NZ being a huge feature for them right now, it is an awesome opportunity for you to grab a view from their 1.7 million followers
RINA SJARDIN-THOMPSON – PROFESSIONAL PHOTOGRAPHER
Rina has been working as a professional photographer for the last 5 yrs. Based on the West Coast where her passion began. she fell in love with what was around her, picked up her camera and her career has evolved from there, taking her on a journey she never in a million years thought she would go on….
LISA CHAMBERS
Lisa moved to this fabulous country 13 years ago I has been working within tourism ever since. She loves the fast paced nature of this industry where by we get the opportunity to make a special moment in someone's life a lifetime memory and a story to tell forever.
The tourism industry welcomes all walks of life to come and enjoy this amazing country and I just love that diversity an the opportunities it offers.
From working in startups to multi million dollar turnover businesses it doesn't matter the size the tricks to success are all the same. I look forward to telling you a little of what I've achieved so far and how I believe that was done!
Look at our other events on 17th and 18th June
A Night of Astrophotography with Mark Gee, and a Photography Meetup
EVENT PARTNERS
THE ART OF NIGHT | ADOBE | KAIKOURANZ