This event is for all UC professional staff and will offer both internal and external speakers within the broad Wellbeing theme.
About this event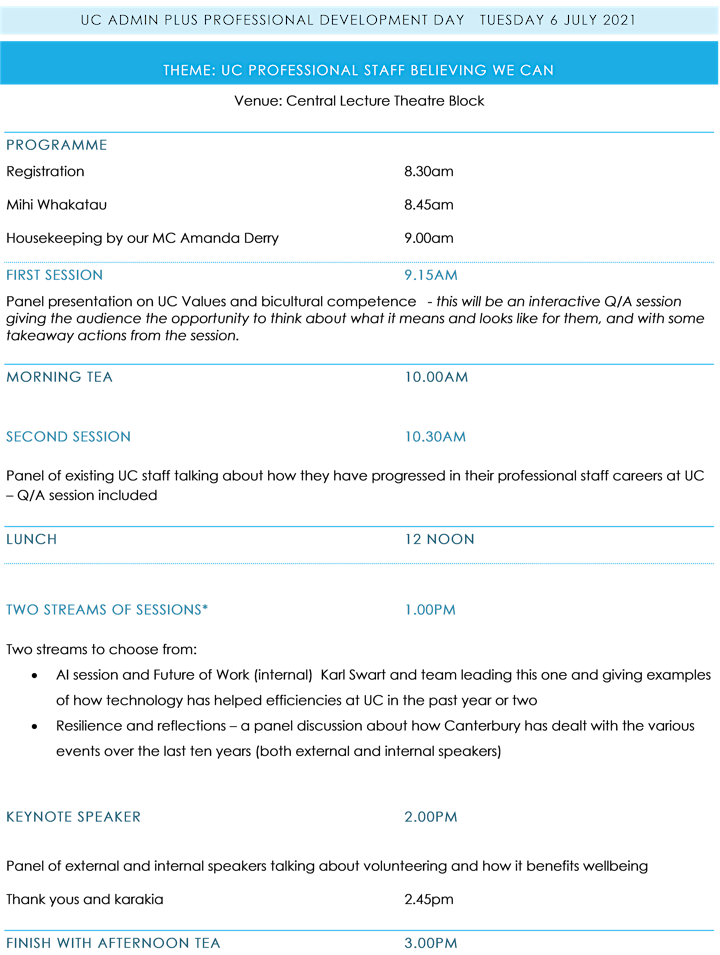 This event is sponsored by the Senior Management Team. Staff wishing to attend should liaise with their direct line managers regarding professional development leave for the day.
There is no charge for this event.
UC Admin Plus is a network of all UC professional staff who wish to liaise with colleagues on regular networking occasions over the year. We currently have approximately 400 members and this is growing. If you would like to become a member, have any suggestions for events or content that you would like to see on this site or for any other enquiries, please email: ucadminplus@canterbury.ac.nz
Please RSVP by 16 June 4pm - late registrations accepted until 24 June
Presenters will include:
Colleagues from across UC talking about their own UC career journeys
Liz Brown, Karen Mather and Rachel Dillon leading a session on UC Values. Facilitated by Robyn Cummins
Panellists from Volunteering Canterbury, Wild in Art, CDHB, SVA, Maia Health Foundation and Youth Hub Christchurch discussing the role of volunteering in wellbeing. Facilitated by Robyn Nuthall
Concurrent Session Choices
AI at UC, and the Future of Work – led by Karl Swart, Process Improvement Analyst and Dr Tom Coupe from UC Business School
Resilience and reflections on the Canterbury experience over the past eleven years – panellists from the All Right Campaign, the Muslim community, and from UC. Facilitated by Ekant Veer
Organiser of UC Professional Staff Believing We Can
Founded in 1873, in Ōtautahi Christchurch, the University of Canterbury | Te Whare Wānanga o Waitaha (UC) has an international reputation for academic excellence in teaching and research. UC offers over 190 programmes of study across five colleges – Arts; Business and Law; Education, Health and Human Development; Engineering and Science.
The university has an undivided focus on people, research, education and engagement to carry us forward to our 150th anniversary and beyond.
UC offers a unique, world-class learning experience that gives UC graduates a competitive edge in an increasingly challenging, dynamic and complex world – UC students graduate with the skills, knowledge and confidence they need to make a difference.
The University's research-active lecturers and academics are committed to deploying their expertise and knowledge, and are active in partnering with others to advance civic purpose and foster public good.