Description
For a long time in our urban centres, nature has been fighting a losing battle. Perhaps those living in residential areas had been comforted by the fact that the Department of Conservation and its predecessors have been doing their best to save our native birds from extinction on offshore islands, or more recently, mainland eco-sanctuaries. But, these endeavours on their own, are not enough to reverse the ongoing decline in native biodiversity. What if cities were seen as a solution to the problem and what needs to happen?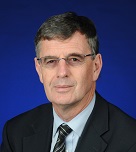 Professor Bruce Clarkson will make the case for both community and local council endeavours to bring indigenous nature back into cities and towns where 87% of New Zealand's population live. Bruce explains how the new transdisciplinary approach of Urban Ecology is working on reconnecting our neighbourhoods with nature to provide multiple benefits to urban dwellers.
Professor Bruce Clarkson is the 2016 Charles Fleming Award recipient for his work in Ecology. He was born in the Taranaki and is currently the Deputy Vice-Chancellor Research at University of Waikato.
FREE PUBLIC EVENT – Guarantee your seat by registering via royalsociety.org.nz/events
This Royal Society Te Apārangi Memorial Lecture for the Charles Fleming Award for environmental achievement, is being held in association with the Auckland Museum Institute (Auckland Branch of Royal Society Te Apārangi).
Views expressed at this event may not reflect those of Royal Society Te Apārangi.