About this Event
Let us take you to the streets of Manila, the Philippines' Capital and savour plant-based Filipino favourites. Learn more about the culture of this Southeast Asian gem told through the stories of each dish, capturing the essence of what it is like to wander in the streets and alleys of this vibrant city.
Think: exploring new cultures through food and stories, vegan versions of traditional street food, classic Filipino favourites, meeting like-minded foodies in an exclusive event held at an unassuming Auckland setting.
Don't miss out. This pop-up event has only limited seats, so seize the opportunity to make new connections and appreciate global cuisines in a kind and compassionate way.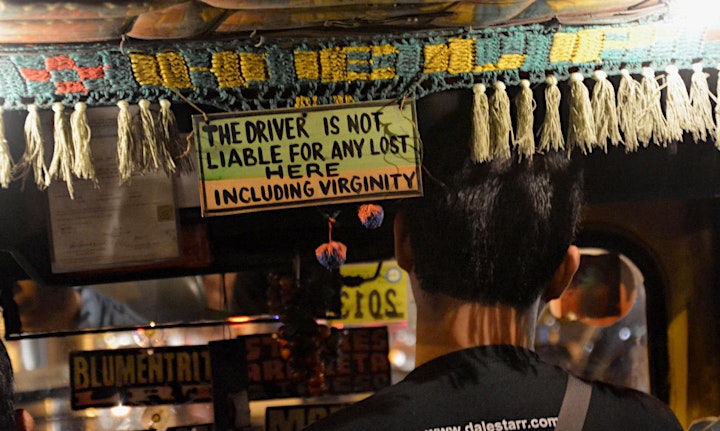 A classic Filipino sense of humour found in a jeepney signage doing the rounds on the streets of Manila 😆
Our inspiration behind our first pop up is the story of the sights, sounds, tastes and memories of Manila, the capital of the Philippines.
Manila is eccentric yet familiar -- a mix of eclectic vibes found in the ancient pavements well-trodden by its citizens, and a completely contemporary and modern feel emanating from mini-cities paving concrete jungles that give an approving nod to the hopeful future for the capital.
What we want to capture is the everyday Manila vibe -- overwhelmingly chaotic yet disarmingly still, loud yet inwardly silent, somehow dated yet refreshingly novel. And how we want to do that is to tell the story of our own foodie experiences from this Southeast capital gem through capturing the memories of Manila's food scene and translating these sensual images on the plate made possible by the power of plants.
Our venues are all unassuming spaces set across Auckland, and we want it to be that way so we can all dine in a community vibe, have fun and just focus on the soul of our plant-based food fueled by curiosity, passion and the shared love for exploring new concepts and ideas out of the vegan Filipino Cuisine revolution that we started.
We would love to have you with us!
Stay tuned for more info about the event.
Get your tickets here now at Eventbrite.