About this Event
Come and join us for a day out in our beautiful college grounds. Bring a group of friends and spend the day experiencing our friendly hospitality .
Take your time browsing the more than 120 quality stalls to do your Christmas shopping and choose from a range of food and drink stalls on offer. Make a day of it and enjoy a Pimms or Devonshire Tea and enjoy the live entertainment.
A fabulous day out not to be missed - bring your friends and enjoy our famous Villa hospitality. And don't forget your reusable bags.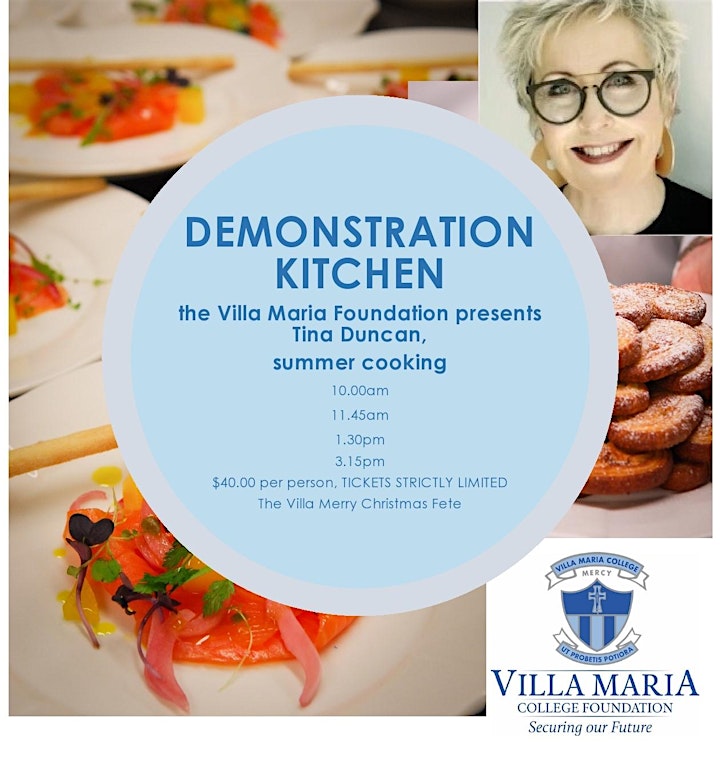 Tina Duncan presents Seasonal Fare Demonstration Class
The Villa Maria Foundation Demonstration Kitchen will host well-known cooking demonstrator Tina Duncan for classes throughout the day.
Focussing on seasonal fare, Tina will be presenting dishes to share for the summer season, tips for entertaining with last minute guests, secrets for prepping in advance and must-have saviours in the tins so there is always something on hand.
Your ticket price also includes a full recipe set to take home.
Tickets are strictly limited to accommodate the College's outstanding food science room so advance purchasing is recommended.
Tickets are $40 plus $5 Fete entry fee
Hosted by the Villa Maria Foundation, all proceeds go towards the Mercy Scholarship annual fees.
Disclaimer: Villa Merry Christmas Fete1. Participants and ticket holders in the Villa Merry Christmas Fete are solely responsible for their welfare.2. Villa Maria College and persons involved with the organisation of, participation in, and the running of the Villa Merry Christmas Fete shall not be liable (under criminal or common law) for any loss, injury or other suffered by a participant arising from any action taken or omission of Villa Maria College and/or persons involved with the organisation of participation in, and running of the Villa Merry Christmas Fete.
3. Villa Maria College and the organising committee will not be held responsible for alteration to or cancellation of the Villa Merry Christmas Fete as a result of bad weather or circumstances beyond its control.
This ticket is non-refundable.