An interactive and practical workshop to reset your vision and goals to live into your best thriving life for the rest of 2021!
About this event
2021 is moving quickly and what better way to swing into the second half of the year than by checking in and re-aligning with your vision and goals for THRIVING!
This session will create a space for you to check-in and feel into the vision of your life you most want to create and set aligned and supportive actions to bring the FEELING of your vision to life.
I will walk you through my popular vision setting framework which includes:
Using the emotional culture deck
Crafting a vision that FEELS connected to YOU
Setting powerful goals using the stamp method with aligned actions; and
The key strategy to move through any mind blocks
You will receive a workbook to work through and refer to during and after the session.
My mission in life is to help as many busy ambitious humans live into a life that FEELS freaken good to them, which means that I am not here to promote doing MORE to feel more.
No, I am here to promote INTENTION and DISCERNMENT of all that you do so that it ALIGNS with how you want life to FEEL, not just what it looks like.
This is one of my most popular and powerful workshops I run. I've run it with company teams, F45 gyms, and is a core foundation in my coaching both 1:1 and group programmes.
If you want life to FEEL better everyday, you need to know what 'feel better' means to YOU and how to make it happen daily. I will take you through exactly that.
This session will create the space for you to turn in and ask yourself what's important over the coming months and where you would like to focus your energy. You may not be able to do everything you use to, but maybe that's a good thing too!
This is time and space dedicated to YOU so you can become more mindful of how things are and have been, and use that awareness to focus on who you want to be, how you want to show up and where you want to go.
I can't wait to see you there!
What to have with you:
Journal/notebook + pen
Warm cuppa
An open mind
Respect for yourself and others
Please share this with anyone who you think my be interested or benefit from this. Spaces will be limited to give time for discussion and sharing.
If you have any questions, please email me at tash@tashpieterse.com.
What the amazing humans from my workshops have to say:
"Thank you again so much for an incredible workshop. I learnt so much from it and cannot wait to keep putting your information into practice for a softer, kinder ride." - Rachel
"I love your approach, your manner in which you share the information and then the calmness in which you do it. Overall it is just such a positive experience." - Renée
"It was amazing!! I feel so good and am so excited to have a better month! You've given me so much to consider in my life. Thank you so much! I will be there every month and have already told a few friends they must come with!!" - Jessie
"Oh my goodness that was so helpful, thank you so much!! Uncovered a couple of fears that I didn't even realise were such a big deal, but after rewording them I feel soooo much better about it!! 💕" - Loren
"Thank you so much for organising this event! What a FABULOUS way to start the week and month ahead. Everything you said this morning around boundaries really resonated with me." - Erica
"I'm feeling really grounded and in control after walking out of the room. What a gift you've given so many beautiful ladies this morning x" - Molly
"I'm so glad I came along, thanks Tash! I took away some really good points and will be buying myself a journal this week! See you again soon! :)" - Paige
"I honestly loved the session and it felt so good and such a lovely group!! It was so great, you're onto something here! I can't wait for next month!" - Kathleen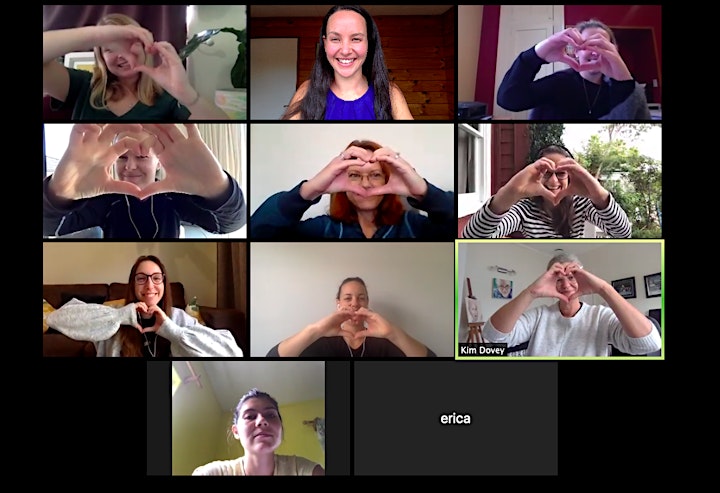 Organiser of Vision & Goals Re-Align Workshop