Voices of Sacred Earth Eco-Festival 2014

Friday, 21 February 2014 at 1:00 pm

-

Sunday, 23 February 2014 at 6:00 pm (NZDT)
Event Details
The 2013 festival was inspiring - a first for New Zealand - a chance to see thought-leaders and inspirational speakers and musicians, all in one place at one time!
The 2014 festival has even more!
10 (up from 5) major workshop areas
Music and dance to feed your soul and your feet
Eco-Seminars to feed your mind and your passions
Swimming Pool plus Kids' Activities
Stalls for food, information, health and spirit
Book now!
NOTE: All Festival tickets include access to all workshops, seminars and performances. First come first served.
You can save $21 on tickets for the full weekend.
That's right. The standard price will be $90.
Buy Early Bird tickets for just $69 - but be in quick!
FAMILY FRIENDLY: Children under 16 years of age enter for free.
...................................................................................................
SEE BELOW FOR DETAILS OF JUST SOME OF THE EVENTS ...

I Wish U Heaven
THE SACRED SONGS OF PRINCE ROGERS NELSON
Friday night in Kahikatea - UPDATED
A journey into the music of the poet, philosopher, humanist and shaman. His music blurs the distinctions of black and white, male and female, humility and pride, sacred and profane and asks "What is the Question of U?"
Earth Medicine
SACRED PLANT MEDICINE OF AOTEAROA with Franchelle Ofsoske-Wyber
1975 saw Franchelle begin her work with native plant essences. By 1985 she was pioneering the development of the world's first integrated range of flower essences that include flower, fern, tree, seed and plant essences as well as specialist essences for healers and lightworkers around the globe. Since 1995, Franchelle has worked with Dr Rangimarie Turuki Arikirangi Rose Pere. C.B.E C.M. highly esteemed tohuna and ancient wisdom keeper.
AOTEAROA EARTH MYSTERIES with Gary Cook
Gary Cook is a leading writer on the special nature of the mystic realms that are to be found in New Zealand and the South Pacific and leader of The Secret Land project. An explorer of ancient sacred places and energy sites in the unique New Zealand landscape, Gary has devoted many years of searching and writing of the wonders to be found within the islands of New Zealand and the South Pacific.
Sacred Sound
HEALING SOUND CELEBRATION with Kailash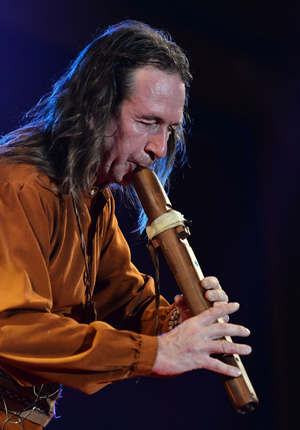 The healing soundscapes of the Didgeridoo, Native American Flute, Drums, Crystal Singing Bowls and Spirit Chanting are presented by Kailash Kokopelli as Inner World Music.
EXPLORE YOUR VOICE WORKSHOP with Georgia Wood
The voice reveals much of who we are, or who we wish others to see. Have fun (make some noise!!) as you explore your voice as an instrument capable of sound, song, expression of emotion and your authentic truth. Establish a relationship with your voice and learn simple techniques (including asana and pranayama relevant to the throat chakra) to access and increase vocal, authenticity, ease, power, resonance and clarity to allow your voice to be the best possible expression of you.
 Indigenous Instruments
TAONGA PUORO SEMINAR with Richard Nunns
Richard Nunns is a living authority on nga taonga puoro (Maori traditional musical instruments). He has been described as one of New Zealand's most remarkable musicians. His thorough and sensitive research has provided a wealth of information around the sounds, history and stories of these taonga, ensuring their preservation for future generations. He has received national and international recognition as he takes the instruments into conversation, discussion and collaboration with different cultures and musical genres.
WORLD TRIBAL MUSIC with Sika
Internationally recognised as a virtuoso on Didgeridoo, Sika has created a unique and dynamic style. Merging ancient & contemporary instruments Sika's music crosses the lines between world, ambient dance & acoustic trance.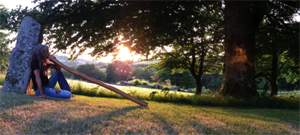 Healing Through the Earth
 HANDS ON HEALING with Atarangi
Atarangi is one of Maoridom's most respected healers. Her work is deep, unique, uplifting, enlivening and rewarding physically and spiritually. She is an example of the 'living works' of ancestral teaching. The body work she will be introducing includes: Mirimiri – which stimulates all parts of the body. This in turn activates the wairua (spiritual) body as well as other bodies; Romirom – which is more agitating. This deep work aligns as well as releases areas of the body that are holding on to various things.
EARTH ENERGY WORKSHOP with Barry Brailsford
Explore the frontiers of consciousness with dowsing rods. Restricted to 24 people. Barry explains: "I have been carried into ancient Polynesian seaways and the lore of the navigation stars, propelled along the mountain trails of the sacred stone, sent into remarkable gardens in the ocean and on the shore, wrapped in the cloak of secret histories and given access to the highest Houses of Learning."
Sacred Movement & Dance
VOCAL… VERBAL… with Margaret-Mary Hollins
Discover your vocal potential using sound and text to offer participants insights on developing your sound range connecting voice to body. We'll explore ways to connect the spoken word to your full sound giving your delivery full meaning. We'll explore ways of engaging the voice subtly, physically and emotionally connecting fully to the essence, be it spontaneous or scripted dialogue.
 OJASVIN AND IRIS DAVIS Waiata and Healing Haka
Healing Haka with dance, song, physical and lightbody exercises, meditation, songs, rhythm and elements of ritual for your own well being. HAKA is an anciant power dance practiced by Maori people from New Zealand. It is known to be vigorously expressed with strong vocal and dynamic body gestures. This art form not only can prepare your state of mind for battle, but it can also bring your mind toward the state of healing. It gives you empowerment and self-confidence.
Plus go to our website for all details and timetable:
When & Where

Kawai Purapura
14 Mills Ln
Auckland, Auckland 0632
New Zealand

Friday, 21 February 2014 at 1:00 pm

-

Sunday, 23 February 2014 at 6:00 pm (NZDT)
Add to my calendar
Organiser
Festivals at Kawai Purapura - Key Benefits 
15 minutes from Auckland CBD - by car or bus

40 minutes from Auckland International Airport via motorway

19 acres of native New Zealand bush

Bush walks, swimming pool, spa and sauna

On-site accommodation - single, twin, triple, marae-style

10 minute walk to Albany Westfield Mall

15-20 minute drive to East Coast Bays - Long Bay, Browns Bay, Takapuna, Devonport