Description
CIGRE - For power system expertise.
Join us live for a CIGRE New Zealand Webinar series. CIGRE's unique knowledge programme comes to life through its worldwide array of face to face and online events. International human interaction facilitates free exchange of knowledge within the CIGRE community.


---


Topic: The Electricity Distribution Sector for Tomorrow
The presentation will provide insights into challenges faced in distributing electricity today, from the perspectives of customers in New Zealand and Australia. It then discusses the roadmap taken by the distribution sector in those countries and highlights some innovation projects that can help tackle the challenges. Examples will also be provided on innovations involving transformers.
.
---
Presenter:
Thahirah Jalal (MBA(Imperial College), PhD (UC), MEng (Oxford))
BDM
ETEL Limited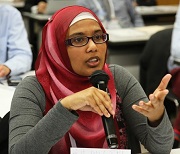 Organiser of Webinar 2 - 2019 CIGRE NZNC WEBINAR SERIES