Webinar - Fifty Shades of Marketing Gravity Returns

Tuesday, February 12, 2013 at 1:00 PM

-

Thursday, February 14, 2013 at 2:30 PM (NZDT)
Event Details
12th -14th February l 1pm-2.30pm l $475+GST l Presenter:  Viv Brownrigg l Suited to Partners & Business Managers
F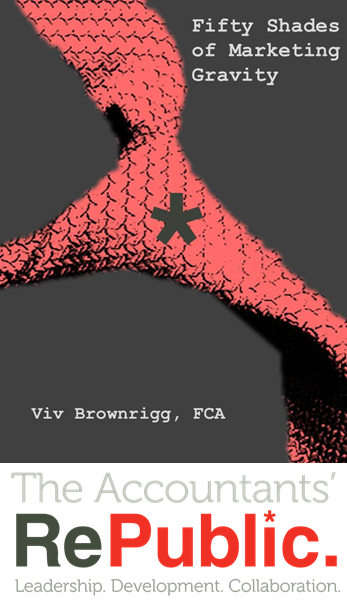 irms who couldn't attend last October's Marketing Gravity Trilogy are demanding a re-run.
Here's how highly one firm rated our trilogy. "This is probably the best "training' I have done in years because it was straight forward & to the point, clear & concise." Craig Periam, CA
Join me and 99 other firms at Fifty Shades of Marketing Gravity. You'll learn that marketing gravity is no grey matter. It's black and white and it's simple. We'll share with you more than 50 actions that will create both organic and new client growth.
Book all three for $ 475 plus GST. You'll receive a myriad of templates and takeaways.
Part One – The Client Service Plan
This action packed 90 minute session covers:
The choice of 'yeses' – why service plans work

Building, pricing, marketing & selling your plans

Avoiding common pitfalls – Underpricing and over scoping

Dealing with part year work & set up costs

Avoiding scope creep, margin seep & write-offs

Pricing add-ons

Client delivery- making sure it happens

Case studies of highly successful firms
Part Two – 50 Shades of Marketing Gravity
Hold on to your seats. So much to cover here that Viv will scarcely draw breath…
The three immutable laws of marketing the accounting business

Service plans recap

Press kits& story books, design and distribution

Testimonials & case studies- how to get them and make them work for you

Web presence

Simple client education programmes

Establishing and working spheres of influence

Client events

Referral systems

Position papers, disturb articles, blogs

Vimeos

Industry specialisation, franchisors

Expos, conferences

Newsletters, the new way

Social media – Linkedin, Twitter and Facebook

Your marketing checklist and actions
Part Three – Sales Equals Follow Up Plus Execution
This 90 minute session covers:
CRM systems for tracking follow up

Reminders and interactions

Warming up your leads without stalking them

Staying in touch and adding value

The 'Presumptive', 'Best Practice' and 'Value' based sales styles

Engagement and onboarding

Welcome packs – Showing the love

After onboard care

After sales add-ons

Your marketing gravity project plan
Refunds and Cancellation Policy
Cancellation Policy:   Please provide us with at least three business days notice of a cancellation. Where cancellation occurs within this period we will contact you promptly to establish whether you wish to postpone and have the payment deferred to another course or cancelled for a refund in accordance with our refunds and dispute policy.
Refund and Disputes Policy:   Refunds will only be given where cancellation has occurred as stated in the cancellation policy.  In the event of a refund, an administration fee of 25% will be reserved to cover associated costs.  Where a dispute has occurred we will make all effort to have this resolved within two business working days.
When
Tuesday, February 12, 2013 at 1:00 PM

-

Thursday, February 14, 2013 at 2:30 PM (NZDT)
Add to my calendar