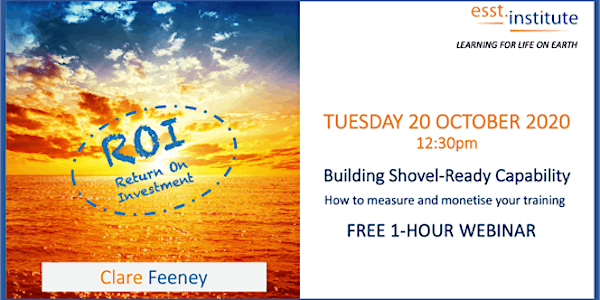 WEBINAR: how to measure & monetise your shovel-ready training outcomes
Measuring the Return on Investment (ROI) of your training outcomes
About this event
The pressure is on for Shovel-Ready and other government projects: broader outcomes and construction skills and training are in the limelight. Bidders will be asked to describe their skills development and training practices and to consider broader outcomes; the secondary environmental, social, economic or cultural benefits that are generated from their project.
But exactly how do you measure the outcomes of your technical, environmental, quality and health & safety training? How will you measure the broader outcomes of the projects your people are working on?
Strategic environmental trainer Clare Feeney is running a free 1-hour webinar on ROI – how to measure and monetize the Return on Investment of your training. It will deliver real business value you can use right away.
Save the date: 12:30pm on 20 October.