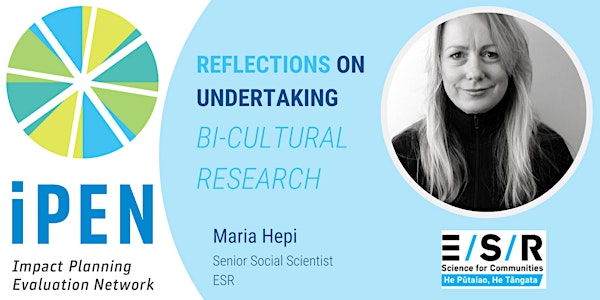 WEBINAR: Reflections on undertaking bi-cultural research
Join us for another iPEN free webinar and hear Maria's reflections on what it means to be an effective bi-cultural pāhekā researcher.
About this event
Government policy and MBIE's expectations for more and better incorporation of mātauranga Māori into the science and research we do as CRIs is creating many exciting opportunities. However it is also revealing other tensions and challenges, as we all try to 'do this better'.
Maria Hepi is a Senior Social Scientist at ESR who has been operating in this bi-cultural space for a while, and has kindly offered to share some of her reflections on what means to do this well, from her experience.
This session is intended to be interactive, so please come ready to listen and then ask any questions you might have.
It's important that everyone who joins the session knows that all questions are welcome and that we want to create a safe and constructive space for dialogue. To help facilitate this, we will be using a couple of different ways to invite questions, which will include being able to ask questions anonymously.
We really look forward to this session and the kōrero we hope it will stimulate. If you're keen to read more about Maria and what's she's learned to-date check out this blog post she penned in 2017.
This webinar is brought to you by iPEN (impact Planning Evaluation Network)
iPEN is a pan-CRI collaboration comprised of members from all seven CRIs who work collaboratively to strengthen our collective ability to plan, monitor, evaluate, and learn in ways that maximise the impact of our research. iPEN's focus is on building capability and capacity of individuals, teams, and our organisations.
To find more about iPEN check our our website. You can subscribe for updates, check out our resources, or ask to be put in touch with your iPEN representative.